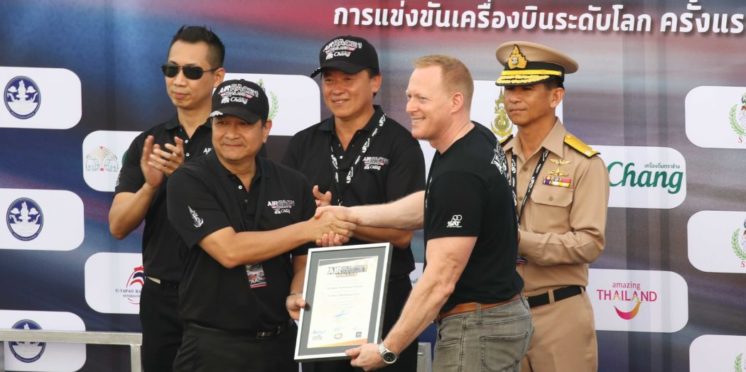 MACESPORT WIN AIR RACE 1 BRIEF
Tuesday 16th May 2017
Macesport, Britain's leading independent specialist sports public relations, marketing and sponsorship agency, has won the brief to promote Air Race 1 ahead of the upcoming World Cup. Macesport will be tasked with increasing the profile of Air Racing's premier event in Thailand as well as managing the digital activation for Air Race 1 across all of their social media platforms.
The Air Race 1 event involves eight airplanes racing directly against each other at speeds of 450kph trying to cross the finish line first after eight laps around a tight 5km circuit at just 10 meters above the ground. The Air Race 1 World Cup will take place in Thailand at the U – Tapao Naval Air Base on 17-19 November 2017. This year's World Cup is anticipated to be the biggest one yet with more teams competing than in any other international event in the sport.
The brief sees Macesport add to its ever-expanding list of global sports clients, which include Vauxhall, William Hill, The PFA, SIS Pitches, Soccerex, Kitman Labs and Precision Goalkeeping. Paul Mace, Managing Director and Founder of Macesport, said: "We are delighted to be working with Air Race 1 as we build up to the big event in November.
"Our experience of working in public relations, communications and marketing with many clients will enable us to build the Air Race 1 brand in a wider market. Sport is very much our area of expertise and we look forward to working closely with the team at Air Race 1 in the coming months."
Jeff Zaltman, CEO of Air Race 1, said: "Macesport has a proven track record in the world of sport, and this is a fantastic opportunity for Air Race 1. Last year's race in Thailand was such a fantastic success, proving that Thailand is a highly reliable sports event host, and we believe that working alongside Macesport will help us to become even bigger this time around."
---