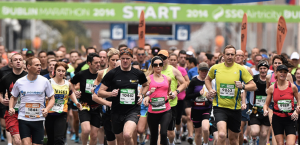 SSE Extends Dublin Marathon Link
Tuesday 16th May 2017
SSE Airtricity has extended its sponsorship of the Dublin City Marathon to take in 2017 and 2018 in a vote of confidence for a race which is now the fifth biggest in Europe and anticipates selling out early on the 20,000 places available for this year's race.
Last year saw a 30 per cent jump in participation to 19,500 having switched from the October Bank Holiday Monday to the Sunday.
This served to attract in a wider international base of runners.
"This was an easy call for us to make, said SSE Airtricity Sponsorship Manager Anne McAreavey speaking to Sport for Business yesterday.
"This is our fifth year of support for the race and each year it gets bigger and better."
"It represents everything that is important to us as a company from the obvious health and wellbeing benefit through to helping the economy of Dublin."
"The Race Series is an important element for us as well as it extends the appeal to a much wider group. Not everyone can run a marathon but having the smaller races leading up to that brings more people into the mix."
SSE Airtricity is also sponsor of the League of Ireland in soccer where the campaign theme for this year is creating the next generation of legends. They are also the official energy partner to the FAI and have that association with the Republic of Ireland National team.
"It is important to have commercial measures on the success of the sponsorships but we also want to be seen as strong and genuine supporters of Irish sport," added McAreavey.
"Brands that have a strong reputation, including Dublin Zoo and the SSE Arena, enhance our reputation as well and the Marathon fits very strongly into that."
There are plans to innovate in terms of this year's partnership as well. "We always want to try new things. If you always do what you've always done you'll always get the same result."
"This has been a real partnership between the Marathon and the SSE Airtricity team," added race Director Jim Aughney.
"We lock ourselves away in January and formulate our plans. We then present them to the team, they have their own ideas, loads of them, and we work together to bring the best of them to life."
"One of the major new elements of this year is that we will be streaming the race live and we will shortly be selecting our partner to turn that into reality."
Streaming will provide additional coverage for SSE Airtricity and will provide a closer bond for those who have participated looking back on their achievement without cutting back on the number of supporters who will line the route.
The SSE Airtricity Dublin Marathon will mark the Dublin wide celebration of the 350th anniversary of writer Jonathon Swift's birth, will all finishers receiving a commemorative medal to mark the occasion. All those taking part will run past St Patrick's Cathedral, Dublin where Swift was Dean.
Registration for trace is currently open at http://sseairtricitydublinmarathon.ie
For more on this please go to http://www.sportforbusiness.com/
---