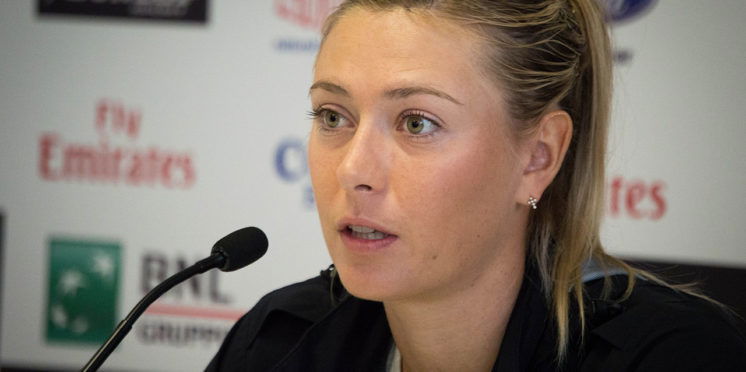 Sharapova opts against Wimbledon wildcard
Thursday 25th May 2017
Maria Sharapova has decided against requesting a wildcard for the main draw at Wimbledon and will instead have to battle through three qualifying rounds if she is to feature in the tournament. It is a smart move, because there was no real chance of her being handed a wildcard as she continues her comeback from a 15-month ban. There is not a lot of love for Sharapova in the game after she tested positive for Meldonium at the 2016 Australian Open, and she was denied a wildcard for the French Open. She will have to do it the hard way at Wimbledon, but insists she is up for the fight.
"If this is what it takes to rise up again, then I am in it all the way, every day," she Tweeted after the rejection at Roland Garros. "No words, games, or actions will ever stop me reaching my own dreams." She will need every ounce of that fighting spirit as Wimbledon is physically gruelling enough already without having to play three qualifiers before entering the 128-strong main draw.
Sharapova is likely to be met with plenty of scorn as she tries to claw her way back up the world rankings with a strong showing at Wimbledon. Former champion Pat Cash applauded the organisers of the French open for denying her wildcard request, saying she should not be benefiting from the fact she was caught using a banned drug. Dozens of respected former champions and prominent people in the game are adamant that she should receive no special treatment. The women's locker room is said to be very much against her, and pleased that she is not receiving any hand-outs in big tournaments.
Sharapova is now very much the bad girl of tennis and she might get a frosty reaction from the crowds. She is not quite at the level of Lance Armstrong, but someone like Justin Gatlin might be a comparable individual. It was all very much angels and demons when Usain Bolt and Gatlin – who was returning from his own ban after testing positive for a banned substance – were battling it out for 100m glory last year, and it could be a similar case if and when Sharapova faces some of the stars of women's tennis.
She could actually thrive off it. If she embraces the role she could turn it into a fierce determination to win, and she will be a serious threat at Wimbledon given her pedigree and her record there. The all-conquering Serena Williams is missing due to pregnancy, and that leaves world number one Angelique Kerber as the favourite, followed the Spaniard Garbine Muguruza, who is strong on grass. But next in the betting you are likely to find Sharapova, who is all the way down at number 211 in the world rankings following her 15-month ban, but who ranks a lot higher than most of the world top 10 in the bookmakers' ratings. In the Sun Bets Wimbledon odds you will find her right in the mix, along with Kerber and Muguruza.
The other players in the draw are very much beatable for a player of Sharapova's guile and power. She is a former world number one, a former Wimbledon champion and a Career Grand Slam winner. She is not at the top of her game, but she would not have been resting during her enforced absence – she would have been training hard. Sharapova will have little to fear from the majority of the contenders, like Karolina Pliskova, Johanna Konta, Madison Keys and Petra Kvitova, who will all be among the favourites. The game is not that strong at present, especially without Williams in the fold. If Sharapova makes it through the qualifying stage, you can expect the odds on her to tumble. However, the smart money will be on Kerber. She won the Australian Open and the US Open last year, but lost out to Williams in the Wimbledon final. With Williams out of the picture, Sharapova still finding her feet and a lack of emerging superstars, Kerber should have a clear run at the famous trophy and it is hard to see anyone stopping her.
---