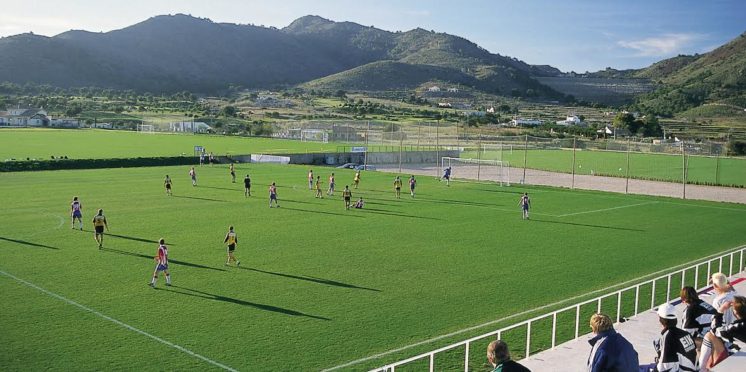 LA MANGA CLUB RENEWS PARTNERSHIP WITH NORWEGIAN FOOTBALL FEDERATION
Thursday 1st June 2017
Spain's five-star La Manga Club has strengthened it links with Scandinavian football after signing a new three-year contract with the Norwegian Football Federation, extending the successful partnership into a third decade.
The agreement, which extends an alliance that first began in May 1997, was finalised at a meeting between the two parties in Oslo earlier this month and will see Norwegian elite men's and women's teams of all ages continue to use the venue in Murcia, south-east Spain, to train, prepare for competitions and compete in friendly matches.
The new contract is for an initial three-year period with the option to extend for a further two years, and Nils Fisketjonn, competition's director at the Norwegian Football Association, welcomed the news of the partnership extension.
Fisketjonn said: "For 20 years, La Manga Club has offered great pre-season facilities for Norway's professional and national teams. The resort has been our trusted partner for many years and we are happy to continue our relationship in the years to come."
Boasting extensive facilities including eight FIFA-approved grass pitches, La Manga Club is a popular choice as an all-year-round European destination for domestic and international teams seeking a warm-weather football training break.
José Asenjo, CEO of La Manga Club, said: "La Manga Club is delighted to have extended our close association with the Norwegian Football Federation, and we're grateful for the confidence that it has placed in us for the next five years and in our plans to improve our facilities."
"The contract renewal not only positions the resort among the top destinations in European football, but will also help us to encourage other federations and teams to choose us when they are looking for a world-class venue to train, participate in tournaments and play friendly matches."
La Manga Club's appeal as a world-class destination for football's biggest names is stronger than ever, with no fewer than 75 clubs from 19 different countries having made their way to the award-winning venue for training camps this winter including Liverpool, Shakhtar Donetsk, Vfl Wolfsburg and the England Women's team.
As well as its football amenities, the resort boasts a fully-equipped gym and indoor swimming pool, ideal for recovery sessions; a host of rooms and spaces to cater for tactical meetings, private team dining and a new High Performance Sports Centre, whereplayers can use the most advanced technology possible to study all aspects of their health and training programmes.
Set in 1,400 acres, the award-winning venue is also the official overseas training base of the Lawn Tennis Association (LTA) and officially opened its new European Cricket Performance Centre this month – the first one of its kind in Europe.
In addition, La Manga Club's unrivalled facilities as a sports and leisure destination include three 18-hole golf courses, a 28-court tennis centre and a 2,000sqm spa and fitness centre. It also offers the choice of a five-star hotel, four-star serviced apartments and townhouses and more than 20 bars and restaurants.
---