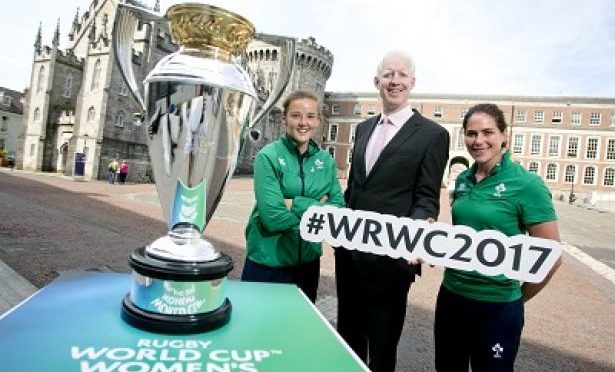 Women's Rugby World Cup Front and Centre Stage
Tuesday 20th June  2017
The Women's Rugby World Cup will be front and centre stage during a special event tomorrow, Wednesday, June 21st at Dublin City Council's offices on Wood Quay.
The tournament is drawing closer and excitement is being driven by a tour of the trophy and the stars of the team that is taking in clubs up and down the country.
Each of the events is being used to drive new players to take up the sport in pursuit of a target of 2,017 new players arising out of the tournament.
The tournament itself is expected to result in a sizable increase in visitor numbers to Ireland when it kicks off on August 5. With large numbers of visiting team members, officials, supporters and spectators expected to arrive with the 12 teams, it is estimated that the event will generate a hotel occupancy figure of approximately 15,000 as well as significant additional tourism revenue for Dublin.
Read More: "Ireland can and should be seen as a leader in terms of Women's sport. We should be unequivocal in what we do to encourage participation and how we support the players that do take to the field"
"Fáilte Ireland is always very keen that any international event we bring here showcases Ireland's ability to stage international events brilliantly and we are sure that the experience in August, for both athletes and spectators, will truly demonstrate our capacity to host high profile international events of scale," said Fáilte Ireland CEO Paul Kelly.
"Fáilte Ireland has been working closely with the IRFU and other stakeholders in the build up to the event, raising €300,000 in sponsorship and supporting the hosting of the World Rugby Women's Repechage Event in June 2016 and the World Rugby Women's Sevens tournament in August 2015."
Tomorrow's event will see Rob Hartnett of Sport for Business hosting a discussion with Ireland star and Dublin City Council Sports Officer Marie Louise Reilly; former All Ireland winning footballer and now Irish Women's Rugby Player of the Year Lindsey Peat; Nora Stapleton who doubles up as out half on the team and Women's Rugby Development executive with the IRFU; and Grand Slam Winning Captain and Chair of the Dublin City Sports and Wellbeing Partnership Fiona Coghlan.
We will look at the preparation that goes into getting ready for such a massive event taking place in Dublin and Belfast this summer with the players and with Tournament Director Garret Tubridy, and we will look at the journey that each of the players has undertaken to arrive at such a pinnacle of sporting achievement.
---