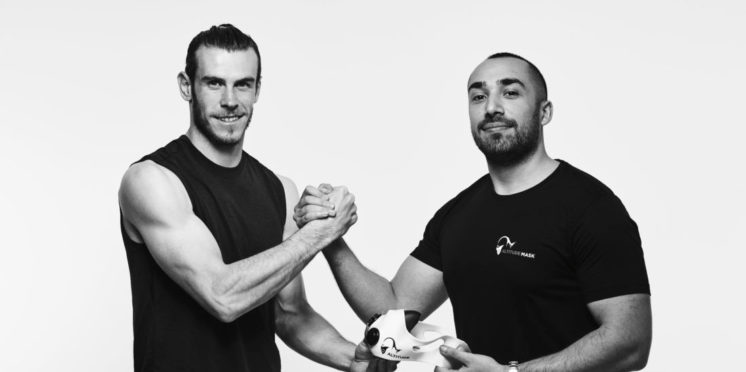 CLIFFORD FRENCH APPOINTED BY ALTITUDE RESISTANCE MASK TO ACTIVATE GLOBAL ATHLETE PORTFOLIO
Thursday 29th June
Gareth Bale and Anthony Joshua endorse the mask which replicates high altitude training
Altitude Resistance Mask, the sports technology brand that increases lung capacity and cuts workout times by two-thirds to make elite and casual athletes stronger and faster, has appointed sport and entertainment consultancy, Clifford French, to provide UK activation consultancy around their global ambassadors, Anthony Joshua and Gareth Bale.
The integrated and independent consultancy will leverage the credibility and reach of the WBO, IBF and IBO Heavyweight Champion and the three-time UEFA Champions League winner to communicate how the Altitude Resistance Mask simulates the effects of high altitude training creating pulmonary resistance and oxygen efficiency to increase performance.
Sammer Sommers, Altitude Resistance Mask, Founder and CEO, commented: "Clifford French has already hit the ground running with a recent Gareth Bale pre-season announcement campaign.   We're excited about the future of the brand in the UK and have been impressed with Clifford French's experience of working with global athletes through-the-line."
Sommers added: "We've got some really exciting news over the coming months to plan for and are confident the Altitude Resistance Mask will become a main stay of elite and casual athletes training and recovery regimes."
Clifford French co-founder, Dan French, said of the announcement: "We're really excited about helping educate UK consumers about the Altitude Resistance Mask and the benefits of the product. As well as working with elite global athletes like Gareth and AJ, the brand has conducted independent third party research to support the science behind the product."
Clifford French is a communications agency delivering PR campaigns through content creation, digital, talent, influencer marketing and sponsorship.    Current clients include EA SPORTS, NFL UK, PUMA, Carlsberg, SportsDirect.com, San Miguel, 888sport.scom, Farah menswear and Glenmorangie.
---