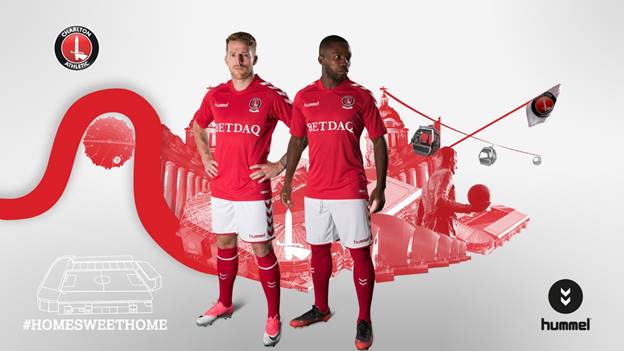 HUMMEL REVEAL CHARLTON ATHLETIC FC HOME KIT 2017/18
Monday 24th July
Today hummel officially reveal the new Charlton Athletic home kit for the 2017/18 season.
The red home jersey with hummel's iconic chevrons in contrasting white colour was developed following fan, player and club consolation and has resulted in the delivery of a modern day technical sports garment designed first and foremost to perform on the field, while subtle details within the jersey pay homage to the anniversary, this year, of the clubs' return to The Valley ground in 1992.
This stylish yet functional home jersey is made from hummel's 'beecool' performance sports fabric and include a sports fit vented neckline with incorporating mesh venting to the jersey sleeves.
Additional hidden detail within the shirt includes a printed back neck buggy that contains the names of the 1st team squad and coaches that returned to The Valley on the 5th December 1992 while a special 'BACK AT THE VALLEY' scroll print is positioned just under the club badge. The front of the jersey also has an embossed Charlton sword in the lower left section of the jersey while the jersey back contains a larger 'BACK AT THE VALLEY' scroll emboss above the back hem of the shirt
The kit is completed with white shorts that for the first time in many years are once again trimmed in red and features the Charlton Athletic crest and again the iconic hummel chevrons in red. The kit is finished off with red socks with a white trim and hummel detailing.
The home kit will be worn for the first time in Charlton's first home game of the season against Bristol Rovers on Saturday 5th August.
Charlton CEO Katrien Meire added: "The new kits look fantastic and pays tribute to Charlton's proud history. I am particularly pleased with the new home kit, it is a special kit in what will, hopefully, be a special season for the football club."
Later this year a limited edition 25th anniversary kit will be launched which will be worn once only in the league game against Portsmouth on the 7th December, this kit will replicate more closely, the strip worn 25 years ago and will also carry additional detailing paying homage to that wonderful day back in 1992. This very special anniversary shirt will be made available for fans to purchase as a limited edition and will be revealed in more detail later in the year.
The new home kit will be available for purchase from the Charlton Athletic Store from the 5th August.
---