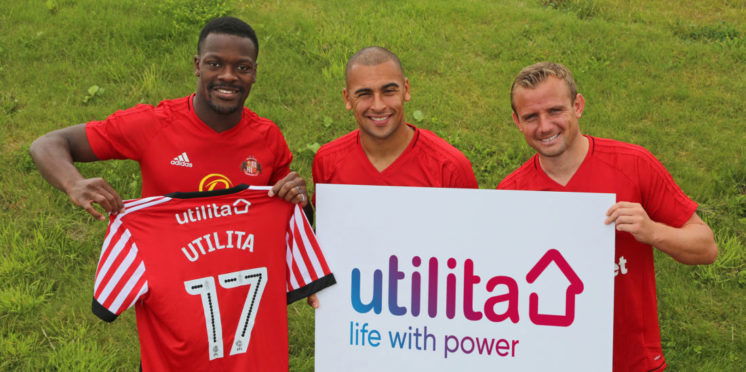 UTILITA STRIKES UP PARTNERSHIP WITH SUNDERLAND AFC
Thursday 3rd August
Sunderland AFC is launching an exciting new partnership for the 2017-18 season with Utilita Energy – Britain's fastest growing independent energy supplier.
Utilita will be the club's official back of shirt partner. Alongside displaying their logo on the back of the Black Cats shirts, they will enjoy a visual presence around the Stadium of Light, as the new SkyBet EFL Championship season gets underway on Friday evening.
Utilita already has significant connections within the North East, with a huge number of field sales agents based in the region. The company has a growing number of customers on Wearside and the new partnership with the Black Cats aims to enhance the reputation of the Pay As You Go supplier within the local in the community.
Sunderland fans who switch to Utilita will receive exclusive offers throughout the season – as well as a free smart meter, a club branded in-home display cover and a host of other benefits, including exclusive access to festival and music tickets through the company's partnership with the world's leading entertainment promoter, Live Nation.
Jem Maidment, head of marketing & communications at Utilita, said: "Sunderland AFC has a phenomenal fan base, recognised across the country for their passionate and unwavering support, so to be able to deliver a partnership with such a leading club is a real honour for Utilita.
"This exciting partnership with the Black Cats will give us the opportunity to engage with the community, support local businesses and increase our presence on a domestic and commercial level. We are a company committed to getting the best deal for our customers and we're looking forward to continuing this on Wearside."
Sunderland AFC's head of communications, Louise Wanless said: "Utilita have grown very quickly to establish themselves as one of the UK's top ten energy suppliers. We are excited to have a company of their calibre on board, who will be able to offer our supporters a first-class service in the energy supply field."
Since 2016, Utilita has featured in the top ten in Which? magazine's coveted Customer Satisfaction Survey. The supplier celebrated its 500,000th customer in April – up from 200,000 as recently as July 2015 – and last month reached a million supply points across the UK. It has also seen turnover jump more than 50 per cent to £411m, while staff numbers have more than trebled in the last year – from around 400 to nearly 1,500.
---