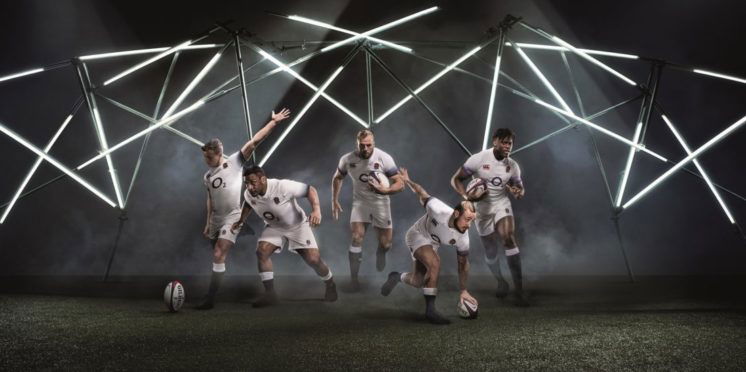 CANTERBURY UNVEILS NEW ENGLAND RUGBY 2017 – 18 HOME KIT
Monday 7th August
Shirt reveal launches Canterbury's 'Unbreakable Bond' campaign
With 113 years of rugby apparel expertise, Canterbury has again pushed the boundaries of innovation in the new England Rugby 2017 – 18 home kit unveiled today. The kit will be worn for the first time by the men's and women's senior teams in the 2017 Old Mutual Wealth Series.
A unique feature of the new kit available for fans is a commemorative plaque, each of which carries an exclusive number, part of Canterbury's new 'Unbreakable Bond' campaign. Supporters will be able to buy individually distinctive shirts for the first time ever, with a different number on every shirt. Launched today, the campaign will see England players, sharing in a series of videos, their 'individually strong, unbreakable as one' stories demonstrating their commitment to the team.
Hours of 3D body mapping and testing has increased the durability and strength of the new kit, improving its endurance during an intense 80 minutes of international rugby. Furthermore, the weight of the kit has been reduced by 20gsm, and is now the lightest kit ever to be made by Canterbury. A longer length sleeve, constructed with hi-stretch modular fabrication, provides a streamlined finish to the arms for improved performance and comfort, while the blue-fade colouring gives a nod to one of the traditional colours of England Rugby. A firm favourite and core feature that remains is the loop neckline collar, a design aspect that has been synonymous with Canterbury since 1949.
Speaking about the new shirt, England Captain Dylan Hartley said: "Every player in the squad is proud to represent England, put on the jersey and wear the rose. We're all committed to improving as a team and it's great to see this philosophy is shared by Canterbury. It gives us real confidence knowing we are wearing the best possible kit to help optimise our performance."
England Women's Captain Sarah Hunter, currently in Ireland as the squad prepare to defend their world title added: "It is a real honour to represent England. Wearing the rose is something that the whole team and I are very proud of.  Every time we pull on the shirt we want to go out there, give it our all and make sure that we are constantly working hard and improving our performance."
Canterbury's Senior Designer, Gareth Woosey added: "We're extremely proud to have developed a shirt which continues to push the boundaries of innovation and reinforces Canterbury's unwavering commitment to England Rugby. It's been a strong 2017 so far and we hope the players can continue their positive momentum in the new season. We believe this new kit continues to cater for both the requirements of elite player performance and the fans whose commitment to the teams makes a huge contribution to their success on the pitch."
The new England Rugby shirt from Canterbury is available on pre-sale from Monday 7th August, 2:00pm and available in stores from Tuesday 29th August. Access online via: EnglandRugbyStore.com and Canterbury.com
---