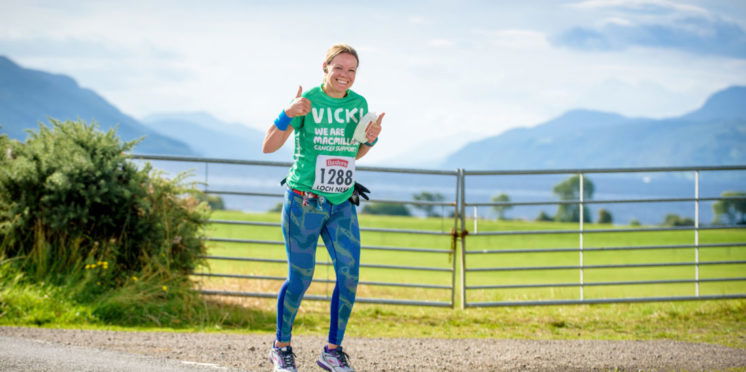 Macmillan Runners Aim for £75,000 at Baxters Loch Ness Marathon and Festival of Running
Monday 7th August
Macmillan Cancer Support is in the running for a £75,000 boost as its team of fund-raisers take to the Highlands for the Baxters Loch Ness Marathon and Festival of Running this September. Runners taking part in the popular sporting event – which returns on September 24 – have raised over £500,000 for the charity in previous years, and Macmillan is looking to boost this total in 2017.
Last year, participants in the marathon and associated races raised an estimated £1,346,000 for charities across Scotland and the UK – including an amazing £74,000 for official charity partner, Macmillan Cancer Support. The charity hopes it will increase that total even further this year thanks to the generosity of Team Macmillan runners and their supporters.
"We are incredibly proud of all the runners who take on the challenge of the Baxters Loch Ness Marathon to raise funds for worthwhile causes," says event director Malcolm Sutherland. "Since the marathon began 16 years ago, participants have raised millions for charity, which is an unbelievable achievement.
"Although guaranteed entry to the marathon is now closed, people can still enter through one of our charity places. I know a lot of participants say the thought of the difference their sponsorship money will make has helped them when they have been struggling both during training and the event itself.
"The work that Macmillan Cancer Support – and all our lead and affiliate charities – do directly benefits those living in the Highlands and across Scotland and the UK, so we are delighted to once again be working with such good causes.
"As well as the support offered by our runners, we also really value the help and support given by Macmillan's volunteers who line the route giving encouragement to the participants. We couldn't imagine the event without them."
Every day, 19 people in the north of Scotland receive the heart-breaking news that they have cancer. Sadly, 10 of those will die from illness – and it is estimated that the number of people living with cancer will double in the Highlands in the next 20 years.
Macmillan Cancer Support works with people affected by cancer in the Highlands and across the UK, providing practical, emotional and personal support for those undergoing treatment and their families.
The money raised by runners will go towards providing a range of Macmillan services. For example, £210 could pay for a Macmillan nurse for one day, helping people living with cancer and their families receive essential treatment and support; £402 could help run a large Macmillan information and support centre for one day; and £4,483 could support the Macmillan Support Line for one day. The helpline answers around 250 calls and web enquiries every day, answering questions, providing practical and financial support, and lending a friendly ear to those who need someone to talk to about their experiences.
Laurence Wilson, challenge events programme manager at Macmillan, says, "Every year, a huge mix of runners from a diverse background head to the Loch Ness Marathon for Macmillan, all with their own reason to run. Many of our runners are taking on this incredible challenge in memory of a loved one; some really want to improve their fitness; and others simply want to enjoy the amazing views of Loch Ness.
"We are very proud of all the Team Macmillan runners who have raised money so far by running the Loch Ness Marathon, and we look forward to many more years of partnership to carry on raising incredible amounts of money to help support people living with cancer."
Alongside official charity Macmillan Cancer Support, runners can also pledge their support to the Baxters Loch Ness Marathon's lead charities – Chest, Heart & Stroke Scotland, Highland Hospice and MS Society Scotland – and 18 affiliate charities working across Scotland and the UK.
In addition to the marathon distance, the Festival also includes the River Ness 10K, 10K Corporate Challenge, River Ness 5K, and the Wee Nessie for pre-school children. Entry is now open for all races online at www.lochnessmarathon.com until September 4, with places available in the Loch Ness Marathon for charity, club and overseas runners.
The event is active on Facebook at facebook.com/lochnessmarathon and on Twitter @nessmarathon – use the hashtag #RunLochNess.
---