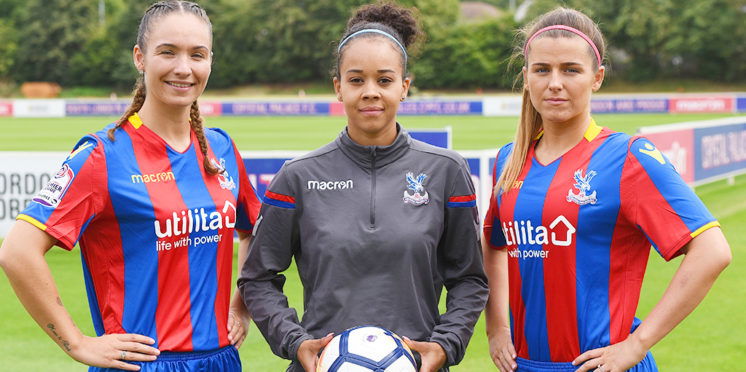 UTILITA continue to work with The Palace
Tuesday 15th August
Utilita confirms extension of Crystal Palace partnership
Britain's fastest growing independent energy supplier, Utilita Energy, has confirmed it is significantly increasing its partnership with Premier League Crystal Palace FC.
Utilita will continue as the club's Official Energy Partner for a second season – as well as remaining Official Shirt Sponsor of Crystal Palace Ladies FC. In addition, we will have an increased presence within the local community as an Official Partner of the Palace for Life Foundation.
Crystal Palace will provide Utilita with a platform to further increase brand awareness with access to players, a wider presence across Selhurst Park, 'money can't buy' experiences and offers & prizes for Palace fans.
Every Palace fan who switches to Utilita via the club will also receive a £25 club shop voucher AND exclusive Crystal Palace-branded In Home Display cover for their smart meter, which comes at no extra cost. They will also not have to pay a standing charge.
In addition, customers will have access to a host of other benefits including exclusive access to festivals and music tickets through its partnership with the world's leading entertainment promoter, Live Nation.
Utilita celebrated its 500,000th customer in April – up from 200,000 as recently as July 2015 – and last month reached a million supply points across the UK. It has also launched into the Business Energy sector – giving Britain's micro-businesses a better, fairer deal.
Barry Webber, Commercial Director, Crystal Palace Football Club, said:
"We are delighted to continue our successful partnership with Utilita. At Crystal Palace FC, we are always striving to take an original approach to our commercial partnerships, creating great relationships and great content for our fans whilst delivering a huge amount of engagement and value to our partners.
"Utilita is an exciting challenger brand making great inroads into an extremely competitive marketplace and we welcome the chance to work closely with Utilita, supporting their marketing strategy over the coming years. We are especially pleased that Utilita will continue their support for Crystal Palace Ladies as they bid to join the footballing elite."
Richard Spokes, Chairman, Crystal Palace Ladies FC, said:
"The news that our main sponsor, Utilita, are continuing their support is absolutely fantastic, and further evidence that Crystal Palace Ladies FC and the women's game are hugely credible opportunities for market-leading businesses, such as Utilita.
"This partnership has been recognised across our sport and has drawn huge levels of positive feedback and will form an integral part of our bid to join the footballing elite within The Women's Super League.
Jem Maidment, Head of Marketing & Communications, Utilita Energy, said:
"Palace's support is huge, loyal and one of the most passionate in British football –this is also an incredibly exciting time for the club with the arrival of Frank de Boer.
"While we will showcase both our domestic and commercial products to Palace fans and the wider community, we are particularly excited to be partnering with the Palace For Life Foundation, supporting inspirational community projects in and around the South East London area. Its work is significant and humbling."
"In addition, we consider it an honour to continue as shirt sponsor for Crystal Palace Ladies FC – there has never been a more exciting time to be involved in women's football, which is enjoying unprecedented success, and we believe it is only a matter of time before Palace join the Women's Super League."
To receive your £25 club shop voucher, switch today by going to Utilita.co.uk/crystal-palace-fc or call 0345 206 8777 and quote 'EAGLES'.
---