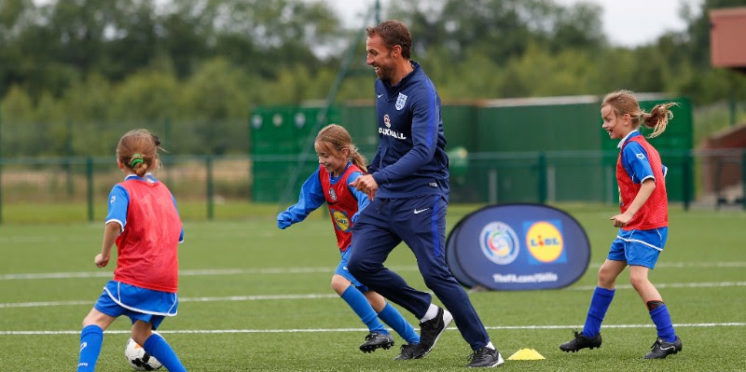 England boss Gareth Southgate gives memorable training session to young footballers
Thursday 17th August
It's not very often that your PE lesson is delivered by the England Football Manager, but for some very lucky pupils from Oulton Primary School, that is exactly what happened. They were treated to a training session with Gareth Southgate at the West Riding County FA's new all-weather pitch.
Southgate, who has been a Foundation Ambassador for many years, spoke glowingly about the new pitch, "We are a nation of footballers – fans, players and coaches alike. Facilities like this help us to discover, or rediscover, our love of the game. These projects help a huge number of people find a way to keep active, have fun and just enjoy football, and I'm excited to see more of them in the future." 
The new surface was funded by a £481,338 grant from the Premier League & The FA Facilities Fund. It is projected that the facility will create 16 new sides for local grassroots clubs, with major improvements in football participation across all age groups from youth football to veterans leagues. Participation increases of 1,900% are also predicted for the women's game in the area, with disability football similarly benefiting through the creation of an Ability Counts League.
West Riding FA's Chief Executive, Hannah Simpson, said, "Our community now has the facilities they deserve to enjoy the game of football all year round at this state-of-the-art pitch. Our mission is to create enjoyable and lasting memories of football, and we now are well positioned to deliver those experiences to the entire football family."
The national team boss dropped in to lead an FA Lidl Skills session with the pupils, before answering questions in the youngsters' very own press conference. Aimed specifically at children between the ages of five and 11, the FA Lidl Skills scheme is designed to help youngsters get active, learn football skills and have fun.   
---