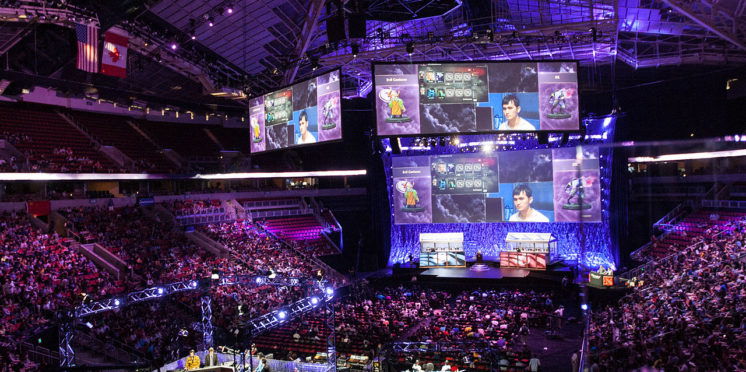 Match-Fixing and Doping in Esports: The need for regulation
Tuesday 18th August
Edmund Irvine-Fortescue – Student on the Mishcon De Reya Sports Law Academy
Though it is often acknowledged to be a nascent industry, the rapid growth of eSports cannot be ignored and is already attracting crowds in excess of 40,000 people to major tournaments, with projections for 2019 estimate that eSports will reach a global audience of 420 million people and generate over a billion dollars in direct revenue. If this rate of expansion continues, many expect it to soon become one of the world's top sports.
What are eSports?
ESports entail individuals or teams playing computer games competitively. It is a unique field in that not only are games played virtually, but unlike other sports in which participants compete in individual disciplines and in associated leagues, eSports competitors can partake in numerous leagues and games organised by multiple game developers. Whilst there is overlap between the leagues, their publishers and their promoters, there is also a lack of collaboration between them. As a result of their independence, eSports does not have a generalised set of rules but rather a general etiquette to match play and competition-specific regulations.
There is much debate surrounding eSports' classification as a 'sport' but as the industry has continued to develop and gain popularity, it has also displayed characteristics akin to those of major sporting competitions and has become affiliated with sporting brands. Both in parts of America and across Asia it has become a spectator sport. Streaming online, live television broadcasting and sponsorship generate extensive revenue and the potential for brand advertisement within eSports is being increasingly capitalised upon by both game-oriented and sporting organisations. For example, both Manchester City F.C and West Ham United F.C employ professional gamers to represent them on an international virtual stage, as do the French football club Paris St-Germain who have created an eSports team to compete in both football focused and non-sporting games. Additionally, P1-A visas, officially designated to 'internationally recognised athletes' have been issued to professional eSports players travelling abroad. There is much evidence, therefore, to categorise eSports as a 'sport'; for this reason, this paper shall acknowledge it as a sport also.
As with many sports however, corruption and doping pose major threats to the legitimacy of this field. Several recent attempts to fix matches highlight the prevalence of corruption within eSports and emphasise the need for overarching governance in a so far inadequately regulated industry. Should eSports continue to be classified as a 'sport', these legal issues will therefore become sports oriented. If there is any hope for eSports to develop further, the necessary sporting regulations and governing bodies must be established.
The appeal of doping and match-fixing
Whilst the financial returns of the eSports industry are growing, the mediocre size of prize pools in many competitions combined with relatively short player careers have given rise to match-fixing at all levels in eSports. The average wagers of events are far larger than official competition earnings and consequently, even the most respected competitors have become involved in unregulated eSports betting markets. This occurs both on individual and team levels and fines and bans have been allocated in several instances. Players and teams have been caught betting against themselves, collaborating with their opponents to split prize money and deliberately throwing matches. In the past year alone, an industry-renowned teenage player received a lifetime ban for losing two matches in return for a fee seven times the amount of the first-place earnings and more than twenty players received permanent bans for match-fixing and illegal betting.
Unlike other sports, doping in eSports involves hacking an opponent's software to gain a technological advantage or using performance enhancing drugs, such as Adderall and prescription ADHD medication, to maintain concentration and boost cognitive function. The latter form is especially widespread in eSports circles and, with the exception of one organisation's efforts, is not addressed. The Electronic Sports League (ESL) acknowledge the unfair advantage performance enhancing drugs give players and have started to implement random drug tests accordingly. They also work alongside the Esports Integrity Coalition (ESIC) to introduce an anti-doping policy. Many eSports participants have been banned or have received sanctions due to doping but, given that numerous players recently admitted to having used Adderall, efforts so far have clearly been ineffective.
What is being done and why does the issue remain?
Tournament organisers and game publishers have reacted strongly to uncovered instances of corruption and doping in eSports. Bans and fines are issued and, in some extreme cases, individuals have been imprisoned for their actions. Furthermore, eSports regulatory organisations have developed anti-corruption and anti-doping programmes aiming to educate players and have also attempted to establish player councils. The World eSports Association (WeSA), for example, developed a court of arbitration and an executive players council in 2016.
These measures, however, have not made extensive progress within the sport for several reasons. Firstly, bans set in place by one publisher do not prevent eSports players from participating in other publisher's leagues and games. Additionally, whilst the eSports 'governing bodies' all aim for some degree of player protection, league regulation, fraud prevention and integrity within the sport, they all act independently and have different members. Consequently, when teams within one body, such as WeSA, compete against teams associated with another, confusion arises over whether the competition regulations laid down by one organisation apply to both teams or just their own. The lack of collaboration between overseers such as WeSA, ESIC, the British Esports Association (BEA) and France Esports (FES) also directly effects integrity and fraud within eSports. A parallel can be drawn between the current state of eSports and that of international tennis in 2008. Following a significant gambling scandal within tennis, groups such as the Association of Tennis Professionals (ATP) and the Women's Tennis Association (WTA) established the Tennis Integrity Unit (TIU) to act as an overarching anti-corruption body. A combined regulatory body within esports would be able to monitor betting patterns across the sport, standardise doping, gambling and player protection laws and diminish inter-league uncertainty.
Conclusion
If eSports is to continue to be recognised as a 'sport' and to fully achieve its global potential, overarching rather than arguably competing regulatory bodies must be established. Only in this manner will competitors and organisers fully acknowledge laws to be more than guidelines. Though eSports provides heightened scope for corruption due to its potential for in-game virtual betting as well as external gambling, integrity can be achieved through appropriate policies and player education. The industry needs to create both game-specific and general regulations in order to ensure appropriate match-play, sufficient player protection and minimal corruption.
This article was written by a student of the Mishcon Sports Law Academy and as such does not necessarily represent the view of Mishcon de Reya or its partners/employees.  The Mishcon Sports Law Academy is part of the firm's graduate recruitment process. It is open to aspiring lawyers who are able to attend a series of evening seminars in London.
Please see www.mishcongraduates.com for more information or to apply.
---