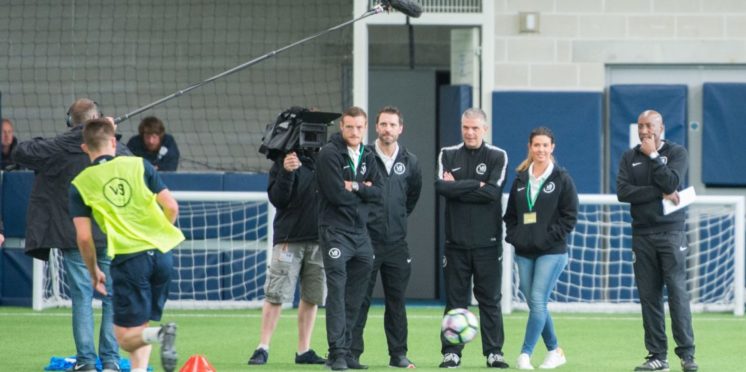 'The Next Jamie Vardy' to air exclusively on Sky this September
Tuesday 22nd August
The first episode of the Sky documentary 'The Next Jamie Vardy' starts on Sky 1 from Saturday 16th September at 11:30am, and will also air on Sky Sports in September.
The fly-on-the-wall documentary, produced by Zig Zag Productions, explores Jamie Vardy's V9 Academy, as he seeks to discover the next big talent from non-league football, and help them realise their professional dream, while providing them with a unique experience into what it takes to play at the top level.
With unprecedented access, this six-part doc-series provides a dramatic view into the fortunes of some the most talented non-league players, who have been shortlisted to attend the V9 Academy in front of scouts from around the world in a bid to be 'The Next Jamie Vardy'.
 The series will also follow the stories of hopefuls in the build-up to their time in the V9 Academy and will look at Jamie's time in non-league football, where he began his career with Stockbridge Park Steels in 2007.
Chris Ramsey, QPR's current Technical Director and former Everton and Celtic defender Alan Stubbs, also feature in the documentary, as the series provides 'behind the scenes' look at how coaching, sport science, fitness methodology, talent identification and mental training is carried out at an elite level. 
Jamie Vardy, striker for Leicester City and the England national team: "There's massive talent out there in non-league football, and I hope this documentary has demonstrated that, by putting the spotlight on players trying to find a way to the top.  I'm now hopeful that some of the clubs, scouts and players that were sceptical about what John and I set out to do are won over. There are many more hidden gems to be found outside the league, and V9 will do all it can to help players realise their ultimate dream of playing professional football for club and country."
Adam MacDonald, Director Sky 1, Sky Living: "Jamie completed one of the most remarkable stories in the history of English football by winning the Premier League title. Now Jamie wants to offer that fairy tale opportunity to others like him who are playing in the non-league with his V9 academy. We can't wait to use this unique access to show Sky customers the real stories behind non-league players hoping to make it to the big time."
John Morris, co-founder of V9, and the man who discovered Jamie Vardy: "With the right attitude non-league football is full of talented players ready to take the top-level by storm. The remarkable aspect of Jamie's story is that a player of his quality is proof that hidden talent can lie undiscovered in non-league football if you look hard enough. The V9 academy has proved that there are league players within the non-leagues, with the documentary showcasing some great examples of why it is never too late to fulfil your dream of being a professional footballer or being 'The Next Jamie Vardy'."
---