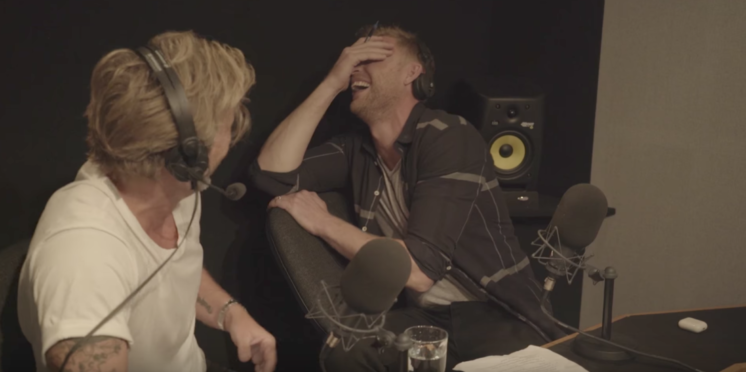 FREDDIE FLINTOFF HAS A NOTORIOUS 'FLAN' AFTER BEING DUPED BY ROBBIE SAVAGE AND CONOR MCGREGOR IMPRESSIONIST
Friday 25th August
Former England cricketer tricked by Robbie Savage and comedian Al Foran in build-up to Floyd Mayweather v Conor McGregor fight
Ahead of one of the richest fights of all time, 'Freddie' Flintoff – William Hill's new brand ambassador – was tricked into believing he was conducting a phone interview with 'Conor McGregor' for the William Hill Boxing Podcast with Robbie Savage.  Unbeknown to Freddie, he was interviewing the impressionist, Al Foran.
Freddie was 'punted' by Robbie Savage after convincing the England legend that William Hill had secured a radio interview with the Irish fighter from the bookmakers' Leeds studio. Foran impersonated McGregor at the fighters' training camp, appearing disgruntled at the inconvenience of the early morning phone interview.
After a frosty start to the interview, Foran silenced Flintoff with a series of brash responses, before accusing him of "licking his a***" and referring to him as "a former fat cricketer". As Foran ended the interview in a rage, Savage revealed to William Hill's latest ambassador that the whole call had been a hoax.
Freddie Flintoff said, "As someone that never gets done, I've got to hand it Robbie. He had me hook, line and sinker. I knew that Conor was unlikely to have much free time ahead of his record-breaking bout but with William Hill's history of sponsoring boxing, I didn't question the interview.  All I'll say is that Robbie better watch out as I've been chatting to William Hill about our next appearance!"
Robbie Savage added, "Freddie is one of my best mates and we often wind each other up.  I am usually on the receiving end so it's nice to get one back on him,  Al's impression of Conor was spot on. It's great to get one over Freddie, that I know he won't forget!  As William Hill ambassadors, I think we're going to have a lot of fun together."
Tony Kenny, Head of Consumer & Sponsorship PR, William Hill, said: "This is why everyone loves Freddie, he enjoys a joke as much as a fan on the terraces.  When Robbie mentioned the idea, we thought it was a great means to launch the fact that we won't be beaten on any price for Mayweather or McGregor to win!  It's a huge fight and we expect over £100 million to be waged on the fight."
The prank call marks the start of Al Foran's partnership with William Hill. Foran will be streaming live content and odds from Las Vegas at 
www.facebook.com/alforancomedy
.
---