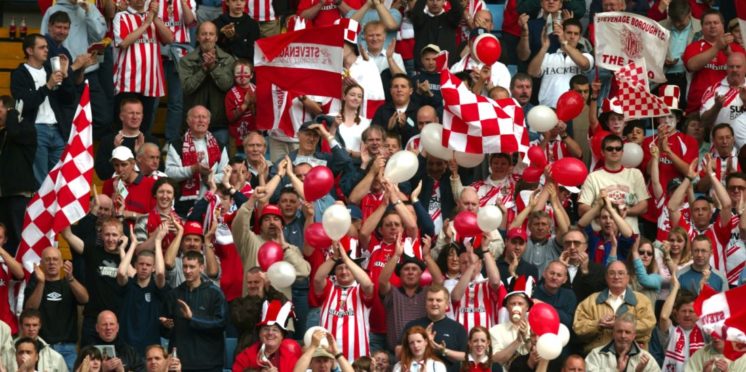 ENGLISH FOOTBALL'S FIRST MINI-BOND RAISES OVER £500,000 FOR STEVENAGE FC
Tuesday 29th August
Campaign launched in partnership with Tifosy, the world's first professional sports crowdfunding platform, hits target three weeks early, heralding a new era for professional sports investment
The first ever mini-bond in English football, launched by Stevenage FC and sports fanfunding platform Tifosy, has raised £500,000 in just one month to build the club a new North Stand.
The ground-breaking campaign, which has been backed by hundreds of fans, including best-selling author Ken Follett, reached its target three weeks ahead of schedule.
More than 200 fans invested between £500 and £25,000, choosing either 4% cash interest or 8% club credit interest per annum.  In addition to the financial returns, investors will also receive unique privileges, including having their name engraved on the new North Stand, taking part in the 2018/19 squad photo and gaining access to matchday hospitability with the Club Directors.
Stevenage FC's successful 'Shoulder to Shoulder' campaign will allow the club to start work on the new development imminently, replacing the North Terrace with a modern 1,600-seater stand in time for the 2018-19 season, thanks to the £500,000 raised through Tifosy and a £450,000 Football Foundation grant.
Stevenage FC chairman Phil Wallace said:
'We wanted to do this shoulder to shoulder for Stevenage, offering fans and the local community the chance to invest in the club to help us grow, but also get a benefit from their investment. There is a financial benefit to the people who invest and fans will be able to enjoy the new stand with great facilities for all'.
The EFL League Two club partnered with Tifosy, the world's first professional sports crowdfunding platform, co-founded by former footballer and Chelsea manager Gianluca Vialli. It is the only sports-focussed investment platform licensed by the FCA and gives fans the chance to invest directly into their clubs while enabling clubs to raise capital and engage fans.
Tifosy Founder & CEO Fausto Zanetton said:
'We are delighted by the success of the Stevenage FC mini-bond. This is a transformative moment for the way fans can interact with their clubs. We are unleashing the passion of fans, giving them the chance to invest in clubs they believe in, and giving clubs the opportunity to raise funds deepening their relationship with their fan base."
---