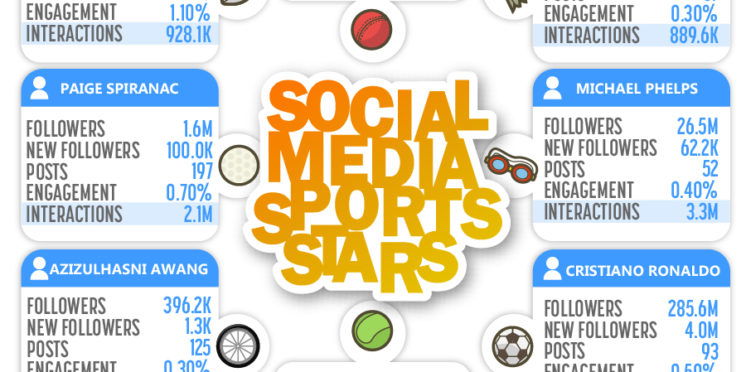 More Than an Athlete: Sport Stars Taking Social Media by Storm
Tuesday 29th August
In 2017, the way we watch and support sport has changed. As television viewing figures rapidly
decline, sport enthusiasts – particularly of a young age – are seeking sporting-thrills through
different mediums.
Just two months ago, a report claimed Sky's live TV channels fell by 14% over the course of the
2016/17 Premier League season – despite the broadcaster paying around 83% more for the
most recent deal.
The figures come from the Broadcasters Audience Research Board, which also revealed a 6%
decline in total viewing figures during the same period.
Underwhelming TV figures point to signs of a wider trend in how audiences consume live sport,
with younger audiences favouring highlights on an app like Snapchat over viewing a full game on
TV.
A spokesman for Sky adds: "As we anticipated, the way customers engage with live sport is
changing – with strong growth in newer, digital-first platforms."
Fittingly, it has been reported 45% of people will turn to social media as a regular source of sport related
news.
Golfsupport.com decided to analyse the top ranking social media star in each sport, to determine
which athletes are creating a buzz for their sport and relative sponsors – all the while
strengthening their brand as a highly lucrative business.
Research revealed, and with no surprise, that the world's biggest sports star – who happens to
play for the world's biggest sport – Cristiano Ronaldo, is the athlete with the highest social media
interaction; garnering 141.2 million likes, comments, shares and views in July 2017 alone.
Certainly, Ronaldo's value is a combination of heavy social media usage and the largest following
of any athlete, totalling 285.6 million.
As it is estimated Ronaldo's sponsored posts have a value of $1.6 million each, for sponsor's like
Nike, Herbalife, Tag Heuer and Abbotts Lab, it is evident how valuable his participation with the
brand truly is. In fact, so confident in this were Nike that they inked a lifetime deal at the end of
2016 reportedly worth $1 billion.
Following Ronaldo is cricket's Virat Kohli (27.5 million interactions), tennis player Roger
Federer (5.1 million interactions), renowned US swimmer Michael Phelps (3.3 million
interactions) and leading golfer Paige Spiranac; social media's savviest female sports star,
with 2.1 million interactions. Each attaining lucrative sponsorships of their own.
For example, Virat Kohli has recently renewed his bat sponsorship deal with MRF for eight years
and has also signed an endorsement deal with sports lifestyle brand Puma for a similar period –
one of the biggest endorsements to be secured in his native country, India.
Meanwhile, Paige Spiranac has developed a huge social media fan base over the past year and
mobile golf technology start-up 18Birdies hopes a good number of her followers are the
Millennial golfers they're targeting.
Spiranac signed with 18Birdies as a brand ambassador and will be used in a variety of marketing
opportunities, including a national TV advertising campaign – a first for the professional.
Chief marketing officer at 18Birdies, Susan Song comments: "We are very excited to be working
with Paige. She has built an influential reputation in the social media space and we are
looking forward to bringing her unique content to our fans."
Closing the top-ranking list, is rugby's James Haskell (928.1 thousand interactions),
badminton star P.V. Sindhu (889.6 thousand interactions) and successful track cyclist
Azizulhasni Awang, at 149.9 thousand interactions.
For the full article, please look to: https://golfsupport.com/blog/the-worlds-biggest-sport-starstaking-social-media-by-storm/
---