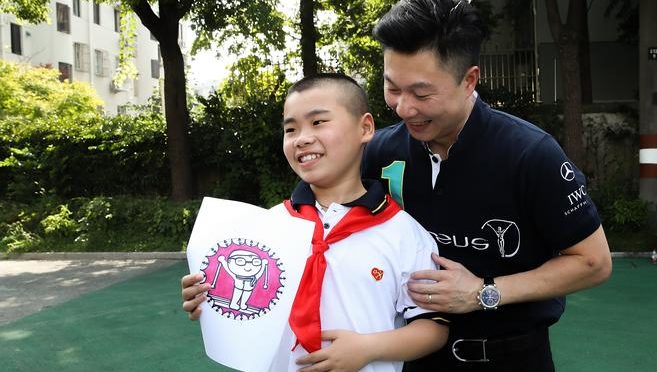 TIME WELL SPENT BY LI XIAOPENG
Tuesday 12th September
 A unique design by a 12-year-old Chinese boy has been chosen for a new limited edition watch which will raise funds to help Laureus Sport for Good improve the lives of young people around the world.
Hou Ye, a Special Olympics athlete in Shanghai, was one of hundreds of children from Laureus-supported projects worldwide who entered the IWC Schaffhausen drawing competition.
Hou Ye and the pupils at the Jingan Qihui Special Education School were thrilled when Olympic gymnastics superstar Li Xiaopeng came to congratulate him on his design, which is engraved on the case back of the 11th in the series of Laureus special editions, the IWC Da Vinci Chronograph Edition "Laureus Sport for Good Foundation" (Ref. IW393402), with a theme of 'Time Well Spent'. The drawing features a young boy skiing and throwing his hands up in joy – a reference to Hou Ye himself, who is an accomplished Special Olympics athlete.
Special Olympics makes it possible for children and adults with intellectual disabilities to participate in sports training and competitions. It is estimated that China has over 85 million people living with a disability.
Quotes:
Laureus Academy Member Li Xiaopeng: "Congratulations to Hou Ye and to the Special Olympics programme. It is a great achievement for him and an acknowledgement of the wonderful work Special Olympics is doing in China for his design to be selected for the Laureus Sport for Good Special Edition watch. This is a great project that breaks down barriers within the community and shows just what sport can achieve. Special thanks to IWC who have been raising funds for Laureus Sport for Good for more than 12 years by means of this watch. It's a really imaginative idea."
Christoph Grainger-Herr, CEO of IWC Schaffhausen: "I would like to congratulate Hou Ye and Special Olympics. As Global Partners of Laureus Sport for Good, we are delighted that funds from sales of this unique watch and other earlier editions are able to do so much good to help young people in Laureus projects around the world. We have had winners from a whole range of countries, including Sri Lanka, Cyprus, Russia, Uganda, and now China. The drawing by Hou Ye captures the fun and importance of sport; beliefs which we share passionately at IWC Schaffhausen."
Cherry Ye, Marketing and Development Director from Special Olympics East Asia: "Everyone at Special Olympics in Shanghai is delighted that Hou Ye's design has been chosen for this year's IWC Laureus Sport for Good watch. He is very excited that his drawing has been selected and that so many people will see it. Taking part in this competition has been very educational and inspiring for all our young people and made us feel part of a bigger Laureus family, knowing that so many other children from so many different countries around the world have been involved."
•      Laureus legend Li Xiaopeng honours Chinese student who wins watch design competition
•      Hou Ye, 12, is participant in Special Olympics project in Shanghai
•      Exclusive watch from Global Partners IWC raises funds for Laureus Sport for Good
•      See Hou Ye's winning design here
---