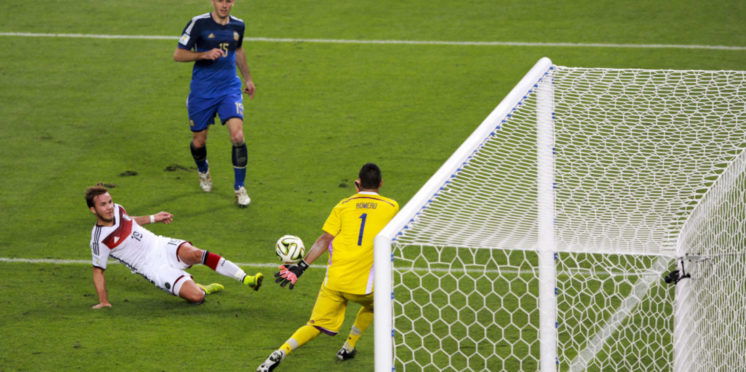 Victory for football as Brits reveal their ultimate sporting bucket list
Thursday 14th September
British sports fans have confirmed the 10 events they'd most like to attend in their lifetime, and it's a major victory for football.
The research conducted by Ladbrokes found that despite a lack of success for our national clubs in the last four decades, the FIFA World Cup Final still took the number one spot with more than half (53%) of British sports fans aiming to attend the quadrennial contest.
Although football dominated the top 10, iconic British sporting occasions such as The Grand National and Wimbledon are also on our 'to do' lists. What is clear is that we're really lucky to live in a nation that's home to some of the best sporting events in the world, with the majority of events in people's top 10 list available to attend on home soil.
The Ultimate Sporting Bucket List revealed:
1. FIFA World Cup Final (53%)
2. The FA Cup Final (44%)
3. Wimbledon (43%)
4. A Champions League Match (37%)
5. The Olympics (33%)
6. F1 Grand Prix (23%)
7. Club Team Playoff Final (22%)
8. A Club Team European Game (21%)
9. El Clasico (19%)
10. Grand National (18%)
Although football events remained a strong favourite across the board, female sports fans spread their choices more evenly1, with tennis events such as Queens and The Australian Open (18%) proving popular. Votes for rugby events were dominated by male sports fans – twice as many men want to attend the Rugby World Cup Final than women (20% vs. 9%) with a similar result for the Six Nations (20% vs. 12%).
The research also delved into how much money sports fans have spent on their passion in the last 12 months, with golf enthusiasts spending the most – around £777 in fact. 4% of golf fans have handed out a massive £4000 in the last year!
On average, sports fans are splashing out around £424 each year to keep up with their favourite pastimes. Considering 43% of those polled named football as their favourite sport, it could be time for the 'Twenty's Plenty' message to be enforced with more rigour.
Matthew Phillips from Swansea claims to have spent upwards of £4000 in the last 3 years following his beloved Swansea City FC round the globe. Matt said: "In total I've seen The Swans play at around 90 grounds in The UK and abroad. A lot of my friends go, too, so there's a great social side to the trips as well as the football.
"I love travelling and it's great when you go to all of that effort and the team perform – it's well worth it!"
A Ladbrokes spokesperson commented on the findings: "Sport has always been a huge part of British culture, but with the ever-growing opportunity to watch a huge range of new and international sports on TV and online, we wanted to see if our priorities as a nation had changed.
"Clearly the results show that our traditional favourites such as domestic football and tennis are still popular, but to see the likes of El Clasico making the top 10 is a bit of a surprise."
To find out more about the results of the research and to read all about the events that Brits named in the Ultimate Sporting Bucket List, head to https://sports.ladbrokes.com/sports-central/in-the-know/the-ultimate-sporting-bucket-list/
---