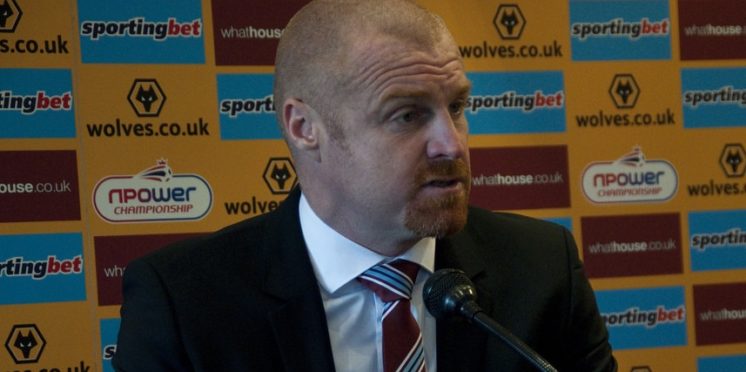 Anyone fancy Sean Dyche to go to Arsenal?
Tuesday 24th October 2017
Anthony Mutombo – Student UCFB, Wembley
Earlier in the month, football television pundit and former England international Ian Wright, stated on a BBC Radio talk session, that he would "welcome the appointment of Sean Dyche" as successor to Arsene Wenger as the manager of Arsenal. The former gunners all-time top goal scorer also explained that the current Burnley manager needs a new challenge to showcase his managerial prowess. However, once listeners caught word of what had been said in that broadcast, social media went into a frenzy. The statement was met with a lot of ridicule, deride and well…disrespect; mainly from the Arsenal supporters. Nevertheless, I wanted to explore why Mr Wright may believe that Sean Dyche was, and possibly could be the right man to follow up on the great Arsene Wenger.
Sean Dyche has been a humble servant to Burnley football club since his appointment in 2012. A formidable leader to his highly dedicated and well drilled squad. Dyche has steered his team to two promotions from the Championship whilst fore-fronting their survival in the competition last year. The club has also nurtured and introduced the likes of Danny Ings (whom has gone AWOL of late), Kieran Trippier, Tom Heaton, Michael Keane and Andre Gray to the Premier League, with some earning big moves away from the club, and receiving regular England national team call ups. The others have become well respected league figureheads, all under Dyche's tutelage. The 46-year-old has shown both great intelligence with squad building and managerial pedigree as he achieved all feats whilst being starved of a relatively large transfer budget. Dyche broke Burnley's transfer record with the signing of Chris Wood from Leeds United just this summer, with the New Zealand striker costing the Lancashire club 15 million pounds. A price not too hefty, especially when you remember that Crystal Palace, whom currently sit bottom of the table, forked out 30 million on two separate occasions. Firstly, with their acquisition of Belgian striker Christian Benteke from Liverpool in 2016, and then repeating the feat this summer, returning to Anfield to prize away defender Mamadou Sakho.
The Clarets have started this season in emphatic style, shocking the country when they left Stamford Bridge with all three points on the opening day of the Premier League with a 3-2 victory over the Premier League champions; before claiming impressive draws away at Liverpool and Tottenham, and then beating Everton 1-0 at Goodison. His team have showed incredible fight and great organisation as they currently sit seventh after eight league games.
Sean Dyche's robust and aggressive style of play see's his team line up in the classic 4-4-2 formation, one that has been deserted by the game of such. When off the ball, his back four are tight, compact and sit deeply in their own half. The two central midfielders, normally Jeff Hendricks and Jack Cork, also drop deep to make sure there's no gaps between the defence and midfield for the opposition & their modern day 'Number 10' to exploit. The wingers, normally Scott Airfield & Robbie Brady are the most energetic of the lot, as they endlessly run up and down the flanks in an attempt to support the full backs but also stretch the opposition with driven runs that spark counter attacks. Jeff Hendricks is the creator of the side, and once gains possession, looks to find the feet of Sam Vokes. Vokes is the claret and blue's target man, and holds the up the ball as he waits for either strike partner Chris Wood to aid, or the rest of the Burnley midfield to join the attack.
Dyche's Burnley team are well organised, and are set up to be a stubborn team to break down, frustrating their oppositions. Whilst they may not play the most entertaining football, in terms of results, Dyche knows what to do in order to get the job done. You can only imagine what he can do with better players & a bigger budget right?
Maybe the step up to Arsenal is too large, or maybe it isn't. However, Sean Dyche is now linked with the vacant Leicester City job after the unsurprising sacking of Craig Shakespeare. This is evidence that he is a worthy manager; but if Stan Kroenke and Arsenal do ever come calling, let's be hopeful it's not a repeat of the 2013-14 David Moyes saga of being completely out of depth at a club way too big for him.
Sportsvibe works with UCFB to give its Media students a live platform for their work. Any of the views and opinions expressed in their articles are their own and do not necessarily reflect the view of Sportsvibe or of Fleet Street Sport and Media Group
---