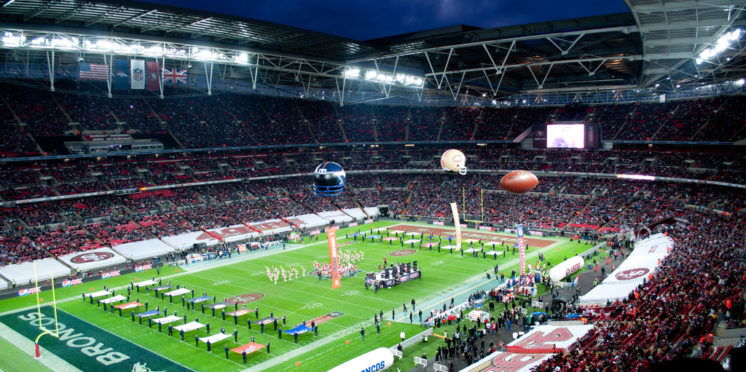 Ten years of NFL in London, where will we be after ten more years?
Monday 6th November 2017
Kiaran Saunders – UCFB, Wembley
A decade ago the Miami Dolphins hosted the New York Giants at Wembley, but who could have predicted the surge in popularity of the sport since then. The NFL currently has an agreement to stage at least two games a year at Wembley Stadium until 2020. On top of this between three and five games have to be played at Twickenham between 2016 and 2018 and then a further two games a year at the proposed new Tottenham Hotspurs' stadium in North London.
The ten-year agreement between Tottenham and the NFL has led to much speculation about the potential of a London franchise in the not too distant future. It has been suggested that the team would play six straight home games and six straight away games in order to accommodate the demands of the NFL. From a business point of view, a London Franchise sounds like a no brainer. The design of the new White Hart Lane Stadium includes a retractable NFL pitch which will allow a soccer and football game to be played on the same weekend. The retractable artificial pitch goes over the football pitch when needed, making it less work for the groundsman and thus more feasible to hold six games a season. Providing the current agreement is a success it would seem to be ridiculous to pass up such a lucrative opportunity, particularly since it was reported that in 2014 the NFL made $32 million dollars in revenue from sell-out crowds at Wembley.
The benefits of having a home game in London can be considerably more rewarding than their average home games. For instance the Jacksonville Jaguars play their home games at the EverBank which has a capacity of 67,297 over 20,000 less than Wembley. Moreover, the average ticket at Jacksonville sells for $58 dollar less than half the average Wembley ticket at $127. This earns the Jaguars over $10 million in revenue which is huge for a side of their ranking. It also makes them favourites to relocate their franchise to London. Their owner Shahid Khan also owns Fulham Football Club, however, he currently denies any potential plans to move the team to London.
Nonetheless, the prospect of a London Franchise seems inevitable. With massive crowds attending games year on year, it looks like only a matter of when rather than if. The expansion of the sport will broaden its fan base and with the success of the marketing in London, it's only going to get bigger. Crowds flock to Regent Street in their thousands when the NFL host promotional days there.  So maybe in ten years time, it will be logistically possible and the NFL will give the go ahead but until then we can only continue to enjoy the International Series games hosted here.
Sportsvibe works with UCFB to give its Media students a live platform for their work. Any of the views and opinions expressed in their articles are their own and do not necessarily reflect the view of Sportsvibe or of Fleet Street Sport and Media Group
---