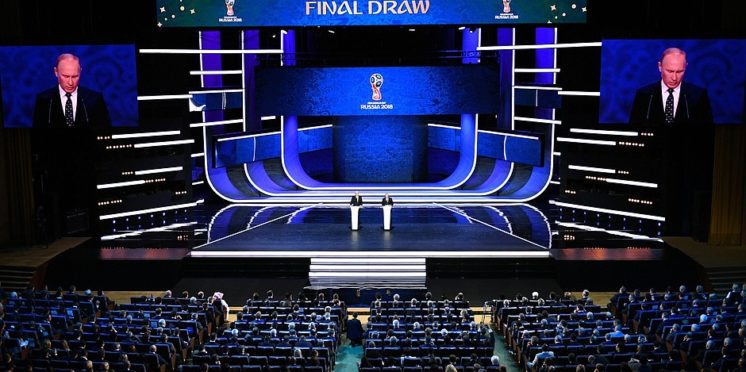 FIFA World Cup 2018 Draw – Review and Comment
Tuesday 5th December 2017
Mario Georgiou, Thrid Year Student – UCFB, Wembley
England have been drawn with Belgium, Tunisia and Panama in Group G for this summer world cup in Russia. This Friday in Moscow Diego Maradona handed England a relatively easy group on paper, with the only difficult game being playing Belgium. With Tunisia and Panama being first timers to the competition, the irony this time is that Diego Maradona has been good with his hands, after knocking England out of the World Cup back in 1986 with the famous 'Hand of God'.
England manager Gareth Southgate spoke after this summer World Cup draw about the prospect of qualifying from Group G and what difficulties they are likely to have. Southgate said "We have to be focused, to make sure nothing is taken for granted which, in fairness, I don't think is what happened. But we also have to handle the expectation of being one of the favourite teams in the group. For us, as a team, when you're involved with England that's the mentality you've got to have"
"You know as a second seed you're going to play two teams ranked below you. But it's still a bit of an unknown at this moment, it's great now to get the videos out and start plotting and following exactly the players we're going to be up against and the coaches".
Gareth Southgate also spoke about the presence of facing Belgium and facing former Everton manager and now Belgium head coach Roberto Martinez, "Belgium we know pretty much everything about" Southgate also stated about the prospect of facing many player from the Premier League, "That will capture everyone's imagination at home. Probably the best team they have ever had. There will be a bit of banter going on at Manchester United, Tottenham and Chelsea with all the players winding each other up, with the likes of Thibaut Courtois, Toby Alderweireld, Jan Vertonghen, Kevin De Bruyne, Moussa Dembele, Eden Hazard, Romelu Lukaku and Dries Mertens coming head to head with England. That really is a 'golden generation".
Southgate also spoke about facing first timers Tunisia and Panama, "There's quite a bit of unknown in the group, we've never played Panama". Gareth Southgate also said "playing Tunisia takes me back to Marseille, one of the best days of my life, playing in my first game at a World Cup finals for England
Looking at the last two tournament and England getting knocked out to Costa Rica and to Iceland, this tournament Gareth Southgate needs to make sure England are fully focused and prepared to make sure no upsets or shocks happen in Russia 2018.
Looking at the draw, 2010 winners Spain have been drawn in the same group as last summer's Euro winners Portugal. The group of death looks to be Group E which includes Brazil, Switzerland, Costa Rica and Serbia. Another tough group in next summer tournament is Group D, which holds Argentina, Iceland, Croatia and Nigeria.
The opening game will be the hosts Russia playing Saudi Arabia in Group A on Thursday 14th of June. Looking forward to Russia, we then look forward to the players involved and ones to look out for in each group.
In Group A, one of the players to look out for is Mohmand Salah who single handily helped Egypt to qualify for Russia 2018 scoring 32 goals in 56 international appearances. Another player to look out for, who likes to make a name for himself in the World Cup, is Barcelona's Uruguayan striker, Luis Suarez.
Group B teams are packed with a lot of star-studded players, including Portugal's Cristiano Ronaldo, who is going to captain his country and hopes to win them their first World Cup. Also within Group B are Spain the 2010 winners, their star player looks to be Real Madrid attacking midfielder Isco.
Group C features France with a squad full of many amazing and talented players. Two players to particularly look out for would be Manchester United's Paul Pogba and Atletico Madrid's Antoine Griezmann. Going into the tournament and looking at the plethora of talent available to Didier Deschamps, France look to be favourites to win the tournament.
Group D holds Argentina and one of the top two players in the world, Lionel Messi, who singled handily helped Argentina to qualify for Russia 2018 by scoring a hat-trick against Ecuador to seal qualification to the tournament.
Group E contains none other than Brazil whose teams always look to shine in World Cups. A player that encompasses this is PSG's Neymar. the £200m signing will be one of the players to look out for at this summer World Cup.
Group F holds the defending and four-time World Cup winners Germany. Their squad is full of highly experienced players who have played in the world cup before, but one of their most experienced players is goalkeeper Manuel Neuer, who looks to play a big role on Germany trying to win back to back World Cups for the first time since Brazil did it in 1962.
Group G pitches two great footballing sides, Belgium and England, against each other. Chelsea's skillful winger Eden Hazard looks to captain Belgium in next summer tournament and is one to look out for. England's danger man is striker Harry Kane who can't stop scoring for club and country.
Lastly Group H is headed up by Poland who are captained by goal machine Robert Lewandowski, he scored 16 goals in nine qualifying matches for Poland and is their all-time record goal-scorer. The skipper has scored a total of 51 international goals in 91 games.
| | | | | | | | |
| --- | --- | --- | --- | --- | --- | --- | --- |
| Group A | Group B | Group C | Group D | Group E | Group F | Group G | Group H |
| Russia | Portugal | France | Argentina | Brazil | Germany | Belgium | Poland |
| Sadui Arabia | Spain | Australia | Iceland | Switzerland | Mexico | Panama | Senegal |
| Egypt | Morocco | Peru | Croatia | Costa Rica | Sweden | Tunisia | Colombia |
| Uruguay | Iran | Denmark | Nigeria | Serbia | South Korea | England | Japan |
Sportsvibe works with UCFB to give its Media students a live platform for their work. Any of the views and opinions expressed in their articles are their own and do not necessarily reflect the view of Sportsvibe or of Fleet Street Sport and Media Group
---