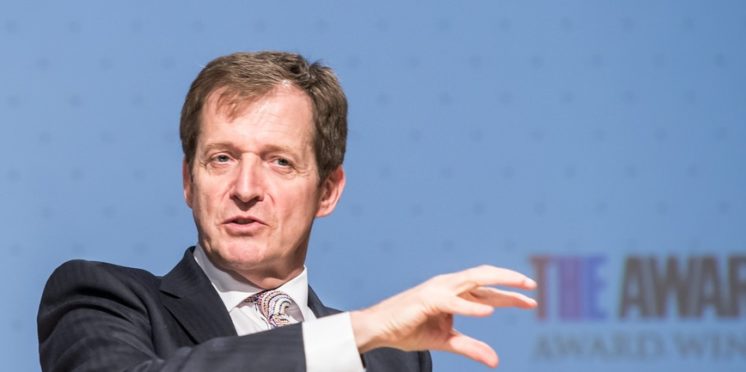 ALASTAIR CAMPBELL TEAMS UP WITH FORMER BURNLEY STAR PAUL FLETCHER TO WRITE FOOTBALL NOVEL
Wednesday 6th December 2017
Alastair Campbell has written a football novel in collaboration with ex-Burnley star Paul Fletcher, co-founder of the University College of Football Business.
'Saturday Bloody Saturday', the new novel from the former journalist turned strategist and spokesman for Tony Blair and New Labour and now bestselling writer and diarist, consultant strategist and mental health campaigner, will be published by Orion in February 2018, at one of the peaks of the football season.
Ed Victor Ltd have sold UK and Commonwealth rights to Publisher Alan Samson of Orion, who says: "This novel has everything – authentic, vivid characters, an inside knowledge of the world of football, and a political thriller plot as an IRA hit squad seeks to exploit the instability of a General Election. It has some elements of nostalgia too, but although the story is specifically set in 1974, the themes of the narrative and the personalities of the players, managers, directors and fans are all too real and relevant today and the backdrop of Irish terrorism is a reminder of the fragility of peace and of human life."
You should never meet your heroes, the saying goes. Well, Alastair Campbell met one of his, Paul Fletcher, and a great friendship began. This co-authored novel, titled 'Saturday Bloody Saturday', is its latest manifestation.
About the Authors
When Campbell was fourteen, in 1971, Fletcher signed for Burnley, the Lancashire football club Yorkshire-born Campbell has supported since he was four years old. At the time Burnley were in the old First Division, today's Premier League, and Fletcher was then the club's most expensive ever signing when he moved from Bolton Wanderers. A striker, he stayed with the club for nine years, scoring 71 goals in 293 appearances. A signed photo of one of those goals – an overhead kick in a famous 4-1 win away at then all-powerful Leeds United – has for many years had pride of place on Campbell's office wall.
Back then, they were on little more than nodding, autograph-signing, brief-chatting-as-the-team-bus-arrived acquaintance and when Fletcher moved to Blackpool, and then retired early aged 32 with a serious leg injury, the player and the fan might have assumed they would never meet again.
But Fletcher moved from playing to the business side of the game, helping with the delivery of some of the most iconic new stadia, including Huddersfield Town, Coventry City, Bolton Wanderers and the new Wembley. He became Chief Executive of Huddersfield Town, CEO and MD of Coventry City and eventually CEO of Burnley FC. By then Campbell had risen to national prominence in politics and was regularly described as 'Burnley's most famous fan.' So they renewed their acquaintance. Then in 2007 they came together with co-founder and Burnley Director Brendan Flood at the inauguration of the University College of Football Business, first based in Burnley and now at Wembley and the Etihad Stadium in Manchester.
In recent years there has been a Campbell-Fletcher Burnley home game ritual. Campbell gets the train from London to Preston. Fletcher picks him up. They chat en route to the match, often about the fact that Campbell has played with Maradona and Pele (in charity matches) whilst Fletcher has not. Afterwards Fletcher drives him back to Preston. It was on one of these trips that the former footballer told the political-strategist-turned-bestselling-writer that he had an idea for a novel about a football club in 1974. But he wasn't sure he could write it on his own. Campbell liked the outline, liked some of the characters, and they decided to write it together. So they have. Here it is. They hope you have as much fun reading it as they have had writing it.
Advance praise for the book
 'Alastair Campbell and I spent hundreds of hours together during the peace process and, fair to say, a lot of the downtime was spent talking about football.   A story  that brings together so brilliantly football in the 70s and the  dark days of the terrible violence we worked so hard to end is a must-read for any fan of football or any friend of Ireland.'
Bertie Ahern, former Taoiseach of Ireland
'With a lot of football and a fair bit of Ireland, this book was made for me.'
Johnny Giles
 'A gripping combination of football (as we  used to know it) and terrorism (as we still know it). And no, I didn't anticipate the explosive climax.'
Delia Smith
 'A brilliantly told story about football when it was a proper mans' game.'
Ron Harris
 'A great book. It has everything – thrilling suspense, intrigue, funny – and what an ending.  I couldn't put it down.'
Brian Flynn
'I nearly bought Paul Fletcher from Burnley when I was manager at Manchester United. It could have been my biggest mistake!! Great book, though, all about my era.'
Tommy Docherty
 'Magical story of football in a wonderful era, fascinating ending.'
Tom Watt
SATURDAY BLOODY SATURDAY by Alastair Campbell and Paul Fletcher is published on 8 February 2018 (Hardback: £18.99, eBook: £9.99).
For further information about the book, to request an interview with the authors &/or an advance review copy, please email[email protected]
---