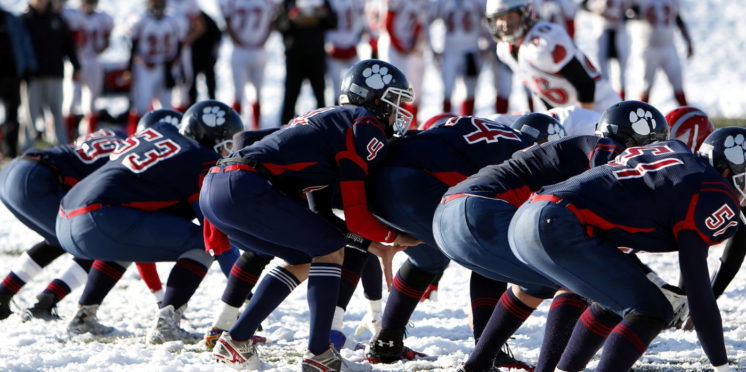 UK continues love affair with US Sports
Tuesday 12th December 2017
Tom Tyler, Student UCFB – Wembley
The NBA has announced that the London game for 2018 will take place on Thursday 11th January between Philadelphia 76ers and Boston Celtics. After this announcement and paired with the continuous success of the NFL in the UK, brings the question are American sports becoming world sports?
The NBA is following in the footsteps of the NFL in bringing the sport across the pond to the UK. NFL's most recent year in London was its most historic, as London hosted a record four games, two taking place at Wembley and a further two at Twickenham Stadium, this was in celebration of 10 years since the very first regular season game was staged in London.
NFL, in its 10 years, have hosted 14 games in the UK and all but one has sold out. These events provide the UK fans something different, something that UK sports do not, and that's the American culture. These events are more than just the sport, it becomes a show with live music and dance performances, these sports allow for a lot more fan interaction that can entertain people that are not interested in the sport.
The UK interest in basketball has increased throughout the years as in 2014 BT Sport announced that they had agreed a multi-year deal for the broadcasting rights of the NBA and in 2015 announced a partnership extension because the interest in basketball was there in the UK.
NBA EMEA Senior Vice President and Managing Director Benjamin Morel said, when the 2018 game was announced, on the NBA website "Our established tradition of hosting NBA games in London has a real impact on the popularity of the sport both here in the UK and with fans visiting from Europe." NBA London games are beneficial for London in many areas, such as tourism, a sentiment echoed by Mayor of London Sadiq Khan, as he said "It is also important that those major events provide important community benefits, which NBA does so well. I look forward to welcoming visitors from the UK, Europe and across the globe and showing once again that London is open."
American Sports are becoming popular all over the world and with these events selling out quicker and quicker, its hard to envision that popularity slowing down any time soon.
Sportsvibe works with UCFB to give its Media students a live platform for their work. Any of the views and opinions expressed in their articles are their own and do not necessarily reflect the view of Sportsvibe or of Fleet Street Sport and Media Group
---