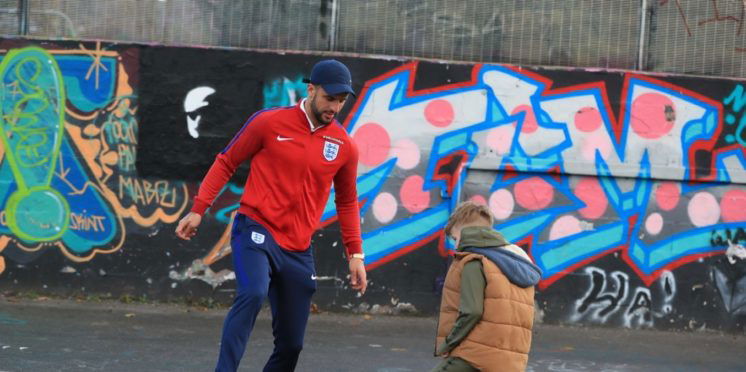 England star Kyle Walker Says Dreams Will Come True in Russia Next Year at Lidl Campaign Launch
Wednesday 13th December 2017
England star Kyle Walker insists he is about to achieve his childhood dream with England as he returned to his Sheffield roots to join a young footballer to talk through his journey.
A recent survey conducted by Lidl of school children revealed that 'Be an England player' was the no.1 childhood dream for those aged 7-12 in England. The Manchester City star joined one lucky child to offer his support in helping them achieve this dream as the supermarket launched their Dream Big with Lidl campaign.
Oscar Lakin, from Sheffield, was nominated by his coaches in the FA Lidl Skills programme as one of the most promising young footballers and he was left lost for words when he met his Sheffield-born hero Walker.
Walker took 10-year-old Oscar to the parks and pitches he first played football and shared his advice on reaching for the stars and becoming an international footballer.
After returning to the city where he first put on his football boots, Walker recalled his own dreams of wearing the Three Lions shirt, back when he was kicking a ball around Highfields Playground.
He said: "Playing for England in Russia will be achieving a genuine childhood dream I've had since the moment I saw Michael Owen score that amazing goal against Argentina in 1998. I honestly can't wait to get out there and experience the pinnacle of our sport.
"It will be one of those career highlights that I will take away with me and tell my grandkids about.
"Coming back to some of these place does bring it all back to you really and you can take a moment to think how far you've come in that time. I was just a lad kicking around a football with his mates and now I'm coming back to speak to Oscar who's at the start of his own journey."
The same survey of children across England showed that children from Sheffield were the most likely to want to play for their country out of all cities. Fending off competition such as being an astronaut, winning the X Factor or being Prime Minister.
And having been given a peek into the life of an England star, Oscar said he couldn't wait to cheer on Kyle and the team in Russia.
"It was amazing that I got to meet Kyle Walker," added Oscar. "I was just jumping all around the room when I found out about it and it was amazing to kick a football with him.
"I love football because it is fun and I love kicking a ball. It makes me really happy. I can't wait to watch England next year and support Kyle and the team."
---