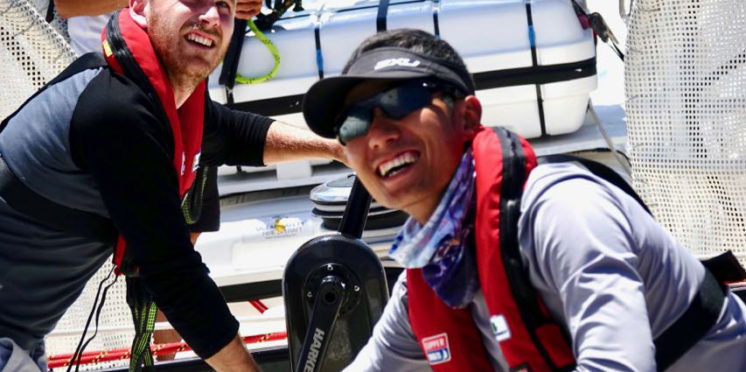 CLIPPER RACE – ROLEX SYDNEY HOBART ETAS
Thursday 28th December 2017
Just 16 nautical miles separate the top half of the Clipper Round the World Yacht Race fleet, as the eleven teams begin their final 24 hours of the Rolex Sydney Hobart Yacht Race.
Australian Skipper of Sanya Serenity Coast and veteran of eleven Rolex Sydney Hobart Yacht Races, Wendy Tuck, has some work to do, with the reigning Clipper 70 Class champion dropping out of the lead overnight.
Wendy, who was the first female Skipper across the line in Hobart in 2015, and her Sanya Serenity Coast team are currently estimated to finish sixth, arriving between midday and 1600 on Friday 29 December (0100 – 0500 UTC).
PSP Logistics, whose Skipper Matt Mitchell is competing in his second Rolex Sydney Hobart Yacht Race, is currently in line to take out the Clipper 70 Class win, after gybing away from the rest of the pack. Whilst the move initially saw the team drop from first to eleventh position, it has certainly paid off, with the team currently estimated to arrive first between 0900 and 1300 Friday 29 December (2200 – 0200 UTC).
Visit Seattle's Nikki Henderson, who is both the youngest Skipper in both the Clipper Race and Rolex Sydney Hobart Yacht Race, is currently battling Qingdao, GREAT Britain, and Uniceffor a spot on the podium, and is estimated to arrive between 1100 and 1500 Friday 29 December (0000 – 0400 UTC).
More than 200 crew from all walks of life and representing 26 different nationalities are taking part in the Rolex Sydney Hobart Yacht Race, which doubles as Race 5 of the Clipper 2017-18 Race.
The Clipper Race fleet will be berthed at the King's Pier Marina. After ringing in 2018 in Hobart, the teams will then turn their attention to the final stage of the All-Australian Leg 4, from Hobart to Airlie Beach, where the crew will be welcomed by the Whitsundays Clipper Race Carnival, which will run from 13 to 29 of January. For more information, see the Clipper Race Carnival website.
| | | | | |
| --- | --- | --- | --- | --- |
| TEAM | CURRENT POSITION | ESTIMATED ARRIVAL DAY | ARRIVAL (LOCAL) TIME TO FINISH LINE | STATUS |
| PSP LOGISTICS | 1 | FRIDAY 29 DECEMBER 2017 | 0900 – 1300 | RACING |
| QINGDAO | 2 | FRIDAY 29 DECEMBER 2017 | 1000 – 1400 | RACING |
| GREAT BRITAIN | 3 | FRIDAY 29 DECEMBER 2017 | 1000 – 1400 | RACING |
| UNICEF | 4 | FRIDAY 29 DECEMBER 2017 | 1000 – 1400 | RACING |
| VISIT SEATTLE | 5 | FRIDAY 29 DECEMBER 2017 | 1100 – 1500 | RACING |
| LIVERPOOL 2018 | 6 | FRIDAY 29 DECEMBER 2017 | 1100 – 1500 | RACING |
| DARE TO LEAD | 7 | FRIDAY 29 DECEMBER 2017 | 1200 – 1600 | RACING |
| SANYA SERENITY COAST | 8 | FRIDAY 29 DECEMBER 2017 | 1200 – 1600 | RACING |
| GARMIN | 9 | FRIDAY 29 DECEMBER 2017 | 1300 – 1700 | RACING |
| NASDAQ | 10 | FRIDAY 29 DECEMBER 2017 | 1400 – 1800 | RACING |
| | 11 | FRIDAY 29 DECEMBER 2017 | 2000 – 0000 | RACING |
---