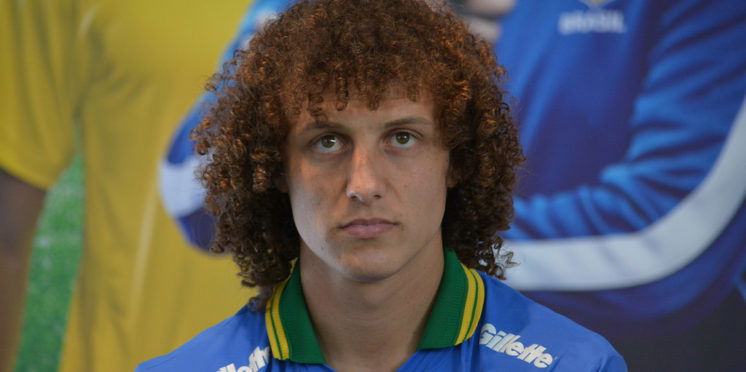 SPORTING HEROES BACK 2018 IT'S A PENALTY CAMPAIGN TO PROTECT CHILDREN AROUND THE WORLD
Thursday 25th January 2018
Recent news stories highlight the need to recognise and educate on the link between child sexual exploitation and sport
It's a Penalty exists to protect children from abuse and exploitation globally through work on the ground and advocacy for global enactment and implementation of Extraterritorial legislation against child sexual exploitation
Previous campaigns have helped facilitate the protection of over 16,300 victims and have impacted over 519 million people worldwide
Today is the launch of the largest campaign to date – targeting four global sporting events
Today It's a Penalty and its partners are pleased to announce the launch of the 2018 charity campaign which will target four major global sporting events as it aims to prevent the abuse, exploitation and trafficking of children online and offline across the globe. Harnessing the power of sport and its ability to unite and break cultural barriers, It's a Penalty positions major sporting events as platforms for positive change across all societies by educating, equipping and encouraging the general public to #knowthesigns of child abuse and exploitation, to know about the penalties for offenders and to take action – 'If you see something, say something'.
Working with its partners – including Comic Relief, A21, The McCain Institute, World Vision, Sysdoc and the Carlson Rezidor hotels – and backed by sporting legends including Gary Lineker, Baroness Tanni Grey-Thompson, Liam Malone,Francois Pienaar, Maro Itoje, David Luiz, Usain Bolt, Denise Lewis OBE, Cathy Freeman and Rashad Jennings, the 2018 campaign is the largest campaign to date. The major global sporting events being targeted are Super Bowl LII in Minneapolis (USA) on 4 February, the Winter Olympics and Paralympic Games in PyeongChang, South Korea from 9-25 February, the XXI edition of the Commonwealth Games in Gold Coast, Australia (4-15 April) and the Cathay Pacific / HSBC Hong Kong Rugby Sevens (6-8 April).
The campaign launch sees the release of a short film introduced by Game Of Thrones actor Jerome Flynn to be shown within the sporting arenas, in hotels and airlines across the world. A series of activities is also planned at the sporting events, alongside new collateral, a new first-of-its-kind safeguarding map
(see: www.itsapenalty.org/makeareport) which explains how to report such crimes against children worldwide; a social media campaign backed by the sporting heroes, and a new global safeguarding It's a Penalty app, to enable the general public to interact, share and learn about ways to protect children.
An international initiative, It's a Penalty works with the governing bodies of sport and organisers of the sporting events, hotel partners, international airlines, NGOs, NGBs and other stakeholders within global sport to not only highlight the global problems of child abuse and exploitation but also the specific dangers of vulnerable children being groomed and exploited during global sports events[1].
It does this by:
Educating sporting fans, tourists, local residents and the general public about the issue, and about the penalties for offenders,  as well as  to #knowthesigns of child abuse and exploitation in order to report it
Encouraging people 'If you see something, say something'
Equipping the general public with global mechanisms to report what they have seen through a local telephone or text number
IAP is pleased to announce the Gold Coast 2018 Commonwealth Games will support the campaign by providing opportunities to reach more than a million attendees, media and officials across the eleven days of world class sport.
Gold Coast 2018 Commonwealth Games Corporation (GOLDOC) CEO, Mark Peters said they were pleased to provide IAP with another opportunity to reach a global audience and share their message to prevent abuse, trafficking and exploitation of children.
"We hope through the various initiatives implemented during GC2018 that IAP achieves its goal of educating the general public and generating a greater awareness of how to recognise the signs of child abuse."
David Grevemberg CBE, Chief Executive Officer of the Commonwealth Games Federation commented: "The Commonwealth Games Federation aims to be a global leader in the promotion and protection of human rights and child safeguarding. We're proud to support, share expertise and partner with It's a Penalty to help develop this important global child-safeguarding initiative in 2018."
Robbie McRobbie, CEO, Hong Kong Rugby Union additionally added "Safe guarding young people should be a priority for all of us, and we are proud to be supporting this campaign, which demonstrates once again the power of sport to make a positive impact on society."
The campaign was originally conceived by Sarah de Carvalho MBE and UK charity Happy Child International to protect children and eradicate child exploitation in the run-up to the 2014 FIFA World Cup in Brazil and, subsequently, the Rio 2016 Olympics and Paralympics. Central to the campaign was the education of sports fans, tourists, athletes and local residents on the risk of inadvertently having paid-for sex with children aged 17 or under, believing them to be older.
By working in conjunction with NGOs around the world, British authorities and the Metropolitan Police, It's a Penalty, together with their partners, helped facilitate the protection of over 16,300 victims of child exploitation during the 2014 football World Cup and the 2016 Olympics & Paralympics in Rio de Janeiro. The It's a Penalty campaign has now reached and impacted 519 million people worldwide.
The long term objective of It's a Penalty is to achieve systematic change in order to protect children on a global scale. To achieve this goal they are advocating for the global enactment and implementation of Extraterritorial legislation against child exploitation which will allow countries to prosecute their citizens for the abuse of children abroad.
Sarah de Carvalho says: "There is no doubt that prevention is infinitely preferable to cure when it comes to child abuse. From our work with the 2014 World Cup and Rio 2016, we know how crucial it is to educate, equip and encourage the public to stop more children becoming victims of sexual violence."
She continues: "As the sporting calendar gets underway for 2018, it's wonderful to have the support of so many influential sportspeople, sporting and governmental bodies and tourism groups. We also wouldn't be where we are today without our partners – Comic Relief, A21, The McCain Institute, World Vision, Sysdoc, the Carlson Rezidor hotels and airlines including Cathay Pacific, British Airways, American Airlines and Virgin Australia.  With over 2 million children exploited into the global sex trade every year[2], it's never been more important for sports fans to work together as a team to protect vulnerable children and we hope our new initiatives will inspire much-needed change."
David Luiz said: "Everyone who loves sport should come together and support It's a Penalty. Without healthy children there will not be a future for sport. I am happy I can support."
Gary Lineker agrees: "I'm proud to be involved. This campaign can – and will – make a difference."
Andrew Hassett – Senior Director, Advocacy & Global Campaigns, World Vision International – "Violence affects more than 1.7 billion children every year, in every country and every community. It robs them of their dignity, their rights, their future. It will take all of us working together to break the silence and offer hope for children like Haim in Myanmar, forced to fight in adult wars, or Abigail, a 13 year-old advocate fighting to end child marriage in Ghana. The good news is that there is growing evidence of the most effective solutions to end violence against children and mounting public pressure that it will no longer be tolerated".
Lisa Bedding – Senior Investment Partner, Sport for Change at Comic Relief – "Comic Relief is delighted to be funding Happy Child International's innovative work around the power of sporting events to campaign against child exploitation."
Christian Elliott – A21 Global Anti-trafficking organisation – "We are delighted to be a founding partner alongside the Stirling work of Sarah and her team.  The success of IAP is contingent upon the successful collaboration between the Public, Government, law enforcement agencies, and the Hotline to raise public awareness, and provide a reporting mechanism to prevent crimes against children. We are thrilled to be part of this campaign and believe it will become the largest of its kind".
Katherine Corich – Founder and Chair of Sysdoc – "It is a privilege to once again put our full support behind the It's A Penalty Campaign, ahead of a big year of international sport. The importance of a global effort to raise awareness of, and prevent, exploitation of children should be at the forefront of everyone's minds. These young children have ahead of them a life of discovery and growth, and we must ensure that this is unhindered in its boundaries. The It's A Penalty Campaign has, and continues to play a major role in achieving this, and I hope that together, we can put an end to child exploitation".
To find out more about the charity campaign, the difference being made or to donate please visit, visit www.itsapenalty.org
Twitter: @its_apenalty
Facebook: FB.com/itsapenaltycampaign
Instagram: @its_apenalty
Hashtags: #itsapenalty #knowthesigns #togetherwecan
---