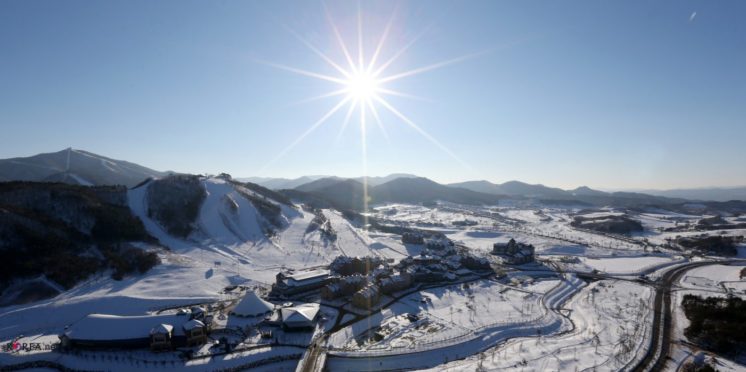 GB Winter Olympians hit UK Sport medal target of at least five after Big Air bronze
Saturday 24th February 2018
UK Sport has hit its target of at least five medals and a best ever Winter Olympic Games after a sensational performance from Billy Morgan in the men's snowboard Big Air on Saturday saw him win a bronze for Team GB.
The fifth medal follows four podium places in South Korea from Dom Parsons in the men's skeleton, Izzy Atkin in slopestyle skiing and Lizzy Yarnold and Laura Deas in the women's skeleton.
The three medals won last weekend by Atkin, Yarnold and Deas all came on the same day to complete a 'Super Saturday' for British athletes in PyeongChang, bettering the previous best ever day at the Winter Games in 1924 in Chamonix.
The second medal from the ski and snowboard team means that Team GB has surpassed its previous best ever Winter Olympics when four medals were won at Sochi 2014 and Chamonix 1924.
All the British medallists benefit from National Lottery funding and are the latest example of how UK Sport's targeted investment into Olympic and Paralympic success can inspire the nation to become more healthy and active. A peak of 4.1 million viewers tuned into BBC to watch Yarnold win her second Olympic gold, becoming the first Skeleton athlete to retain her title.
Skiing centres across the country have reported an upsurge in interest already, while UK Sport's #DiscoverYourGold campaign has received hundreds of applications from talented young athletes during the Games, including more than 500 looking to break into Skeleton and more than 250 wanting to try Short Track Speed Skating.
UK Sport Chair Dame Katherine Grainger said: "I am delighted that we have achieved our ambitious target of at least five medals. It shows the phenomenal impact of National Lottery funding on our high performance sport system and I hope that everyone watching at home will be inspired by what they have seen over the past couple of weeks. I want to offer a huge congratulations to every single Team GB athlete, coach and support staff member for their achievements as well as to the British Olympic Association (BOA) which has created a world class Games-time environment that has allowed our athletes to thrive.
"I have been very fortunate to see our athletes compete out in South Korea and skill, ability and courage have been absolutely incredible. They are truly inspiring on so many levels. I also want to say a huge thank you to everyone who plays the National Lottery. Our athletes have been the first to say that without their support, we would not be celebrating our amazing success in PyeongChang.
UK Sport Director of Performance Chelsea Warr said: "We knew that a target of at least five medals was ambitious and stretching in the 'theatre of jeopardy' that is winter sport. So to have achieved our goal is a huge testament to the hard work and talent of the athletes, the expertise and support of our coaches, senior leaders and their families. Delivering consistently under the pressure of an Olympic Games time environment requires remarkable skill, poise and composure. Our athletes have risen to this challenge phenomenally, while also showing huge resilience and character in the face of adversity.
"None of this would have been possible without the National Lottery support for our Team GB athletes and the high performance system as a whole, including the expert preparation and environment that the BOA has provided out in South Korea. Our success in PyeongChang has demonstrated yet again that Britain is now able to compete at a world class level in more sports than ever before. That is a real positive for us as we look to achieve our mission to inspire the nation through Olympic and Paralympic success."
Minister for Sport Tracey Crouch said: "This has been a fantastic two weeks for British winter sport and I want to congratulate our athletes on their success in reaching the medal target in PyeongChang. I saw for myself at the start of the Games just how dedicated our Team GB stars and support staff are. Through the strategic investment of government and National Lottery funds UK Sport has helped turn Britain into a truly competitive winter sport nation. The performances of our athletes have made the country proud and been an inspiration to many back home."
---