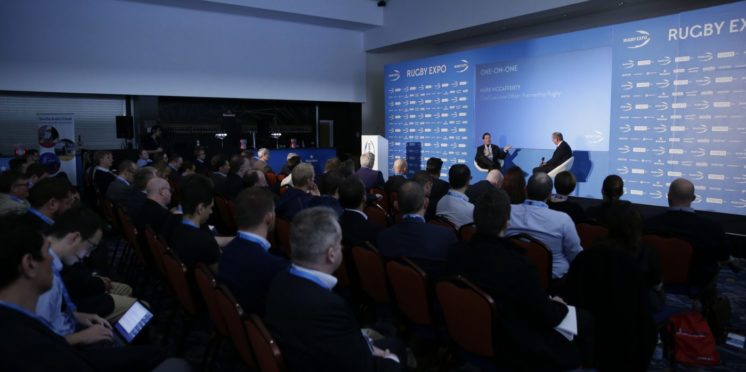 Rugby Expo works with Premiership Rugby to confirm attendance from all top-flight union clubs
Sunday 25th February 2018
Rugby Expo has re-confirmed its relationship with Premiership Rugby to welcome the event's biggest ever attendance from both codes of the sport to the Ricoh Arena in April.
As part of the relationship with Rugby Expo, Premiership Rugby will host a meeting for senior staff and commercial managers from all 12 Aviva Premiership Rugby clubs on Tuesday 17 April, before attending Rugby Expo's new exclusive networking event and the main conference and exhibition on Wednesday.
In addition to this, for the first time Rugby Expo will host Premiership Rugby's bi-annual media managers' meeting, bringing together senior media and communications representatives from all 12 clubs.
Continued support for the event will see Rugby Expo promoted to clubs via Premiership Rugby, whose involvement will also extend to representation in the section of the event's conference programme which focusses on the professional game.
Today's news follows the announcement of a new partnership between Rugby Expo and Rugby Football League (RFL) and Super League (Europe) Ltd for 2018, which will see senior commercial and marketing representatives from the organisation and all 12 Betfred Super League clubs attending Rugby Expo.
The event has also been confirmed as the host for Wasps' annual Community Conference, attracting over 200 club representatives from Coventry and the surrounding area.
Commenting on today's announcement, Dominic Hayes, Commercial Director for Premiership Rugby, said: "We have been a longstanding supporter of Rugby Expo and the event continues to provide us with a great environment to engage with representatives from the rugby world. It's also a fantastic platform for networking and to take learnings from rugby and across the wider sports industry and offers real value to our stakeholders."
Jonathan Wilson, event director for Rugby Expo, said: "We're delighted to extend our work with Premiership Rugby into 2018 and to bring together senior league and club representatives at Rugby Expo. This relationship, alongside our partnerships with the RFL, Super League and Wasps, is demonstrative of the event continuing to grow year-on-year, with each one helping us to reach a wider audience across the professional and grass roots games and facilitate exciting discussion across the two codes to benefit their sports."
---