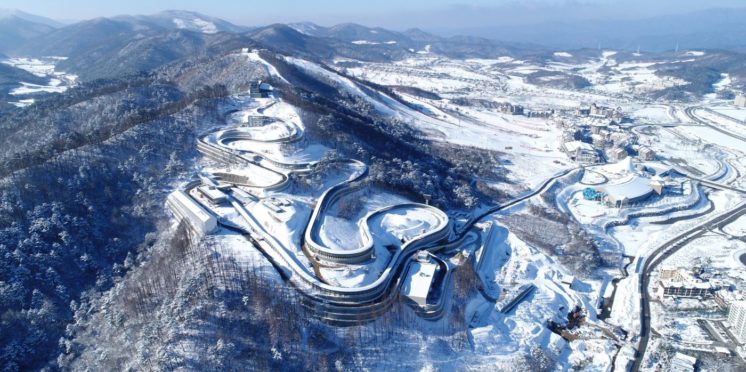 TEAM GB INSPIRES THE NATION AND COMES HOME AS A MORE COMPETITIVE WINTER SPORTS COUNTRY
Monday 26th February 2018
UK Sport has hailed Team GB's record breaking and inspirational performances in PyeongChang as showing that Britain is becoming ever more competitive in winter sports thanks to National Lottery funding.
One Gold and four Bronze medals means Britain has had its best ever Winter Olympics on the podium, bettering the four medals won in Sochi 2014 and Chamonix in 1924.
And Team GB also secured more fourth and fifth place finishes than ever before, with ten top 5 and medal places in PyeongChang, compared to six in Sochi.
James 'Woodsy' Woods was 1.4 points off a medal position in fourth in the men's ski slopestyle, while the women's curling team missed out on a medal on the final stone in their bronze medal match versus Japan. Elise Christie also won a fourth place in the women's short track speed skating 500m, while the men's curling team were fifth, and Team GB finished joint fifth in the Alpine skiing mixed team event by reaching the quarter finals.
Team GB also:
Had its best ever single day at a Winter Olympic Games when Lizzy Yarnold, Laura Deas and Izzy Atkin won three medals, bettering the previous best of two at Chamonix in 1924;
Had its best ever Winter Olympic Games on snow, with two medals for Izzy Atkin and Billy Morgan, bettering the one won by Jenny Jones in Sochi 2014. Morgan also became the first British man to win a medal on snow in the men's snowboard Big Air;
Retained a Gold medal for the first time, with Lizzy Yarnold successfully defending her women's skeleton title;
Won a first medal in men's skeleton since 1948 thanks to Dom Parsons' bronze.
Other top 10 performances included Andrew Musgrave in the men's cross-country skiathlon and Dave Ryding in the men's slalom, showing Britain's strength on snow is widening out from the ski and snowboard 'Park and Pipe' programme it has won its medals in so far.
Britain also recorded a best ever result in women's bobsleigh, with Mica McNeil and Mica Moore finishing eighth, further widening the range of events the team is becoming competitive in. And British athletes have already won more winter world championship medals in this Olympic cycle than they did in the four years up to Sochi 2014.
Paralympics GB athletes will also be targeting a best Paralympic Winter Games since National Lottery funding began when they fly out to PyeongChang next month, aiming to exceed their Sochi haul and win at least seven medals.
UK Sport Chief Executive Liz Nicholl said:
"This has been a hugely exciting Games for Team GB and the public at home, with more inspiring performances, podium places, near misses and top 10 finishes in a wide range of events.
"National Lottery funding has enabled Britain to become more competitive across the spectrum of winter sports, with best ever results on snow and a first ever men's skeleton medal, as well as continuing our domination in the women's skeleton. We were also agonisingly close in the men's slopestyle and women's curling, with more athletes than ever before in the medal zone or just outside of it, showing the expertise and competiveness in winter sports that we have in our high performance system now and boding well for Beijing 2022.
"I want to congratulate the British Olympic Association and all the athletes, coaches and support staff on their inspirational efforts, as well as everyone in the sports' governing bodies and home country sports institutes who work so hard behind the scene to provide expert advice. It is the combination of that expertise and National Lottery investment, as well as the skill, courage and dedication of the athletes, that allows for all the inspirational Olympic and Paralympic moments, encouraging people to get more active at home, achieve their dreams in any field and feel more proud as a nation."
UK Sport Chair Dame Katherine Grainger said:
"To attend my first Games in the capacity as Chair of UK Sport and witness at first hand the inspirational impact that our National Lottery funded athletes have delivered for the nation has been an immense privilege and humbling experience. This has not only been a record breaking Games but an impactful one for so many reasons, with the theatre of jeopardy played out in full with the high and lows of emotion that makes high performance so incredibly exciting.
"A huge well done to all our athletes who have performed with such passion and professionalism, you are all an inspiration."
---