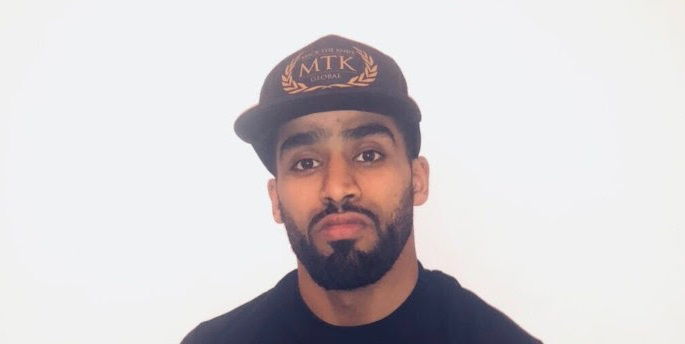 Arabian Warrior Zuhayr Al Qahtani signs with MTK Global
Tuesday 6th March 2018
MTK Global are proud and excited to announce the signing of unbeaten Saudi Arabian lightweight, Zuhayr Al Qahtani.
The latest addition to MTK Global's ever-growing stable highlights the company's desire to expand into new markets and develop the sweet science in regions with huge potential but little boxing tradition.
Born and raised in the Red Sea city of Jeddah, Zuhayr moved to south London in his early teens and was soon representing the famed Fitzroy Lodge ABC. In a successful amateur career with David Haye's old club, Al Qahtani won several national novice titles as well as the London ABAs. His final amateur record reads 50 wins and 5 losses, or as Zuhayr tells it, "50 wins and 5 robberies!"
Describing his style as a combination of Naseem Hamed, Mike Tyson and Manny Pacquiao, Zuhayr was always destined for the professional ranks and after turning over last year he has quickly compiled a flawless 3 and 0 record.
Now known as 'ZZZ or 'Triple Zee', the Kingdom of Saudi Arabia's sole pro fighter has signed with MTK Global in order to take his career to the next level.
"I am so happy to have signed with MTK and can't wait to continue my boxing journey with them," says Zuhayr. "As soon as I spoke with them I knew they were the team for me. Everything they said was music to my ears in terms of bringing me along in my career, challenging for titles as soon as possible, and helping make me a big name in the sport." 
MTK Global Director of International Operations Paul Gibson is just as excited about teaming up with Al Qahtani:
"We are delighted to have Zuhayr on board. He's a talented and charismatic fighter with an excellent amateur pedigree so I expect to see him challenging for an area title by the end of the year. And when he told me he was the only pro-Saudi boxer and I listened to how proud he is of his roots, it was immediately clear that we are the management team for him."
The global reach of MTK and the company's connections in the Middle East was a key reason for Zuhayr jumping at the chance to join them.
"Saudis are a very spiritual, proud and passionate race – just like Emiratis and other people from that part of the world. We really get behind the few athletes we produce that make it onto a global stage and I believe I can be one of those athletes. I got so excited talking to MTK when it was clear they share those dreams. I truly believe they can make me a star and together we'll grow the sport of boxing in the Middle East."
Gibson couldn't agree more:
"Our plan is to have Zuhayr fight in his home country and also in the United Arab Emirates. There is so much untapped potential in that part of the world and we believe that MTK Global can play a big role in realizing that potential. Zuhayr will be the first, but many more champions will follow. Boxing will grow in popularity on the back of that success and somewhere like Dubai could soon become the Las Vegas of the Middle East for fight fans." 
---