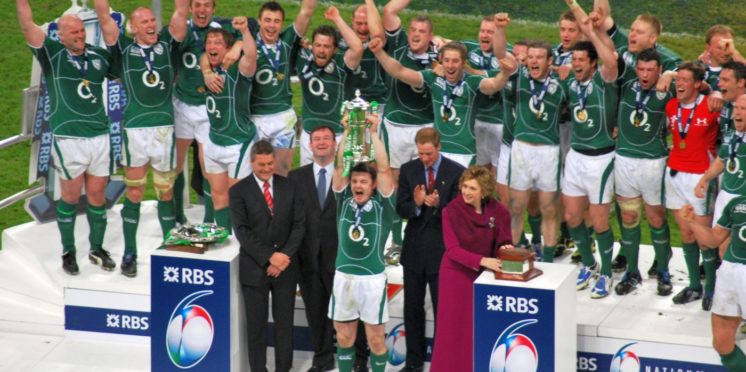 BRING IT HOME! AVIVA TEAM UP STEPHEN JAMES SMITH TO DELIVER POWERFUL GOOD LUCK POEM FOR IRISH RUGBY
Saturday 17th March 2018
The Poet skilfully weaves his way through Ireland's greatest sporting achievements to deliver a rousing message for Ireland to 'Bring it Home' on St Patrick's Day
Aviva, proud sponsors of the home of Irish Rugby, have teamed up with Dublin poet and playwright Stephen James Smith to deliver a powerful, poetic good luck message to the Ireland rugby team as they seek to secure a Grand Slam against England on St Patrick's Day.
The powerful poem meanders through Ireland's greatest sporting moments to deliver a moving and rousing piece that wills Ireland to 'Bring it Home' to the Aviva Stadium, where the video to accompany the piece was both filmed and recorded.
With nods to the classic rugby poems of Invictus and Rugby Football Excursion, Smith blends his contemporary style with classic rugby poetry to compose a piece with heart and skill, perfectly capturing the performance of Ireland throughout this year's tournament.
Paying tribute to past and present players, the poem also nods to previous sporting heartbreak, before also celebrating the Grand Slam wins of the past, including the Ireland Women's historic 2013 efforts. The poem concludes with a rallying call to action for Ireland to 'Slam it home' as they prepare to face England in Twickenham on Saturday.
Stephen James Smith is best known for his poetry 'virals' which have amassed over 1million views on YouTube and feature best known pieces 'My Ireland' and 'Dublin You Are'. This tribute to the Ireland Rugby Team is not the first time Stephen has delved into sporting success, he was also asked to perform for the successful Irish Olympic team in London 2012.
Mark Russell from Aviva said:
"It's a piece with power, heart and a slice of good humour which we feel perfectly embodies the characteristics of Ireland as a nation, as well as this rugby team that has inspired the country with its  performances this year.
"Unfortunately, fortress Aviva won't get the opportunity to stage this final game, and that's why we loved Stephen's 'Bring It Home' message because no matter where our fans will be watching, they'll be united in willing the Grand Slam to come home."
Stephen James Smith said:
"I'm a proud Irishman and Dubliner, so I was delighted to pay this tribute to a team that has achieved so much already. I was inspired by history to tell this story of a present day team that embodies the qualities of past-winners, but do so with their own style.
"A Grand Slam win would be special on any day, but to clinch it on St Patrick's Day would be a truly momentous occasion. I hope a few of the players get to hear my poem beforehand, so if they win I can say I helped!"
---