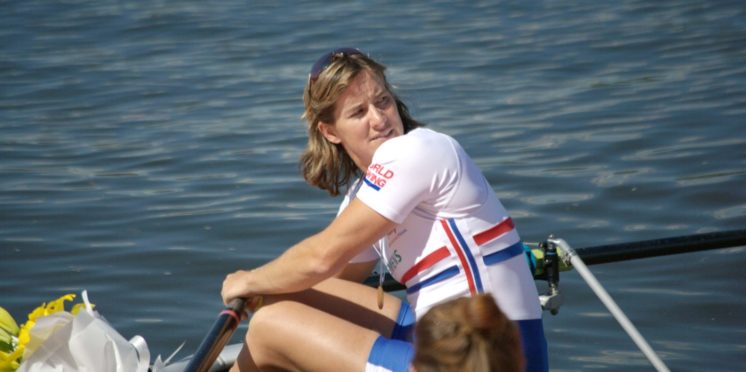 NEW UK SPORT BOARD MEETS FOR FIRST TIME
Thursday 22nd March 2018
The newly constituted Board of UK Sport met for the first time this morning, welcoming new members Annie Panter and Sally Bolton.
The two new members were also joined by John Dowson, who was this week reappointed to the Board for a second term of three years by the Secretary of State for Digital, Culture, Media and Sport.
UK Sport Chair Dame Katherine Grainger said:
"I'm delighted to welcome Annie and Sally to the UK Sport Board and to have had John reappointed. All three bring a fantastic range of experiences from their commercial backgrounds and their involvement in Olympic and Paralympic sports. We have some big decisions to take in the months and years ahead so it is great to have them as part of the team."
Annie Panter was appointed to the Board by the Secretary of State in February for a three-year term.  She is a former athlete who competed in the Beijing 2008 and London 2012 Olympic Games, winning a bronze medal in London with the GB women's hockey team. Since retiring from hockey Annie pursued a career in finance with Goldman Sachs, before recently moving into the commercial sports industry. Annie has maintained her involvement in high performance sport through positions on the UK Sport Mission 2016/2020 Panels, the British Cycling Independent Review and as an Executive Board member of the International Hockey Federation (FIH), co-chairing the FIH's Athletes' Committee.
Sally Bolton OBE was appointed to the Board by the Secretary of State earlier this month for a three-year term. She is Strategic Planning and Operations Director at the All England Lawn Tennis Club, having joined the Club as Head of Corporate Affairs in 2016. Prior to this Sally spent two years as Managing Director of the Organising Committee for the London World Athletics and Para Athletics Championships in 2017. She also previously led the team that delivered the Rugby League World Cup in 2013, worked as Chief Executive of Wigan RLFC and Orrell RUFC, and worked in the sports consulting group at Deloitte. Sally has been a member of the UK Sport Major Events Panel since 2013.
John Dowson is a board member of the UK Boccia Federation which he joined in 2013 and has chaired since 2014. He was previously a senior executive at both PwC and IBM.
---