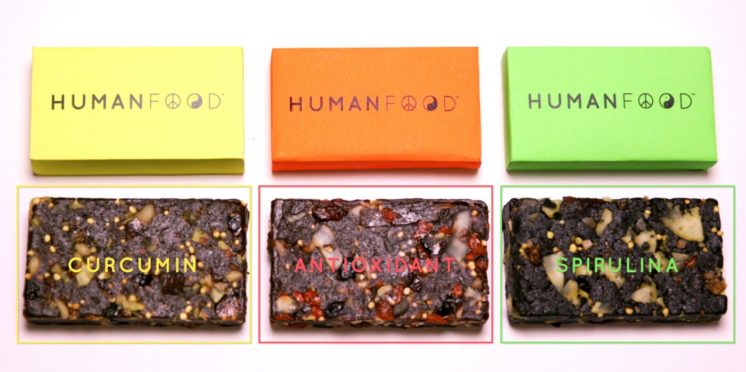 New, all-natural meal replacement bar delights leading sportspeople and nutrition experts
Saturday 24th March 2018
Professional sportspeople, bloggers and health writers from across the UK have started a buzz about an innovative new all-natural meal daily nutrition bar called Human Food.
They have been trailing Human Food ahead of a Kickstarter campaign which starts on March 28 to fuel the launch of the bars, which are designed to support sports training, vegan and vegetarian diets and demanding lifestyles.
The month-long trial saw positive results in everything from energy levels to improved digestion.
100% rated the taste VERY GOOD (8/17) or PERFECT (9/17)
94% rated their satiety level as MOSTLY FULL (6/17) of COMPLETELY FULL (10/17)
88% reported improved digestion.
100% would recommend Human Food to a friend.
"Great nutritionally and tastes awesome." – Anthony Mullally, an Ireland rugby league international footballer who plays for Leeds Rhinos in the European Super League.
"Best protein bars I have ever tasted!" – Non Evans. Non has competed internationally in four different sports, rugby union, judo, weightlifting and freestyle wrestling. In rugby, she is the Welsh and World all-time leading points scorer. She has won commonwealth medals in judo,  weightlifting and wrestling.
"I loved the bars, I loved the taste and great to carry round. They kept me full from breakfast through to lunch which hardly ever happens!" – Ailish Lucas. Ailish is a multi-award winning natural beauty, health and wellness blogger. Her website 'The Glow Getter' is a hub for women to become informed, have fun and explore a greener, more natural side to the beauty industry.
"I haven't heard of anything as nutritionally dense and as unique as the product you are bringing to market." – Dr Hamed Kamil MBBS, practising physician / certified in plant-based nutrition/ Nutrionfacts.org Medical Moderator.
A West Wales-based workers' cooperative, Human Food was founded by Ky Wright following four years research and development. He was assisted by world leading authorities on health and nutrition, including Dan Reid – best-selling author of The Tao of Detox and The Tao of Health, Sex and Longevity.
Starting out by making smoothies, Wright then developed the bars as a way to pack all the goodness of his best smoothie recipes into a delicious and satisfying take-anywhere daily nutrition bar.
Reid has since endorsed the bars, saying:
"Humans need food that promotes and protects their health, but they also want their food to taste good. Human Food meets both demands: it's nutritious as well as delicious, giving you what you need and what you want with every bite."
Human Food is based on the world's newest health science as well as the oldest. It's the world's first organic daily nutrition bar containing at least 50% of the recommended intake (RI) of the essential vitamins and nutrients that can be difficult to obtain from a plant based diet, including; vitamin B12, Iron and Omega 3. Each bar also contains over 12 grams of protein, plus whole daily amounts of functional ingredients; Ginseng, Maca and Cacao.
Human Food is the world's first meal replacement made of 100% natural ingredients, fortified only with complex vitamins and minerals derived from organic whole foods. All other meal replacements contain synthetic vitamins which do not contain important synergistic co-factors present in complex nutrients. Also unlike other meal replacements, Human Food contains no grains, no added sugar or sweeteners and no artificial flavoring. The only flavour comes from over 40 organic wholefoods selected and balanced for optimal taste and bio-availability.
One bar is filling enough to replace any meal, but is recommended to be consumed in the first half of the day to allow time for body to absorb nutrients.
Human Food will be available by online subscription only from http://humanfood.coop/
---