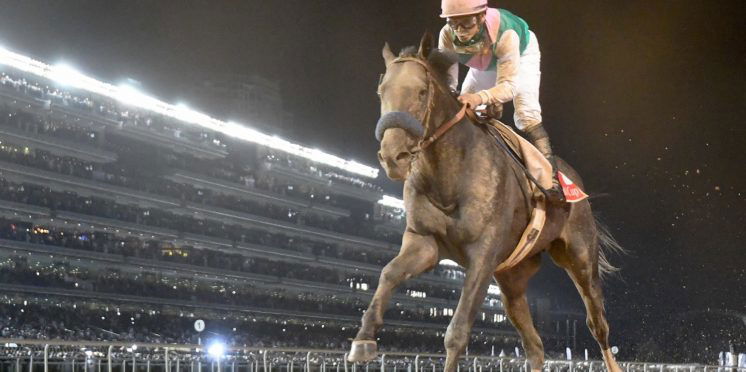 US$30M DUBAI WORLD CUP FIXTURE TO ENJOY SIGNIFICANT GLOBAL TV EXPOSURE AND WORLD-CLASS PRODUCTION
Saturday 31st March 2018
Racecourse Media Group will make the Meydan spectacular available to one billion viewers across 150 territories in most innovative broadcast yet  
More than one billion TV viewers across 150 territories will have access to a truly world-class and innovative broadcast of the US$30million Dubai World Cup fixture – the world's richest raceday – from Meydan today (Saturday).
Horses from a dozen countries will compete in nine top-class races, including six Group 1 contests. Attracting widespread international interest, the event is being covered live by a host of leading (non-wagering) broadcasters including Sport 24, which is available live on nine cruise lines and 11 airlines including title-race sponsor Emirates.
Other broadcasters signed up by Meydan's distribution and production company, Racecourse Media Group (RMG), include NBC Sports Network (US), Sina (China), Super Sport (South Africa), ESPN (Latin America, Caribbean), Dsport (India), The Green Channel / Fuji TV (Japan), Racing.com and Sky Thoroughbred Central (Australia), Match (Russia), Arena Sport (Serbia, Montenegro, Croatia, Bosnia & Herzegovina, Macedonia, Slovenia and Kosovo), Racing UK and At The Races (UK and Republic of Ireland), TV3 (Republic of Ireland), and TVP (Poland).
The MENA (Middle East and North Africa) region will be served by live coverage from Dubai Racing Channel and Yas TV.
The Dubai World Cup will headline Eurosport's weekly equestrian magazine programme broadcast in more than 120 territories, while Trans World Sport, the leading global sports magazine programme, will offer the fixture added exposure, as will CNN, which is covering the race for its World Sport programme. ITV will air content from the fixture within its live broadcast on Saturday in the UK.
In addition, news outlets across the world will receive the story of the day via SNTV, the leading sports news video agency, which has a potential household reach of more than one billion.
RMG, with the support of its technical partner, Timeline TV, aim to deliver the most innovative Dubai World Cup broadcast yet, with the help of more than 50 production and support staff at Meydan and 20 camera operators.
Production features include:
Flyaway production facility producing both track and presentation feeds
Sony 4300 Super Slow Mo cameras, Augmented Reality Jib and Mini RF Cams in the starting stalls offering super close-ups of jockeys
8 times Super Slow mini camera on finish line rail
HEVC Stalls cameras to provide multiple angles
Remote hot head cameras employed around the track
HEGO Touchscreen and Augmented Reality graphics bringing the parade ring studio to life
Virtual Reality graphics including distance lines, sponsor graphics, virtual finishing line, picture in picture replays and jockey silks
Steward review system, giving stewards direct control of footage and enabling them to simultaneously view different angles, pause, enlarge footage and compare angles side-by-side
A site-wide Radio Frequency network to sustain cameras and radio-mics for roving reporters
The presenting and reporting team consists of Nick Luck, Rishi Persad, Angus McNae, Britney Eurton, Andrew LeJeune, Tom Stanley and Scott Hazelton.
To get a full flavour of the production behind the coverage, please view here.
Created through the vision of HH Sheikh Mohammed Bin Rashid Al Maktoum, Vice President and Prime Minister of the UAE and Ruler of Dubai, the Dubai World Cup fixture is set against one of the most iconic sporting theatres, the state-of-the-art Meydan Racecourse. The architectural masterpiece measures 1.2km in length and can seat over 60,000 in its grandstand
---