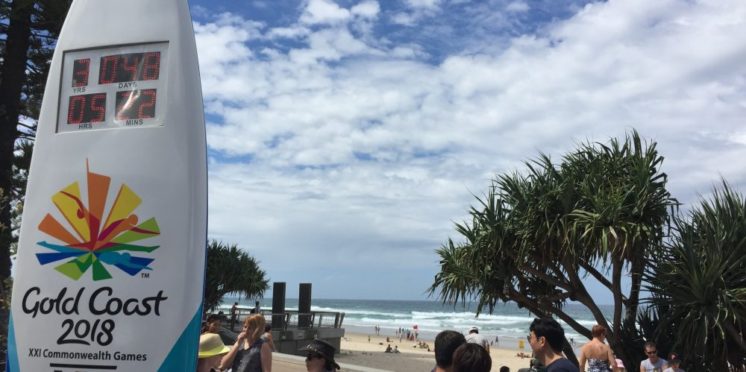 Team England – Day 7 Quotes from this morning and overnight
Wednesday 11th April 2018
Rachel Parish finished sixth in the women's double trap and the Worcester-born shooter said:
"I worked really hard to qualify, certainly England's scores were set really high just to be able to qualify and be here, so I am really pleased that I managed to do that and really disappointed with my score from today – I really wanted much more than that.
"I am sad for everyone else too, I feel that I have let people down, but I will carry on.
"It's a really tough range to shoot, for lots of different reasons. As you can see, there is a big drop off in front of the trench which makes the targets seem lie they are fast, even when they are not, and that can give you a sort of optical illusion."
Bournemouth's Chris Gregory and Jake Sheaf fought admirably against a higher seeded Australian duo in the men's volleyball doubles semi-finals, but it wasn't to be as the pair lost 2-0. The pair had this to say: 
Sheaf: "Yeah we wanted to give it more of a fight, today we just didn't perform against Australia, simple as that.
"We need to shift focus on to who we're playing next, come up with a gameplay for that and go into it with a good mindset and put this match behind us.
"I think they were just a bit more solid than we were today, more consistent and we didn't serve well enough at all. They made some big plays and we didn't, so hats off to them they played really well and we didn't.
Gregory: "It's a great atmosphere, there always is at beach volleyball games – the crowd was great but of course most of them were on the Aussie's side! But no it doesn't really affect us.
"It would be huge for us to get a medal, we're going to fight and do everything we possibly can to get it.
"It's been really tough, we've had a lot of up and downs on and off the court, a lot of challenges, but we knew we were going to face them, and we knew we were going to face them together but we came out the other side. We've also had a team with us, Kirk, our coach, and Dr Cavanagh our psychiatric leader, a lot of people, a lot of support staff to get us here, and if it weren't for them we wouldn't be here at all. But for sure, it's taken a lot.
"This is the greatest arena we've ever played in by a long way, and it's amazing to play in front of this crowd."
Liam Pitchford (Chesterfield) and Tin-Tin Ho (London) beat Singapore in the Table Tennis Mixed Doubles round 32 and said:
Liam: "They are from Singapore so they were always going to be able to play. We prepared like it was going to be a tough match and it's our first match here. I think we did well. Happy to get a win.
"I don't think the umpire was really switched on. What can you do. It's his decision so you have to move on."
Tin-Tin: "We just have to forget about (the round) and focus on the next one."
Liam: "There is a rule that states that the ball should have been replayed. I don't know. The umpire didn't stick to that. We have to move on. I thought we came out in the fourth game really well. We got a good start and got on top of them."
Tin-Tin: "We played in the nationals together and also at the Commonwealth Games at Glasgow. We got into the finals so we are hoping to improve from that."
Leamington-Spa born table tennis player Kelly Sibley wins for the second time today, this time in the Women's s Singles against Canadian Alicia Cote. She said:
"I thought I put in quite a good and strong performance there, just carrying on the momentum from our team success and also from the win from the mixed doubles earlier on with David. It's just quite nice to get the first actual single's win under my belt and I'm looking forward to tomorrow.
"I hadn't actually played her in a match before, but I knew a little bit of her. We played Canada in the team and my teammate Tin-Tin (Ho) had played her so I got a little bit of tactics from her and I just stuck to my game plan, it showed there, I came out strong and I managed to keep my foot on the gas.
"After that performance I'm happy and feel confident going in to any match but I know that going through the other rounds it's going to get a lot tougher but I'm ready and just want to get out there and play."
Rajiv Ouseph, from Hounslow, progressed to the men's badminton singles quarter-finals after a dominant display against Ugandan Edwin Ekiring, winning each game in under 20 minutes. He said:
"It was nice for me to have a day off yesterday after the team event. So I was fully focused on the individual, it was a nice, comfortable start – I thought I played well enough in patches to win comfortably, so looking to build on that for the next game.
(On battling fatigue) "We're all experienced enough to deal with it, it was similar at the last Commonwealths so for me I'm used to it now, and it's something that I can expect, it's just about trying to expend as little energy as possible in these early matches so you save yourself for the later rounds, whilst giving respect to your opponents because they're all good players and they deserve to be here – I have to play well to beat these guys.
(On progressing through the medal matches) "Well I hope so, that's definitely my goal, but I've got to take it one game at a time. Similar to the team event, they're all potential banana-skins if you make it that way, so you need to just concentrate and get through them. It's one down and checked off, so onto tomorrow.
"I've obviously kept an eye on who I expect to play, but it's quite nice to get out the village for an evening, just to keep your mind at rest. It's all sort of focus, and getting ready for the matches."
Lisa Whiteside, born in Chorley, won the female 51kg boxing quarter-final following a split decision and said:
"I was hitting some clean shots. I felt quite in control. I was hitting her with very clean shots so I felt comfortable. I'm back tomorrow just got to keep this ball rolling now. I just got to do what I've been doing for every single fight.
"Obviously, when I went to the world championships, I was a silver medallist that was on a split decision, and if you had asked anyone they were like we really should have been world champion. I was happy either way, I was a silver medallist- it was a great achievement. Just one of those things I guess, it's just part of the sport.
"I felt the enormity of it because, yeah I've been to the World Championships and the Europeans but it doesn't get the coverage-even the countdown before the fight. It is just fantastic and its lovely to be around Team England and even chatting with other teams. I'm just embracing every moment of it.
"I keep saying it myself, in the changing rooms it's MY time in the ring.
"I didn't get an easy draw and she's (Pinki Rani) a good opponent, we knew she would have a good tempo and she's almost a mirror image of me.
"I'm taking one step at a time, one fight at a time and not putting any pressure on myself. and just enjoying it- obviously, the dream is to get the gold medal."
Team England's Tin-Tin Ho and Denise Payet (both from London) both strengthened the likelihood of another medal in the table tennis after back-to-back 4-0 victories in the women's singles. They said:
Payet: "I had quite a busy day, two mixed doubles and one singles, I won all of them so I'm really happy.
"Well I just checked my phone and I've got Mo Zhang, who I do know of – the girls played them in the team event. She's quite highly ranked so on paper I'm meant to lose but I hope I give her a hard time and hopefully win."
Ho: "The first two sets were quite difficult as (Sri Lankan Hansani Kapugeekiyana) plays quite a high risk game, and I wasn't varying it enough, but then I managed to find my way, so I'm happy with that.
"It would be really cool to get a medal, but I'm going to take it one match at a time. I've got quite a tough match coming up, so hopefully I can do well."
Lawn Bowl fours team loses against Scotland but still qualify for quarter finals:
Jamie Chestney (Kings Lynn): "Alex (Marshall) played really well but I think we played well enough so we're pretty positive going forward, looking forward to the quarterfinals and I'm pretty sure we've got a good chance."
Sam Tolchard (Torquay): "It's interesting because with Australia losing, you could draw anyone in the quarter-finals. We were really closing to winning that game and there is no reason why we couldn't beat anyone."
Paul Brown (Bristol) interview after the men's Open B6/B7/B8 Triples defeat against New Zealand.
"It's disappointing tonight. We will go to bed tonight. Wake up tomorrow morning. We still have a chance at that bronze medal. Draw a line in the sand after that and go on to win tomorrow.
"It was a patch in the middle. Their skip had two very good bowls to turn a head round in their favour to pick a four in. They backed it up the following with another four which we can afford to have happen at this level. We were then effectively chasing the game from the last few ends which puts on added pressure. At that point it was pretty tight. You can maybe get away with dropping one (point) but not two on two consecutive ends. That's just a bit of a killer at this level I'm afraid.
"We have been playing well all week. I'm still confident. We've taken a knock tonight. We will go away and dust off a bit. We are still capable as a triple of winning tomorrow and to hopefully claim that bronze medal.
"I was only interested in our one rink. I never really worry what's going on around me. I do play in that sort of rink zone scenario. Anything could have been happening next door. To be honest I don't even know the score. I presume the Aussie's have won because there is a bit of noise but what the score is, I have no idea.
"We had a good battle against (South Africa) earlier on in the week. They took an early start against us but that was one of the games where we did put them under pressure at the end. If we can put them under pressure right from the start, I'm confident the three of us will be able to pull it over and claim that bronze medal."
England's women all qualified in the long jump competition today.
Shara Proctor (London) said: "I'm very happy because the plan was to come out here and do one jump, and I leapt the distance in the first round so it is job done. My training has really come together as you can see from my performance today. I wasn't really relaxed before I went out there but I had to remain composed because I have a job to do. It continues in the final.
"I love Australia, if I could I would live here – I've had a really good preparation here; I'm really pleased with how things have gone."
Jazmin Sawyers (Stoke) said: "I feel really good – I forgot how much fun this is. I think, having jumped kind of badly, my absolute goal was to turn up and enjoy it. The crowd is amazing and when I turn up and jump like that, it reminds me of why I love long jump. Four years ago was special. I think there is definitely more in me – my first attempt was ok but I backed off a little bit, my second was better but a foul and my third was very much, yes – you've remembered how to long jump again. So tomorrowI'm hoping there's much more in the tank. I'm delighted to be in that final and just happy to be back competing at a major championships."
Lorraine Ugen (London) said: "I didn't know where I was going to be at after injury so I just need to work a little bit on the run-up and making sure I hit that board perfectly then I'll be good to go.
"People are jumping well out there so it should make for a good final. I was quite relaxed but know there is room for improvement."
The final of the Women's Steeplechase saw Rosie Clarke (Pembury) and Iona Lake (Norwich) finish fourth and eight respectively.
Clarke said: "I thoroughly enjoyed that. Me and my coach decided that whatever happens, just go for it and don't leave anything out there. I definitely did that. I thought I was going to be able to take it on, but when I heard the bell go I felt my legs going. In chase, you can't just go for it when you've still got barriers to go. The girls ahead of me are all incredible so I can't complain about finishing fourth. I came into this ranked seventh, so I wanted to come out better than that so I'm really chuffed.
"Once I get back from here I have about 10 days then I'm off to South Africa for an altitude stint and then will crack on with the season, so hopefully there'll be some exciting racing opportunities still to come."
Lake said: "It was a funny race – first very slow, then suddenly very quick. Basically very stop/start. I would have liked a quicker time, but never mind. It was an interesting race. I prefer a race that is evenly split. When they picked up the pace, I really felt it and my fitness just wasn't there to go with it. I know there is quicker racing within me, but of course the perfect race doesn't always come at a championships.
"Everything is new really – it's my first major Games. Just coming out with the team a few weeks before and experiencing the whole environment. I've really learnt a lot from it."
Leeds-born Gabrielle and Leicester-born Chris Adcock, who live in Milton Keynes, won in their badminton mixed doubles match against Canada's Brian Yang and Michelle Li. 2-0.
Gabby: "Did the job tonight-obviously, we wanted to come out and get a good feel for the hall. It's been a few days since we've played. I felt like we did quite well. Definitely a difference in ends and just getting used to that so it's really good to have a match under our belts."
Gabby: "We went to the gym earlier to prepare for the match, Chris went to his physio just the normal routine."
Chris: "We tend to take one game at a time. However, no matter who we play against we try and prepare accordingly. We sit down to have a look at them, work out a game plan and most of all concentrate on ourselves making sure we are fit and ready to go. Hopefully, the same results as today would be awesome!"
Two of England's sprinters qualified for the women's 200m final, with London sprinters Dina Asher-Smith and Bianca Williams. Finette Agyapong didn't manage to qualify, despite finishing third in her semi-final.
Asher-Smith said: "I was running well, obviously you want to go and win a semi-final and put down a good time, but I eased off. It's easy to get into a battle, but I had this thought in the back of my mind that it's only a semi-final. I want to come out here and do well, and also see the other girls do well – we're a team. I'm looking forward to the final – I've qualified with a decent time and I didn't feel too bad doing it, so I'll take that."
Williams said: "I had a tough semi, but it is what it is. I just didn't attack it on the home straight as much as I wanted to. Weirdly it felt like I fought a bit harder than yesterday, but considering the time was roughly the same as yesterday, perhaps I didn't try as hard as I should have."
Agyapong said: "I don't really know what happened. I would have liked to have shown a lot more so I'm a bit disappointed to have missed out on a place in the final.
"However, I have learned a lot from this experience. It is my first major Games and I'm facing the big girls so it has really been a new experience for me. They have tested me a lot more and that can only help to improve me. I have a lot more belief in myself that I deserve to be here. I'm running against world champions; I want to be pushing them more in the future."
Speaking after his resounding victory to defend his 1m springboard title, Jack Laugher (Leeds) said:
"Everything was really good to be fair. No drop dives, really good tops – my finishes were a little bit shaky on the water, but I think that was just nerves, trying to defend a title is difficult, the conditions out here were very difficult. 438 is a really good score, and I'm really happy with my performance overall.
"It's been a really bad year so far with injuries, but to come here, my first international competition, to come away with a Commonwealth title – I'm really happy. To follow it up from my win four years ago in Glasgow is amazing, I'm obviously over the moon. I'm really upset with my injuries, but we're working through them, physios, doctors, everyone was trying to get me in as good shape as possible so I can go out there and do stuff like that today.
"I had two weeks full training before coming out here. I've been doing bits and bobs throughout the year, I had an (ankle) operation in November – didn't work – still got the same pain so I've been training through it, I've still got my arm pain, I've still got my knee pain, same as normal. I'm working through them all but I only did a back-jump two weeks before I came here, we've been here about a month now, I'm happy with how I've done, looking forward to the 3m tomorrow, just hope I stay in one piece.
(In the 3m) "It was heartbreak last time in Glasgow, but I got two golds and a silver, so you can't be unhappy with that of course, but I did want those three titles. I may not be in the best shape right now for 3m, but I'm still going to go out there, use my experience, use everything I've done over the past years, the multiple titles I've won, and use all that experience to do my best tomorrow."
Table Tennis player Liam Pitchford (Chesterfield) made a good comeback by winning against Nigeria's Bode Abiodun at the Men's Singles round of 32. He said:
"Monday was poor really, I was disappointed with myself, I didn't give myself the chance to play my game, I was quite hard on myself, but I was prepared today. There was no way I lose a second time, so I really prepared to give myself the chance, it still wasn't great but I'm happy with that win.
"I moved a lot better, tactically I was much better, I served and received much better and down the line I caught him a few times. Monday happened sometimes, you have bad days but today I made amend for it so I'm really happy with that."
After easing past Northern Irishman Ashley Robinson to advance to the men's singles table tennis quarter-finals, Paul Drinkhall, from Middlesbrough said:
"I think it was good, I played well. I managed to control it throughout the match and I feel I played well in the team event and especially the bronze medal match, and I kept it up here. The main thing was to stay focused and I managed to do that for four sets. It was difficult sometimes because Liam (Pitchford) had a close, difficult match on the other table and when he won it was a little bit mad, but I managed to stay focus and I think it's good going into the tournament.
"I'm playing well and I think when I play well I'm one of the best if not the best player here so I've just got to keep my head down, keep taking one match at a time, I've got a difficult one tomorrow against a Canadian guy who I've lost to before, so it's going to be a difficult one."
Rhythmic Gymnast Hannah Martin, from Sussex, qualifies for the All-Around competition and said:
"I'm feeling a little overwhelmed right now. It's been a bit of a rollercoaster, but I just really enjoyed it out there and I can't wait for tomorrow
"Who knows what's going to happen in the finals, I'm just going to give it my all like I did today, and fingers crossed that happens for me."
Zharnel Hughes, from London,  stormed through to the men's 200m final, with Richard Kilty, Middlesbrough, missing out.
Hughes: "Once I got out onto the home straight, I just tried not to use up too much energy. I felt good around the bend and felt as though I had done enough to ease off a bit. My body is in good shape and so is my mind; I'm just grateful to qualify for the final.
"I'm simply focusing on executing that final. I'm not thinking about any medals right now; if I don't get my race correct, there won't be anything so I only focus on my own race."
Kilty said: "For me, it's just learning how to run that event properly. I've not ran it properly for years, the last time I ran 200m in a championships was nine years ago. I just tied up a little bit. I think I could have done a little bit more around the bend, after I finished I thought I could have ran it a bit quicker. Ultimately for me, I came out here to use it as a training camp. It's always a pleasure to put on the England vest for the Commonwealth Games and ultimately I'm running the 200m early season to prepare me and bridge that gap between the 60m and the 100m and work on speed endurance.
"I've only been training for three and a half weeks now. I had an achilles operation after the indoors, so to say I've done that, it's not a bad performance."
Daphne Schrager (London) and Maria Verdeille (Stevenage) finished fifth and sixth respectively in the womens T35 100m final.
Schrager said: "The crowd was really behind us, so that was really encouraging. I definitely think I could have gone a bit faster, but I felt like my race was good – I was catching the Aussies! I'm overjoyed to finish 5th in my first major championships as a senior. I've been working on power out of the blocks and I definitely think that it's starting to come through. As a T35, blocks will never be perfect, but there's always little bits I can work on.
"Racing at the Commonwealth Games is the best feeling I've had in my career so far. Especially when the crowd was roaring my name – that was ridiculous! The camp has been great. All the athletes that have been there before have been really supportive and have really looked after me."
Verdeille said: "It's all a bit of a blur – one minute I was starting and the next I was at the finish line. The experience was great. It was louder than thought! You really can't describe it. This was a bit of a surprise selection for me, but I'm so glad I took the chance. It was worth the extra training and everything else I had to do. I don't remember the first 30/ 40m but then I remember thinking I'm actually running now! It was incredible."
Chris Baker (Norfolk) and Robbie Grabarz (Birmingham) competed in the men's high jump final, finishing ninth and twelfth respectively.
Baker said: "It's amazing atmosphere out there, it just didn't happen for me today. I have a new coach and new setup for this season and stuff is coming into place, but today just didn't happen. I just need time to process my performance. Physically I'm there, technically I'm there, I'm just not allowing myself to do what I'm capable of. It's all there,  but putting it under the pressure of a big occasion – I didn't live up to it."
Grabarz said: "I feel like I'm in good shape but I don't feel like I'm taking any pleasure in competing at the moment which is a shame. I want to enjoy competing again; the training is fun and going really well. It's the worst I've jumped for a long time so it is not good. It is was it is but I'll move on from it. It isn't how I expected my first Commonwealth Games final would go.
"I don't feel like it is anything that I need to do technically; I think that will just come once I'm enjoying it again.
"It was a great competition to watch. As much as I didn't want to be a spectator, it was a great one to watch. An Australian winning in front of this brilliant home crowd; it's hardly surprising. It is always good to stay and watch; I respect the competitors. As much as I'd like to leave, I always try and stay. I try and give some advice where I can to one or two athletes, whether they take it or not is their choice."
Doncaster-born Barry Middleton was part of the Team England Hockey team that qualified for the semi-finals. He said:
"We could have been a little bit smarter in the way we played but it's good it happened in the group, so we can learn from it now in the knock out games we know what to do.
"When it's 2.30 in the afternoon and it's 30 degrees and whatever humidity it's tough to keep that intensity throughout the game and we have to do it smart sometimes.
"We'll look at the performances from when we played Wales and it'll give us confidence to play in the semi-finals, we've played them a lot of times in the last few years, they know how we play, we know how they play so it was hard work for both teams but we can put our game out there and give it a good go.
After a resilient effort, the women's rhythmic gymnastics team placed eighth in the final. Stephani Sherlock, from Swindon, said:
"To be honest, my aim was to enjoy the competition and really savour the experience and this opportunity. For myself, I just wanted to focus on the process and just enjoy every moment of this amazing experience and I just really wanted to show my love for the sport and just really perform from my heart and I managed to do that. I'm just really, really happy and excited I get to do it again tomorrow.
"Tomorrow, I will just try and go for everything and really just enjoy it and show the world how much I love rhythmic gymnastics and everything about it."
Women's triples Lawn Bowls progressed to the semi-finals after defeating Wales today.
Sian Honour (Torquay) said: "We are delighted obviously, we went out and we knew what we had to do. It's still a different thing doing it but we got off to a strong start and although we were only scoring singles we were taking off the ends as we were doing it and you know they're going to come back to you at some point but we just got quite a nice lead and few ends to play so when they did it still felt fairly comfortable.
"They got a couple of ends but it's just a case of not panicking and just keep doing what we were doing well.
"We are just taking it one game at a time as we have been the all way through really. Everyone is really tough; all the teams are real quality teams, so we'll just turn up and try to get closer."
Katherine Rednall (Ipswich) said: "We are getting an early night tonight, get a lot of sleep and get ready for tomorrow. It doesn't really matter that tomorrow is the semi, we'll go in as we did the others."
Ellen Falkner (Cambridge) said: "We just got to go in there and play like we can play, if we do that then we give ourselves every chances."
Josh Bain, from Chelmsford, finished fifth in the men's F38 shot put final. He said:
"I really want to start by saying that the crowd was absolutely amazing. The competition went well. The preparation that Mike (McNeil) and I have done has been fantastic. He's been a fantastic coach and the support I've had from everybody, from the team at home to my parents who have come out here, has been really wonderful. I felt like there was a big throw in there, it's just unfortunate that I couldn't really deliver. But I'm only 5cm off my PB, so I really can't go off and say it was a disappointing competition or I didn't throw my best, because actually it's an amazing achievement. The whole experience has been just amazing."
Dan Bramble, from Acton, finished fifth in the men's long jump final and said:
"It is definitely bittersweet; I was really up for the occasion. There are big jumps there but I think I got a little impatient with the run up. I'm excited because there is a lot more there and I can't wait to get a big one down.
"I've always said all I needed was one solid winter and I have managed that this year. I got an 8.02m in yesterday which I was really pleased with but it's just a shame I couldn't do that or better today. It's annoying but it will definitely come. I think there is a lot more in the tank but I know next time I need to trust myself and the big jumps will come."
Catch up on today's action at www.teamengland.org
---