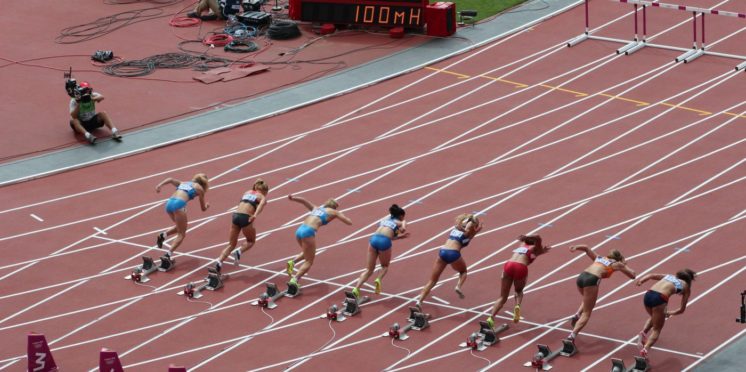 Team England – Day 8 Quotes from this morning and overnight
Thursday 11th April 2018
The men's Lawn Bowls Fours progressed to the semi-finals earlier today, with Jamie Chestney (Kings Lynn), Sam Tolchard (Torquay), David Bolt (Sunderland) and Louis Ridout (Taunton).
Chestney said: "We are feeling good. That is one of the best performances we have ever given. The conditions out there would have suited New Zealand so we thought we were in for a tough game but we did really well out there. I think all four of us can be really pleased with how we played, but we have got to just keep going now."
Tolchard said: "It will be interesting to see if the next green we go on will be different, because that's the quickest by an absolute mile. I thought we played really good and we just need to keep that momentum going."
Bolt said: "If you could ever put your finger on what makes a good team performance, it was that. If one of us missed, the other backed them up."
Ridout said: "It was a tough game, the score line didn't reflect it, but I thought we did well. I thought it was brilliant and I am looking forward to the semi-final."
Chris Adcock (Leicester) and Ben Lane (Kingston Upon Thames) controversially lost their men's doubles round of 16 match against Malaysia.
Adcock said: "First set, came out really good I think we were really sharp and got a really good start so put them on the back foot. The second set, we just didn't come out and weren't strong enough. They did to us what we did to them in the first set and were struggling from then on. It was a tough call at the end. We put everything in, there were some tough rallies but it was anyone's game so it's really tough. The guys played well, so fair play to them, but it's tough that it ended on a sour note.
Lane said: "There were four world class players on the court so you expect those kinds of rallies every now and again. They were tough to break down, were solid opponents, as were we, and it's just hard to see what the differences were just now, but I am sure we will have a look later on. We really wanted to progress, so it's difficult at the minute."
Bournemouth Beach Volleyball pair Chris Gregory and Jake Sheaf finished fourth in the Commonwealth Games, after losing to New Zealand in the bronze medal match.
Gregory said: "On reflection, we have done well to get to this point, but of course gutted.
"We have given it everything to get to these Games, so we are going to go away and take a bit of time now to recover, reset and think about what we are going to do for the rest of this year. We will look back at it with so many fond memories, and there have been so many great things and hopefully this will be a springboard for junior players as well.
Sheaf said: "We didn't play solid enough really, we weren't consistent enough and made too many mistakes. And at the end of the day, they were just better than us.
"On our day, I think we would win that match, but unfortunately today wasn't our day.
"This is an incredible sport for people to watch, and hopefully we will see it at future games."
Rhythmic Gymnast Stephani Sherlock (Swindon) today competed in the women's all-around and post-competition she said:
"There have been lots of ups and downs, fighting with injuries and I feel right now like there is a long way to go.
"I am just so grateful to everyone who has been there for me and helped push me and help me to push myself through the challenges. I am grateful for everyone's support, especially my family and close friends because without them I wouldn't be here – and thanks to my coaches as well.
"I just appreciate being here and it's been an awfully long journey. It's amazing."
15-year-old Sussex-based Rhythmic Gymnast Hannah Martin also competed in the women's all-around event and said:
"It was a long competition but I loved it and it's been the most amazing experience and the crowd has been amazing and I can't believe I am at my first Games.
"I had that mistake, which I have never done before, but you can't change these things. You have to try these things, have no regrets, and that's what I did today. I think I had to reach for a couple things earlier in the routine, which made me behind on a few things but it's just one of those things.
"I am happy that I managed to just about produce three clean routines, that's one of my personal bests. Obviously there were still mistakes in all of them but I still have time to work on them.
"It's been a mix of emotions. Yesterday I thought that I could have done a bit better, and today I did the first of my two routines and couldn't believe how well they were going so it's just been a rollercoaster ride and I can't wait for tomorrow."
Wrestler George Ramm, from Bolton, lost his bronze medal match to Pakistan and said:
"My game plan went well. First round was better than the second. My ankle attacks were working good. Second round, he was tying my fingers all the time so I couldn't get going and the referee wasn't penalising for it. So, it slowed me down a little bit in the second round.
"It's a bit gutting really but I had a feeling coming here that I was going to get the toughest draw out of them all. If anyone asked me before who I didn't want in my pool ahead of the Games, I would have said India and Pakistan.
"I am only 21 so still got plenty of time. It's my second games so I just have to go back to the drawing board and start again. I am getting closer every time. It's a shame as I really wanted a medal this time. I felt like I was in perfect condition to take one. It's wrestling, that's how it goes – sometimes you win, sometimes you lose – you just have to take it on the chin and come back.
"I have learnt to keep my hands and feet moving a bit more and to believe in myself a bit more to be honest. I came out a bit jaggedly at the start, I kept catching his legs a bit but as I said he kept tying my fingers us. He's a good tactician, so fair play to him, I would have done the same if I could have slowed him down."
After her commanding victory in the women's 76kg bronze medal match, Georgina Nelthorpe, born in Guildford, claimed Team England's first Wrestling medal at the Gold Coast. She said:
"It was incredible, absolutely incredible – I couldn't ask for a better feeling in the world. It was a good match, and I've put two years into training for this, worth every minute of it.
"I wanted to win, for my first Games, you know, I've wrestled the Olympic champion, had some really difficult competitors and I'm so proud to be representing England right now.
"Very well, I felt quite aggressive, I wasn't backing off, it was amazing, honestly I'm speechless for it.
"It's been incredible. Australia itself, they've been great representatives, they should be very proud of themselves for hosting this, they've been amazing. I've loved every minute of it, again for my first Commonwealth Games, I'm only 21, it's been insane – couldn't ask for a better time.
"Really work on more of my offense, and being more confident, to be honest. I was quite lucky with this match as I was pretty confident with myself, wrestling the best people makes you better.
"This is my first years being a proper international, so I didn't know what to expect – but every moment of it has been an experience so I'm loving it.
"I'm speechless, It's absolutely incredible. I couldn't ask for anything better. To see my family and friends and my teammates out there cheering for me was insane. It was amazing, I couldn't explain it honestly. It's starting to hit me now especially after all the cheering and standing there with some really high athletes, it was amazing. These are my first games and I'm still quite young, so I have many more to go and so it's looking good."
Jack Green finished fourth in the men's 400m hurdles final. The Kent sprinter said:
"Partly thrilled, partly devastated. It's world class field. I worked hard and tried my best but in the end, everyone comes in and sometimes in life you've got to come fourth. I'll look at it in a few years and think what an achievement. In Glasgow, I drove me and my mum up 9 hours to sit in the stands and watch the event. She rang me up yesterday and said if only we'd known that in four years' time you'd be in the final.
"I still battle my demons every day, but I have respect for any athlete that stands out on the track."
Sophie Hahn, born in Nottingham, won the women's T38 100m final, breaking the Games Record in the process. She said:
"It's absolutely amazing. I've always wanted to be Commonwealth champion and to do that here in Australia is great. I've not raced the Aussie (Rhiannon Clarke) before, and I thought straight away, she's pretty good so I need to be on my game.
"It's quite early in the season for us so my training had to change a little and I had to introduce speed work earlier, so to run that time this early on, I can't ask for more really. This year is all about consistency, next year we'll pick it up and look to peak for Tokyo.
"I think it's fantastic that able and para athlete represent one team and I'm honoured to have my event here."
Following their 3-0 sweep of Nigeria in the men's doubles table tennis round of 16, Paul Drinkhall (Middlesbrough) and Liam Pitchford (Chesterfield) said:
Pitchford: "I think it went really well, we started off on the front foot, at first it was a little touch-and-go but then we got a lead and we put a lot of pressure on and they didn't really have an answer to our play today."
Drinkhall: "This is a different event, we came here for medals in every event and obviously one's gone, but this is another one and you've just got to try and pick yourself up to do the best we can – and if we play like that we're pretty solid and we're one of the best pairings here."
Leamington-Spa born table tennis player Kelly Sibley lost against Singapore's Tianwai Feng in the singles quarter-final and said:
"Obviously she (Feng) is number four in the world, one the best players that there is. I always knew that it was going to be tough, but I always knew at the same time that I had nothing to lose. I thought that I've been playing very well in this tournament so I kind of went out there with a game plan to give it my all and tried to keep to my tactics and it nearly worked as it was a close call at the end.  Managed to put her under pressure which was my goal so I'm very pleased with my performance overall.
"Getting bronze in the team competition is a fantastic achievement. We'd never won a medal in the women's team before and our objective of the game was to get a medal in the women's team so to finally achieve that goal with the girls sends me over the moon"
Chloe Birch, from Preston, lost in Women's Single Badminton round of 16 against Scottish Kirsty Gilmour and said:
"She played well to be fair to her. It was tough coming on the back of the team event, it's hard now because I'm disappointed that I lost but I think once I watch the games back I think it's been quite a good performance over the past couple of weeks.
"I worked very hard to be on the best shape as I can here, so I can't complain too much, and I still have the doubles tomorrow so I'm going to get back and get ready for that.
"I've played some really top players here and that's been a very good experience for me, I take it all on board."
After his emphatic display in the 3m springboard, Jack Laugher, from Leeds, brought his total Commonwealth medal tally to four golds. He said:
"I'm really proud, especially coming off of Glasgow – heart-breaking second place. I'm really proud to come out here, outdoors at night and really nail the competition, get a fantastic score, to get my first ever 3m Commonwealth title – the one that probably means the most to me. Fantastic list, I'm really happy with how me and my coach have worked it and made sure that we came back from the disinter of this morning to nail it.
"I have got a lot of experience in the 3m obviously, so I've pulled them out a lot, I've worked really hard with my strength and conditioning team, my diving coach, my physios – everything to get me in great shape for here. I'm still struggling, still not back to full fitness, so 520 outside and at nice, going through all the pressures of going for that Commonwealth title, I'm really proud of what I achieved. It wasn't a great build-up, but to have a great competition and a great start to the international season, I'm really happy.
"I had my first operation, my first major sporting operation, and my knee injuries and my arm injuries haven't gone away so I'm battling a lot of demons currently. But to come out for this international competition with all of those setbacks and only a short amount of time to prepare, has been fantastic. It's been really hard, and like I said we've worked tirelessly – people have been round the clock all over the country, looking after me and I feel extremely honoured that people would do that for me, and I'm blessed that we've got such a good system around us in the UK, so just a massive thank you to everyone who's got me here.
(On competing for the 3m synchro tomorrow) "Being the big three – Commonwealth, European and Olympic champions, obviously we are going for it. It is very difficult conditions, we'll be competing at 9:30 at night tomorrow, so I haven't actually dived outdoors at 9:30. Me and Chris are really prepared coming into this, as prepared as we can be, Chris is looking fantastic in the pool – his first Commonwealth competition because obviously he hasn't been in the individuals. I'm hoping that he'll be able to pull on me, and we can use our camaraderie and friendship to get through the competition and go for that gold medal."
England's men's Lawn Bowls Four's team lost against Scotland in the semi-finals.
David Bolt (Sunderland) said: "Disappointed but we'll go again tomorrow for the bronze medal so we're going to pick ourselves up and go again."
Jamie Chestney (Kings Lynn) said: "We just didn't play tight enough against them (Scotland). We started off quite well, got a bit of a momentum and just let them back in. between us, any of us, we just couldn't get that bowl to get ourselves back on the front foot soon enough."
Sam Tolchard (Torquay) said: "There is no point in dwelling on it I guess but it's hard not to."
Louis Ridout (Taunton) said: "Feeling very disappointed, I've let the boys down a little bit in there, of course we are under a lot a pressure but full credit on them (Scotland), they've played better than us. We'll focus on tomorrow now and try to get that bronze."
Lauren Smith (Carlisle) and Sarah Walker (Basildon) beat Scotland in badminton's doubles.
Lauren said: "We were very efficient in our attacks today, we were effective, quick and that's the sort of stuff that comes with experience of playing people and that definitely worked in our favour."
Sarah said: "Even though if we are in all the team matches, we are really efficient, and we didn't get that many matches, so we are fairly fresh I would say."
Lauren said: "I think it's just about taking it one game at a time, for me personally I'm used to play in two events now so that moving from one onto the other is easier. Whether I played well or not in one doesn't matter, I just reset between matches. I just try to go out there and play my best every time."
Sarah said: "I think that every game that we had so far we played pretty well and done fantastically well so it's looking good."
Lauren said: "This is the kind of game that you train for. Multisport like this are such brilliant events to be part of that you just want to make the most that you can while you're out here and to me making the most of something is winner because I'm a terrible loser."
Following a devastating penalty shootout loss to New Zealand in the women's hockey semi-final, Team England's hockey captain Alex Danson, from Southampton, said:
"We're absolutely devastated, we played a fantastic game on the day and I'm so proud of how we came out and how we fought. Credit to New Zealand, they finished that shuffle off nicely, but we're going to hold our heads up high and come out fighting for that bronze medal. And my goodness we can walk away proud of today's game.
"We had some chances at goal, their keeper having a very good game. Of course, it's something we will look at, we will review when we come back tomorrow, and there's some work we can do, but you saw the fighting spirit we have in that team today, I'm very, very proud of that team.
"It's about all of us. It's going to be an incredibly tough bronze medal match, but it's about being professional and make sure we come out fighting for that last match.
(On getting 300th cap) "I was hoping to celebrate it today with the team, I love this game, I love this sport – and this is a wonderful place to play, and I'm very thankful.
"Sport is about how you think. People always think it's about how you play and how you work, it's more about how you feel."
Three English women competed in the long jump competition today, with Birchfield Harriers' Shara Proctor taking bronze.
Proctor said: "It wasn't my best. Unfortunately I picked up a strain, I believe. It's very minor but I had to be safe and pull out and hope for the best. Luckily I came out with a bronze, but I came into the competition with a gold medal in mind. It didn't happen but I'm thankful I got this. It was a fun battle – I love the Australian crowd. The runway was really fast and I enjoyed it, regardless of what happened."
Ugen (London) said: "I need to get back my rhythm on the runway.  I was messing about trying to get it right after the fouls, but obviously it's something I need to work on. Then I won't have to focus so much on the runway and more so on the jump. I just need to get more consistent with hitting the board."
Sawyers (Stoke) said: "I jumped further yesterday, that's the big thing. You should never do that, that's not professional. It doesn't show competitiveness and I'm gutted with that. It's great to be out here but I didn't jump well. I got lucky to make the top 8 to be honest. I was waiting for someone to come past and luckily they didn't.
"I know when I phone my coach up he'll say, it's April. And I'll come back and carry on training. And he's right, but you don't come to a championship to come 7th.  I'm gutted, but I'm so happy for Shara. It's always nice to see an English flag on the podium, I just can't be happy with myself."
The women's Lawn Bowls triples team won bronze in the bronze medal match against Canada.
Ellen Falkner (Cambridge) said: "I'm glad that we are going home with a medal to show for the hard work and effort that we've put in and not only over the past couple of week but over the past year so we are absolutely delighted.
"It will take a little while for that to sink in, we are still buzzing from the match, it was quite a strange game. We got off to an early lead and then they came back at us and all of a sudden, we were really frightened for it so we had to raise our games again and pick up the pace a bit and thankfully we were able to do that."
Sian Honour (Canterbury) said: "It's not easy to win a medal, everyone has to make sacrifices to be out here for a start and then whilst you out here it's really difficult, every game is hard, every opposition is tough."
Katherine Rednall (Ipswich) said: "My first games have been incredible, I absolutely loved it so going away with the bronze is more than I could have hoped for."
Marcus Elis (Huddersfield) and Chris Langridge (Epsom) won their game against Canada in Badminton Men's Doubles.
Marcus said: "Overall it was a good performance, didn't expect to win going in to it. This is where the competition gets physically demanding which I think is the biggest challenge right now and tomorrow will be really tough matches for me, the quarter-finals and even playing one match in full intensity in a day, it does take a lot out of you, so it will be very important to recover the best I can and get ready for tomorrow."
Chris said: "Tomorrow's opponents (Singapore) are a good pair. It depends on the day. They play well, we play well it'll be a good game. I want to say we are confident, but Badminton is one of these games where anything can happen. They beat the Indians and are a good pair so it's going to be a big game for both of us."
Lois Toulson won bronze in the 10m Women's Diving. The Huddersfield-born diver said:
"I didn't expect winning a medal at all, I just wanted to dive well and I'm really pleased with how I did.
"I've been diving for ten years and doing a lot of practice with that kind of stuff. Trying to move on no matter how the last time went.
"Obviously, Jack (Laugher) won today and yesterday as well so it meant a lot for him to come and give me a hug.
"Synchro is what got me to the Olympics so to being up there in the individual now means a lot."
Robyn Birch, from Ashford, finished 8th in the Women's 10m Platform competition. She said:
"I feel like my main aim is to try mentally to prepare for these competitions and try to keep my nerves because sometimes I do get too nervous when it's a big competition. I'm going to focus on individuals and then synchro is a bonus."
Kyle Langford, from Watford, claimed silver in the Men's 800m final. He said:
"They got out very, very hard, then it eased up a little. (Nijel) Amos started to die a bit and then we got to the back straight and the Kenyan's started to surge and people started coming from everywhere. Then, 200m to go I felt absolutely awesome. I got stuck in a little bit of traffic and then 120m to go I managed to get out, I had too much left and I felt I couldn't get my legs moving quick enough.  I started picking up but I just didn't have quite enough to win this – it's really gutting being so close.
"I knew I had it in me to win, it's what I've been envisaging at every training session – to win gold. So to come short, it's gutting but it's one of those things as an athlete it makes you stronger. It's not a loss, you either win or you learn and that's what I'm going to take away from this."
Jade Lally, from Tooting, who finished in 7th place in the women's discus final said:  
"That's just where I'm at at the moment. This back problem has just been a pain, to put it lightly.
"I throw 53m in training, I throw 57m in training – it was either going to be one or the other and I had to be mentally prepared for both. I think I could have taken a medal today, I don't think that was unrealistic. Unfortunately it just wasn't quite right today."
Luke Cutts, from Doncaster, who picked up a bronze medal in the men's pole vault final. He said:
"I'm really happy with my performance. It's like I said to everyone else, I came out here with some brand new poles not expecting to do that well, but I've now got things I can work on back home. I came in preferably for a medal. But I knew the Canadian could jump 5.92 and the Australian jumped 5.80 a couple of weeks back, so I knew it was going to be a tough competition out there.
"Preparation coming out wasn't that good  – obviously I was working a lot prior to leaving, but I got into training four weeks out and everything is looking good now as we look towards the season."
Sheffield's Adam Hague who finished 4th in the men's pole vault final said:
"Mixed emotions. I'm quite disappointed. But I was happy with my jumping, it kind of came together. But that one height I needed I just couldn't manage. But it's a great experience to be here. If you'd asked me before, I would have happily taken fourth, but it's so close to medal. But after last year with injury, it's just good to come back and jump again. I'm more happy than I thought."
Dina Asher-Smith, from Farnborough, and Bianca Williams, from Enfield who finished 3rd and 6th  respectively in the women's 200m final.
Asher-Smith: "Obviously I came with the aim to get myself on the podium, that's been the whole impetus in training since London last year.  I just wanted to get myself out of the fourths, out of the fifths and make it, so this is a great step in the right direction. I'm really happy to run a 22.2 in April, that's insane for me. Usually I'm still jogging around in trainers at this point."
"My parents were at the front of the podium cheering for me – they travel all around the world to watch me race and they're super proud. This is definitely a testament to their genes and patience with me"
Williams: "I'm happy to run the final and run how I did. It wasn't the best time, but I'm happy with how I ran. It was hard to get into the rounds, I haven't done three rounds in a long time. It was nice to be part of a major field with so many class athletes. I'm very happy for Dina, it's so well deserved.
"I know I'm in good shape, it just wasn't my day to break 23 seconds yet. Hopefully that will come in the future."
Katarina Johnson-Thompson, from Liverpool, who currently leads  the Women's Heptathlon after day 1, and Niamh Emerson, from Derby, who sits in 4th position said:
KTJ: "I'm happy I'm in the lead. A bit confused about some of those results, but I guess I should expect that in April. After Birmingham (World Indoors), I was more mentally tired than physically tired, so instead of really pushing on I just let my body rest and took it easy into the champs. I seemed to have got away with it, but I think I'm really going to have to fight tomorrow.
"I rolled my ankle in the high jump, but that's just me – I'm fine. I'm just tired. I've never done anything in April before, so it's a new experience for me. It's definitely turned out to be harder than I thought it would be.
"My original plan was to come out and do long jump and high jump but there was a clash and I didn't want to come out to just do one event, so I settled on the heptathlon. But I'll get through it."
Emerson: "I'm really happy. I've surprised myself, I always try and be relaxed and controlled and just try and get everything solid, but obviously this was a big test. I've never done anything like this before, so I was just intrigued to see how I handled it. I'm growing in confidence with every event – especially having KJT there, she's really nice and says little things that really help. Very excited for tomorrow."
Catch up on today's action at www.teamengland.org
---