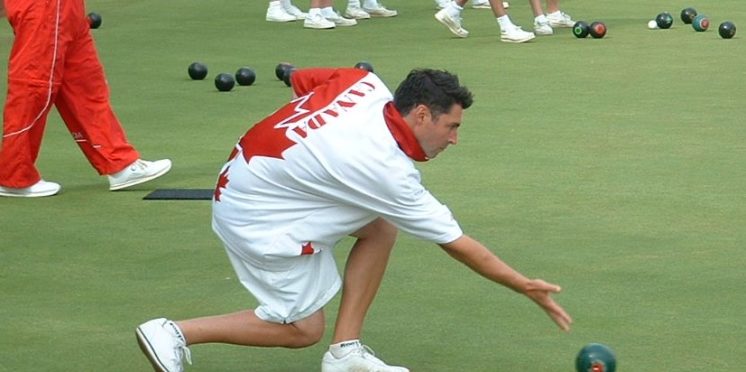 Team England – Day 9 Quotes from this morning and overnight
Friday 13th April 2018
Robert Paxton lost his semi-final to Australia in the men's Lawn Bowls semi-final, but will compete in the bronze medal match. The Exeter Lawn Bowls star said:
"It was a tough game but you expect that as this stage of the competition. I am disappointed of course but it was a fair result and I just need to bounce back for tonight.
"The crowd didn't bother me. Of course they are going to be there to support their own guys but they were pretty fair."
The men's Lawn Bowls fours team won the bronze medal, beating Wales.
Jamie Chestney (Kings Lynn): "Quite a different feeling to last night.  We spent most of last night sulking but woke up this morning and decided that we've got to give that game everything. Started off ok-ish and then we put a few really good ends together in the middle and managed to get a lead and hang on to it, it was a good performance and we are pleased to go home with something."
Sam Tolchard (Torquay): "We played pretty well, we were pretty devastated the first week when things went that way, but we had better result the second week. Glad we got something out of it in the end."
David Bolt (Sunderland): "Thoroughly enjoyed it for my first experience, couldn't ask for better. I'm really happy that we won a medal. It was the biggest crowd and biggest venue I've played in before. I've been disappointed with some of my games, but I generally played alright."
Louis Ridout (Taunton): "Last night was hard but we picked ourselves up again this morning and I thought we played well this morning. Wales started off very well, second half we controlled the game and I'm thrilled to take home the bronze at the end."
Cheavon Clarke won bronze in the men's 91kg, and the Gravesham ABC boxer said:
"I will go back now and watch the fight and see how I can improve. I will now go and do whatever the coaches want me to do, I never back down from a challenge.
"Looking at it from the outside, you probably think that's a good result but I know I should have won this, so disappointing. Nobody comes out here for a bronze medal, no dis-respect to anybody else, but I am a sore loser.
"The coaches believe in me and I believe in my ability, so it will be alright. I am grateful for the opportunity and grateful to be here."
After easing past the number 2 seed in the men's badminton singles quarter-finals, Sam Walker, from Ashfield, said:
"I'm really pleased to get through that, and now it's just about putting that behind me and focusing on the next one.
"I always like the big matches, I had a disappointing loss in the team event semi-finals, as we all did, against Nigeria and I think that today has shown that I can come back from that and I was excited to get out there, but also I had a point to prove. I think I've done that today.
"For me and my game, it's always important to win the first game. I like to get that under my belt and especially when you're playing against somebody who's ranked higher than you, it's really important to get off to a good start and just put him under pressure and thankfully I did that.
"I was just trying to focus on the next point, just take it point by point and at the end I managed to pull through, just about.
"I guess the big players like to play on the big stage.
"The men's doubles, we gave it a good shot, but I just don't think we played at our level, and I think the two Indians played a good match – they played tactically well and they kept us out and kept it tight through the match. We were disappointed about that. And then the mixed doubles, we already did better than our expectations here. We're a new pair, we're learning, this tournament was more about a learning experience for the two of us – I think we did a really good job this tournament, we can take a lot from it going into future tournaments and Tokyo and maybe Birmingham."
After his dominant win in the men's 65kg wrestling bronze medal match by technical superiority, Charlie Bowling, from Wigan, said:
"Everyone's a good competitor in that weight class, I had good preparation, it's been a long three years preparing for this – so I was confident in my ability.
"It's not about going one better than anyone, (George Ramm) is my best friend, we all support each other.
"It's always hard coming off a loss, I just had to get my head up – I knew I could wrestle. It's been amazing, it's been a tough ride but I got the medal and I'm really happy."
After a convincing win in his bronze medal match, Robert Paxton, from Exeter, has clinched a second Bowls medal of the day. He said:
"I started off well, lost a bit of pace in the middle as he came back strong, but I finished off the game well.
"We've got great strength down in Devon, we're really fortunate. It's been a reasonably successful Games, could have gone better for us but most of us have come away with medals.
"Fantastic venue, the weather's nice – it's just been a fantastic time, and the hosts have been really good.
"You always want to do the best you can and win the gold, but that wasn't to be, but as I say, I finished off well and made sure I was on the podium with a good win tonight.
"You've just got to knuckle down and clear your mind, and get back on the job in hand.
"I had a good start really, against Darren when I went 10-4 up and then lost one or two ends on the trot – the pace changed slightly as it does in the evenings over here, Darren found it a bit quicker than I did, and he took the lead but I knuckled down and finished off strong.
"Obviously you want to come away with the gold medal, but there's so many top quality bowlers and athletes in the field here, Aaron Wilson has been fantastic, he's been the show. Throughout the singles he's been the star man, he fully deserves the gold, so to come away with a medal is all you can really dream of."
Chloe Birch (Preston) and Jessica Pugh (Telford) after their loss in the women's doubles quarter final against Malaysia:
Chloe: "I think that was always going to be a difficult match. The Malaysians, even though they are not seeded here and they aren't usually placed together, they are both very strong players. One of them has been on top of the world in women's doubles for quite some time. Credit to them today. They went out and they played well. We struggled to get into the game a little bit. We gave it our all and that's all we can do."
Jess: "I think like Chloe said they are a strong pair. Vivian has lots of experience so it was always going to be hard playing her. We tried our best and we gave it everything but today they were just too solid and played very well."
Chloe: "There has been lots of game time this commonwealth games. A medal in the team was great. We showed a really strong team performance. Everyone performed. The individuals are always tough after you have played a tough team event. There is lots of experience to gain. We have played some top players here and we are both still quite young. We will be looking to look back on the games and see where we can move forward."
Chris Langridge (Epsom) goes in the badminton men's double semi-final with Marcus Ellis (Huddersfield) after beating Singapore:
"We were definitely expecting a tough match, we played them in the team event and that was a close game. I think regardless of if we were winning 2 or 3 sets it was never going to be an easy match because they are great opponents and it's a quarter-final.
"In the team event we had two good sets and one not so good whether today was two edgy sets and in all honesty I think they played a lot better today than in the team event. It was one of these awkward games because you know they are good and they may be a bit unorganised so there are things you don't expect, and a quarter-final is always tense because if you lose here, you're out."
Liam Pitchford (Chesterfield) after his win in the men's table tennis doubles semi-finals against India, on the cusp of his seventh Commonwealth Games medal said:
"It was just to put them down a bit and it was really important and I'm happy to get the win.
"It was elation really. It's been a tough tournament. I haven't played my best table tennis. I've just been trying to fight and I have not really found it yet. To be in the gold medal match tomorrow and to have a chance at the gold medal. I'm just really proud of me and Paul.
"I'm happy to have the most medals. I'm still missing a gold. It would be really nice to get one of those. It's a record I guess. Hopefully I can get another one in the mix. Another chance on the mixed doubles tomorrow too.
"We have played (India) them a couple of times this season and last season. It was close both time. One time we were leading 2-0. Had some match points but we ended up losing. Tomorrow is a different match and we will go in there with a lot of confidence and some tactics on how to play them.
"It has been a bit of a grind to get through. It's disappointing, how I've been playing. I had a chance earlier where I was leading in a few of the sets that I was leading that I didn't take advantage of. I missed out on a medal in the singles but there's two more chances tomorrow. It's a new day. Maybe I will play a bit better."
Lauren Smith (Carlisle) and Sarah Walker (Basildon) secure their spot in semi-final and defeat Sri Lanka and said:
Lauren: "We came out really strong in the first set, second set maybe a slight lapse in concentration, less active in our feet which made it a lot harder for ourselves but when it got tight, when it matters, we stepped up and we took the game."
Sarah: "Each game we played we've gone out and done the job, so I think we are playing well and we are ready for tomorrow.
Lauren: "Tomorrow we play the Australians, we played them in the team event, so we know them quite a bit. We won that game so it's good that have that edge on them, we've got to learn from it, I think we'll watch it back before the game but a lot of it is about us, if we take our physicality to the game, we get our legs really strong and if we can pick up everything that they throw at us. It will be quite difficult with the crowd against us but we are willing to fight, and I've beaten some Scots in Scotland so I can beat some Aussies in Australia."
Sarah: "We didn't actually play that many games in the team event, so we are still fresh, fresher than the Australian pair, and we are ready for tomorrow."
Lauren: "You never come out here to get anything else than gold so that's what we are going for but one game at a time and we'll give it our all tomorrow."
Abbey Ling, from High Wycombe, finished fourth in the women's trap finals and said: 
"It felt nice, I'm very pleased to recover the way I did. It was just a shame I went out on back numbers. Fourth of all places you're almost there but not quite far enough.
"I found it quite hard to see some of the targets because of the cloud and the light that was coming through. it also depended on what targets you got in that final run. Whether you got a straight one, or whether you got a big angle and that's what I drew.
"Competing with other members of my home nation meant we were all fist pumping and wishing each other good luck. Telling each other to go and get it. It's nice to feel that you're with your teammates but at the same time, you all want to beat each other. I would love to have seen Northern Ireland go on and win it.
"I'm looking forward to coming home, as I have a one-year-old daughter that I am missing terribly, It's been quite hard. I also wanted to make the podium to make it seem worthwhile. Things happen.
"What's next for me is probably further selections, I'm waiting to hear if I'll be selected for world cups, I've asked to do a world cup in Malta. We'll wait to see the team for that. I'm going to continue to compete and shoot at home. When I get selected to go internationally again I'll try again.
"I wanted to feel more nervous coming into the final, I think having more nerves are needed to get into that fight or flight mode. Then I missed a few targets and thought come on, I need this. Then I began to have a good run, anything can happen in the single barrel, it's just something I need to train a little bit more. It's very hard with a single barrel to train without the pressure because anything can happen in a final. The more and more you put yourself in commonwealth finals and world cup final the better you can be.
"A qualification is two shots, so if you miss with the first you have a second chance. There were a couple of times in the final, I missed with the first and still pulled the trigger on the second one. It totally showed that I wasn't really thinking I need to hit it with the first shot. It's one of those things where you can train pressure the more you put yourself in those situations the better you become. I've had a year out, from international competition because I recently had a little girl. This is my first international competition back. I would have loved podium but fourth place is what I have to take."
Paul Drinkhall, from Middlesbrough, after his joint win in the men's table tennis doubles semi finals against India, progressing through to the finals said:
"We finished fourth in Glasgow for the men's doubles. It was quite hard to take. It's great now to have a medal but we want to make it a gold.
"Obviously we are going to win a medal anyways. Sometimes you can put too much pressure on yourself if you think about those sort of things. We were just trying to win one point at a time and get through the match. We managed to do that.
"Yesterday was a tough loss. It was difficult to take. The guy played really well. I think our styles suit him more when we play against each other. I made a few bad decisions at the wrong time and you can't do that at that sort of level. It was disappointing but it was good to get into the doubles final.
"I play at my best when I'm having fun. It wasn't really intentional but the shot put me out of position and it was just a natural reaction. It was good fun. It would have been better fun if we would have won the point."
James Arnott, from Plymouth, won silver in the men's T47 100m final and said:
"I mean, I came second. I didn't know anyone going into the race, so I was very sceptical. But I didn't really care about anyone else, it was all about my lane and my race. It was a surreal experience – all the crowds cheering. I think I've done my country proud.
"I got out really nicely and was really happy with my transition into the run. I could feel the guy on my left come through and I was a bit like 'woah' as I wasn't expecting it. But I knew I had to do what I do in training and I came away with a silver medal."
Stefanie Collins, from Upper Hayford, helps taking the Basketball team into final today after defeating Canada. She said:
"We knew going into this game that Canada was going to be a tough side, we luckily had the opportunity to play them in the previous round and that was a tough contest for us so today we came for the absolute believe that we'll get the job done and see us into a gold medal.
"We worked on our defensive effort. We didn't really know much about Canada going into the first game, so we took a look at them, see what we could do defensively to kind of put some pressure on them because in these situations, when you know you're playing for a medal, we've got to apply the appropriate pressure.
"We had a nice comfortable lead going into half time but knew they were going to go on a run and we were going to have to keep our composure, which we did."
Katherine Torrance (Croydon) and Alicia Blagg (Wakefield) finished fourth and fifth in the women's 1m springboard preliminary. 
Blagg: "The conditions were perfect, diving in the dark is much better than diving in the light. It was fine."
Torrance: "I did drop my second round dive as well, but I just put my head down I told myself to keep going as you never know what could happen. Then I had the best start, but I didn't know what to do. It cost me a medal, but my coach has said put it in the three-meter. Any anger I have got I just need to put it in the three meters.
"This experience will definitely help me, now I can sit down and observe what went wrong, don't do it again. It will give me something extra to push for."
After Team England's stunning performance in the women's basketball semi-final against Canada saw them progress to the final, Chantelle Pressley, from Ipswich, said:
"We really tried to pressure the ball as much as possible, and deny any passes that would transfer the ball across the court – we stopped doubling in the post and we really just ran our post-game, just fighting in there by ourselves and I think that made a big difference.
"I just wanted us to stay composed and relax a little bit. The clock was on our side so I didn't want us to rush and make any silly turnovers at the end of the game.
"All we want to do right now is enjoy this moment, when our coaches get back they're going to make their game-plan, I'm sure we'll meet tomorrow and figure out what we're going to do – but tonight we're just going to enjoy this moment."
Rachael Vanderwal, also in the team, said:
"I feel really good today, I was just really aggressive with the ball and my teammates did great screens. It's a dream come true to be able to win a medal for us, that was a goal for us. We want the gold medal, anything could happen."
Pat McCormack, from Sunderland, wins the men's 69kg semi-final against India's Manoj Kumar taking him through to the final. He said:
"It was a hard fight though I've beaten this guy before so he knew he had to give it everything. From the first bell, he came out and gave his all. I hit him with clearer punches.
"I could see his punches coming from a mile away, he was putting everything into his shots so I tried to tire him out a little bit.
"I definitely felt like I had to fight this for my brother, he got beat in a close fight today. I think he's a better boxer than his opponent, but his opponent just outworked him. I guess I was making sure that I didn't get overworked.
"I would be over the moon with a Commonwealth gold, I can't think of anything better
"Yeah it's a lovely vibe here in Australia, in the flat all the boys mess around, having a laugh. Everyone is winning, everyone's a bit on a high at the minute."
Alex Bell, from Leeds, finished fifth in the women's 800m and said:
"I've had two 2-minute runs back to back – it took me all season last year just to run one, so to do so at this point in the season is great. It gives me so much confidence competing against a world-class field. I'm really looking forward to what the season holds. I've still got a lot of work to do, a lot of tweaks here and there, but I'm excited to race and to be in the mix with these girls for the rest of the summer.
"Today I had nothing to fear – my legs were shaking like hell yesterday! I was ready to go out there and literally give it everything I had left."
Team England's women finished first and third in the heptathlon, Katarina Johnson-Thompson (Liverpool) won gold and said:
"It has been a very emotional day for me. I'm so happy to finish the heptathlon and win the gold; it is a relief to complete all the events. I felt something in the 200m last night and then I started to feel it more today. It hurt during the 800m but I just carried on.
"I'm so proud of myself for coming here in April and setting seasons best so early. I haven't had chance to do a lot of training between world indoors so I'm happy to be competitive and winning the title here. I've got 16 weeks to build on this and be ready for the Europeans.
"The heptathlon is difficult and anyone can step up. The Australian girls looked strong. And then you look at Niamh (Emerson) who is still a junior – she scored 6000 points last year and now. She did brilliantly to win the bronze medal."
BRONZE MEDAL: NIAMH EMERSON (Derby) – 6043 points PB 
"I'm really, really happy. I always wanted to get a medal, it was always my aim. But wanting to get it and actually doing so are two very different things, so I'm very happy. I was very pleased with my high jump and also my 200m and javelin. I think I was quite solid overall, but these areas stood out. I knew going into the 800m that I had to beat the girl ahead of me by 10 seconds, so I had a plan in place. Because of my knee injury, I only started high jumping properly about four weeks ago, so I had no idea I had that in me!
"KJT is very inspirational – she's very helpful, just saying little things that help. I've now got a busy season with World Junior and also Europeans, so all being well I'll do both of those."
In the women's shot put final, England had three athletes competing.
Sophie McKinna (Great Yarmouth) – 5th place – 17.76m PB 
"There's always positives to take away. I threw two PBs during that and it's April, so hopefully I've got a very big season ahead of me. But there's a lot more there and unfortunately I couldn't unlock it today.
"I'm a bit disappointed as I think I could have pushed for top-3 if I'd just controlled my throw a bit – but it's all good saying that when you're stood here in fifth position."
Rachel Wallader (Stourbridge) – 6th place – 17.48m 
"I wanted more. Training has been indicating a lot more than that but today I just couldn't quite get the feeling. I gave it the best I could. I saved my better throws for the later rounds which is pleasing. I'm not used to competing two days after one another. I tried to prepare as best I can without tiring myself out, but there's only so much you can prepare for.
"I'd like to be hitting the 18m mark by the end of the year. It's going to be a long old season, but it's very early still."
Amelia Strickler (Stoke-on-Trent) – 9th place – 16.78m 
"I can't be disappointed. I came in with a serious injury and tried to compete to my best and still threw a season's best – twice. I now have the outdoors to look forward to. The British Champs are a big one for me and hopefully I'll qualify for Europeans.
"The fuller the stadium the better-  it's awesome and it's exciting and helps me throw far."
Andy Vernon, from Fareham, finished ninth in the men's 10,000m and said:
"It was a tough race. It went off through the first 3k at about 27.30 pace, which is above my PB pace. I haven't had the same build-up that I usually would going into the race. I've done a lot of work over winter on my own and trying to get ready for a world-class 10,000m race on your own without people to help you is tough. It is what it is, I did my best and prepared as well as I could have-  having said that, I did have a setback a couple of months ago where I was out for about three weeks carrying what I thought was an recurring injury from last year. It was a bit annoying and it took me a while to get going again. I feel like I've been playing a bit of catch up, and that's not great.
"The pace was surging from the start which was a struggle too. I could have done with it going out a little slower and then building up – it's easier to run like that. Now I plan to go back home and prepare for Highgate."
Alicia Barrett (Chesterfield) finished eighth in the women's 100m hurdles final and said:
"I don't know where to start. I just tried to keep the aggression going and push me on, but it came a point when I just made too many mistakes.
"I know I can do it – yesterday shows I can, but it's early in the season. So I just need to work on putting things together."
Three women competed for Team England in the women's pole vault final.
Holly Bradshaw (Preston) – 4th – 4.60
"I just feel a little bit disappointed because I could have got a medal in that field. But I'm just a little bit hit and miss with the vaulting at the minute, so I struggled a little with the timing of my jumping. But when I hit it, it felt really good, so I just need to put the pieces back together over the next few months. I was sad to miss the indoors because I was feeling really ready and then it took a little time to get back into form. I feel physically in the best shape of my life, but vaulting is such a technical thing and I'm just missing that zip and spark, which hopefully I'll be able to get back before the Europeans.
"We're all really good mates, so whilst I'm disappointed for myself, I'm even more elated to see them doing well. It's an individual sport, so we don't really impact each other, so it's nice to see each other doing well. I'm just excited to get my season started now."
Molly Caudery (Truro) –  5th – 4.50
"I'm really happy with that. I really wanted the 50 – last week I actually got that but it didn't count as a real PB, but I'm really happy with how the overall competition has gone. It was smooth and the crowd was amazing. I was competing against world-class competitors which was an incredible feeling. When the crowd got behind me and the cheer, it takes over your whole body. I've learnt that everyone has their own ways – some are really chilled and relaxed and others are very intense and keep themselves to themselves. They're all such lovely girls and we all get along so well – I've learnt to just go out and enjoy it. That's the only way. I've had the most amazing three weeks."
Lucy Bryan (Bristol) – 7th – 4.30m
"I am happy to come here and clear three bars, but a little disappointed I couldn't clear 4.40 or higher. I am very excited – my aim was to come top eight and I was seventh so I can't complain too much. I am hoping that I can get to the NCAA outdoors and we will see what happens this summer, whether I can come back and do the Europeans. I will see how tired I am after the collegiate season because it is a big season."
England's women won their rugby sevens games against Fiji 17-5, however lose against Australia 29-12.
Amy Wilson Hardy (Poole): "This game was very frustrating, we had them and we battered them at the start. It was just hard to hold on to if I'm being honest. We played smart, we held onto the ball as much as we could, they applied pressure and they had a great finish, they're a great team. Next time we'll know what to do to beat them.
"What better than England vs Wales and in the sunshine as well. They've come a long way over the past few years. Playing Wales is never going to be easy but we'll go out there and try our best."
Deborah Fleming (Penzance): "You never have them until the final whistle anyway. Obviously, we have some points against Fiji to take us through. I think we did a great performance. Unfortunately, they managed to get us on a few errors.
"Right now, the target for Team England is to just take every day as it comes. Play our hardest, anything can happen at any time. We'll go back and look at the match and see what's coming up. Obviously, we want to get as far as we can. But you have to take it one day at a time."
Haslam brothers Jack and Ross, from Sheffield, finish 5that the Men's Synchronised 3m Springboard final.
Jack: "I have no words, I'm just gutted. I know we are capable of winning that medal, but it just wasn't the time for that one.
"It's our first Commonwealth Games. Personally, I may have struggled a little bit with the occasion, but Ross definitely helped me through it today. Just a couple of little drops in there that took us away from the medal but it's a learning experience, we've had a great time out here. It was still a good performance, we were aiming for a score of 400 and we were really close to get that.
"Ross is my younger brother, but I've learnt a few things from him, he is a very good competitor, he likes to know exactly what he needs to do and I'm trying to get better at that and that's definitely improved us as a pair and in the last few events that we've done we have performed better than we had before. 395 is still a respectable score, we should be happy with that even though it doesn't feel quite like that right now."
Ross: "At the start of the year, the goal was to get each of us in the Commonwealth Games and we found out we were doing it together, it was amazing to find out we were able to compete on a stage such as this together.
"Being teammates with Jack and Chris has just been the best thing the past few weeks, they are honestly the funniest people to have an apartment with and to relax with. It's nice to have friends like them as well as to look up to them."
Frazer Clarke, from Burton Upon Trent, after his victory over New Zealand's Patrick Mailata in the men's +91 kg semi-final.
"It feels good you know. I'm just going to forget about performance, like I said I'm a perfectionist and I wasn't happy with it, I never am. But I got the job done, not too many arguments I can hear around ringside. I enjoyed doing it.
"It's one thing expecting it, it's another thing then dealing with it. I always said before the fight he is a very tricky customer. All the spars I watched of me and him that I've watched back over a day or so. I've come out on top in many of them to be honest. but that's sparring, this is fighting. It's very competitive between us, it always has been. I thought I got the game plan a little bit better on the day.
"I enjoyed it. One of my downfalls is that I take a few too many shots sometimes. It's good for everyone else, not so good for me. That's something I've got to work on. Those last 10 seconds, I'm going to get a right bollocking when I get back there. It just happens sometimes you know, you lot enjoyed it, I got the victory, that's all that matters.
"I've seen a little bit of him (Satish Kumar). Good tough opponent. I've sparred him before. I have got to be better than what I was today, simple as that. Better everyday.
"Doesn't mean anything. The referees are great. They are very protective of the boxers. Remember though that this is a fight. People get hit with big shots as part of the game, I know he was okay, he's a tough guy I know him. Not much confidence but it's nice when you're in there.
"Two tough fights and I'm in one piece so I feel good. I'll get back tonight. Recover. A nice sleep tonight and I'll be ready to go again tomorrow."
England's men narrowly lost to Australia in the men's hockey semi-final after conceding a late goal in the dying minutes. England's Phil Roper, from Chester, said:
"I'm absolutely devastated, to be very honest with you. Watching that game we were all over them, we matched them toe to toe. We were better than them in the second half, we just couldn't get that second goal in. They're pretty good with different corners and they showed it. We've shown some great play out there and hopefully, we can come back tomorrow.
"Conceding in the first minute isn't ideal, we'll have to have a look at that and see how we could stop that from happening. I guess from there we were pretty good. As I said, I think we had a lot of the pressure in the second half.  We created some good chances but we just couldn't get a goal in.
I'm sure the early goal did not affect our chances. If you could see our mindset we came straight back from that, we very much reset our thinking. We had a lot of resilience and high levels of intensity, we did the right stuff just couldn't get them.
"Genuinely, we were all over them then second that goal went in. You saw them having a bit of a panic, then you know you have them on the back foot. We gave away that corner, but I do believe we have had some great chances. However, it's just the nature of the game and that's just how it ended up, we just lost the game by a goal.
"The crowd did have a little bit of an impact, obviously, they're in Australia and they're supporting their team. We came out here and I'm proud of what we did.
"The aim for now is to rest and recover and get anything we had from that game out our system. We really have to get one over India, we had a hell of a game with them the other night.
"I think it would be amazing to get that Bronze medal for England. A fantastic tournament with a medal is what we came here to do."
Catch up on today's action at www.teamengland.org
---