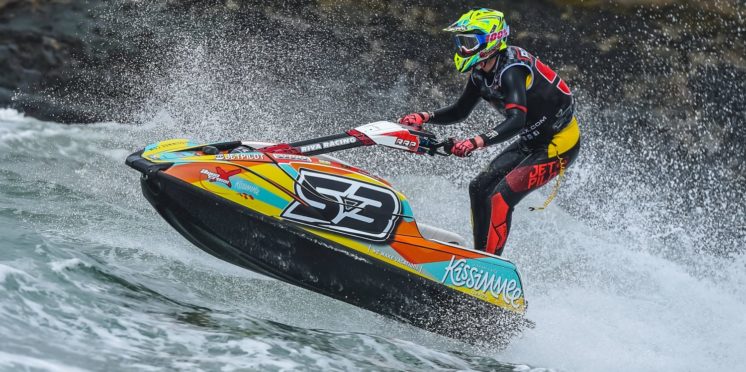 Experience Kissimmee to sponsor P1 AquaX Eurotour riders
Thursday 3rd May 2018
Leading travel and tourism authority in Central Florida, Experience Kissimmee, is extending its title sponsorship of the P1 AquaX Eurotour by sponsoring a team of jet ski riders for the 2018 season. Team Experience Kissimmee will consist of professional racers Joe Harvey and Harry Robinson together with amateur sprint rider Ryan Willows.
The four-venue European series gets underway in south eastern France this weekend, May 5-6, 2018, and reigning AquaX European champion Joe Harvey will be the first Experience Kissimmee team member to take to the water, with Harry and Ryan making their debut in Agon-Coutainville next month.
Kissimmee is a popular Central Florida tourism destination and Experience Kissimmee's aim is to develop and implement sales, marketing, and communications programs to promote the destination domestically and around the world to potential leisure, business, and sports travelers. Strong partnerships with tourism leaders and businesses provide a solid foundation for the company's success.
"Experience Kissimmee is thrilled to partner with P1 for its AquaX Eurotour and support the riders of Team Experience Kissimmee this season," said John Poole, Executive Director of Kissimmee Sports Commission. "We feel this opportunity offers a unique platform to raise awareness of our destination throughout Europe, and we're honoured to be a part of such a dynamic series."
Managing the team will be former P1 AquaX rider Steve Robinson, father of Harry, who commented: "We are all very excited to be working closely with our new team sponsor and privileged to have the solid foundation of their support for the 2018 series in Europe. My aim is to create a 'racing family' for my riders and for them to encourage each other and enjoy racing together. The Experience Kissimmee team is young, talented and ambitious and we want success for our new sponsor."
Now in its second year, the AquaX Eurotour will visit France twice and then the UK and Spain between now and the end of October as the series builds on a competitive first season of racing, which saw Joe Harvey crowned champion in the Pro Series. After breaking his leg in Spain in the final round of the 2017 campaign, Harvey has fought his way back to fitness over the winter and will be looking to kick off his AquaX title defence in style on the Mediterranean coast this weekend and launch a successful season for Team Experience Kissimmee.
---