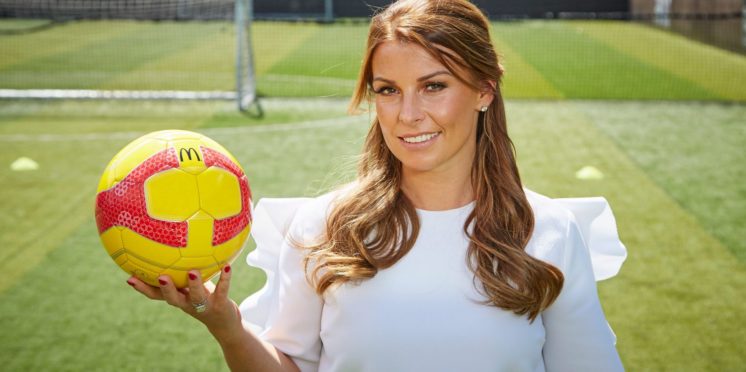 SEARCHING FOR UK GRASSROOTS FOOTBALL HEROES
Saturday 5th May 2018
 Wayne Bridge & Coleen Rooney launch the 2018 McDonald's Grassroots Football Awards
Nominations have opened for the 2018 McDonald's Grassroots Football Awards, in association with the four UK Football Associations. The awards recognise the army of grassroots volunteers and football clubs all over the UK, celebrating the impact they have amongst their local communities.
McDonald's has been a partner of the UKFAs for 16 years. As the longest standing supporter of grassroots football in the UK, McDonald's continues to champion those selfless volunteers who enable children and young adults to play and enjoy grassroots football in a safe, friendly and welcoming environment regardless of age, gender or disability. Every year the awards receive thousands of nominations and are backed by leading football legends Casey Stoney, Sir Geoff Hurst, Ryan Giggs, Kenny Dalglish and Pat Jennings.
Wayne Bridge, former England international and McDonald's ambassador, is leading the call for nominations, urging communities across the UK to honour those local heroes: "The McDonald's Grassroots Football Awards are a fantastic way to recognise the thousands of unsung volunteers who support the grassroots game all over the country. I'm blown away by the incredible dedication, passion and enthusiasm of our grassroots volunteers and I can't think of a better way to celebrate their achievements. Everyone involved in grassroots football is eligible to be nominated, from coaches to club secretaries, so make sure you nominate a local hero!"
"The FA & McDonald's Grassroots Football Awards are integral to recognising the thousands of exceptional grassroots volunteers all over the UK," added Greg Clarke, FA Chairman. "By providing youngsters with the opportunity to play the nation's favourite game in a fun and safe environment these volunteers allow the next generation of footballing superstars to develop their skills. It's not an exaggeration to say that without their hard work and dedication, football in this country wouldn't be the same."
Coleen Rooney, McDonald's Grassroots Football ambassador has lent her support to the 2018 McDonald's Grassroots Football Awards, saying: "Wayne speaks happily about his time as a youngster playing and learning about the game. He is always the first to say that he could never have been as successful without the amazing support from his parents. And, of course, all the incredible grassroots volunteers who guided him in the early days of his career.
"Just like their dad and so many other youngsters Kai love to play the game. They get so much out of grassroots football because it's fun, creates friendships and provides huge social opportunities. Thousands of volunteers are absolutely vital to youngsters' enjoyment of learning and playing the game. They help develop young talent at all levels in a fun and safe environment where  youngsters can enjoy the national sport."
The awards, which take place in England, Scotland, Wales and Northern Ireland, have a range of categories, including, Coach of the Year, Club of the Year, Volunteer of the Year, Football Mum of the Year and Community Project of the Year.
Nominations for the McDonald's Grassroots Football Awards are now open. To nominate a grassroots football club or volunteer go to www.mcdonalds.co.uk/awards
Follow us on Twitter and Instagram @BetterPlayUK
---