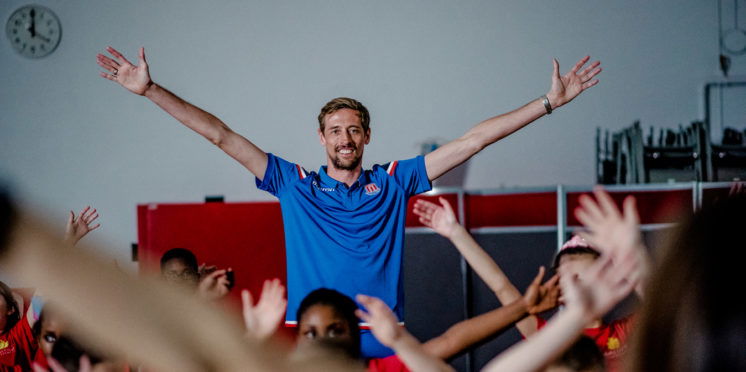 Peter Crouch treats school pupils to Best PE Lesson Ever in new Premier League Primary Stars video
Sunday 6th May 2018
Stoke City FC footballer Peter Crouch takes on the role of a PE teacher in a lesson with a difference in the Premier League's latest 'Best Lesson Ever' video to promote its Premier League Primary Stars education programme.
The striker first appears on a screen at the front of the Maple Court Academy school hall as a pre-recorded video, before he surprises the class by walking through the hall doors and joins in with the class exercise session.
Peter Crouch said: "I loved PE at school and as a father of three I am so pleased the Premier League is using its popularity and reach to help get children active and encourage learning. It is great to be a part of something that is supporting primary schools."
Premier League Primary Stars is a curriculum-linked education programme which uses the appeal of football to inspire children to learn, be active and develop important life skills through free teaching resources and support from 101 Premier League and professional football clubs.
The programme aimed to engage 10,000 primary schools by 2019 but has already exceeded that target by reaching 15,000 schools within its first year.
Premier League Primary Stars has now been extended to include football-themed educational activities to use at home, available at www.plprimarystars.com, as well as an interactive online game featuring players from every Premier League club. This will complement the existing teaching resources which use football to inspire primary school children in maths, English, PE and PSHE.
Peter Crouch's 'Best PE Lesson Ever' is the second in a series of three films, produced by advertising agency Y&R London. It follows the release of the 'Best Maths Lesson Ever' which features Everton's Wayne Rooney, Theo Walcott and Davy Klaassen surprising local children.
---