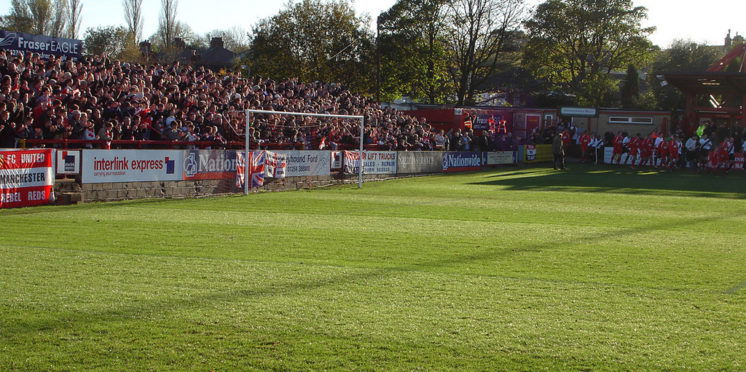 EFL BRIEFING: POTENTIAL SALE OF WEMBLEY STADIUM
Wednesday 9th May 2018
Further to this morning's media reports, the EFL can provide some further detail on the type of community schemes that currently exist at EFL Clubs and could benefit from increased investment as a result of any potential sale of Wembley Stadium.
EXAMPLE PROJECTS WITHIN THE EFL
Accrington Stanley, Sports Hub
Stanley Community Trust received planning permission for the Sports Hub on 13th December, 2017.
Located at Higham playing fields, the Hub will include a full size artificial football pitch and three grass pitches to cater for various formats of both football and rugby. There will also be an ECB approved artificial cricket wicket and a 75-space car park added to the site.
The Sports Hub gives the local Hyndburn community a great mix of facilities to enjoy physical activity whilst providing pitches of an excellent standard to aid with the development of grassroots football.
The overall aims are to improve health and exercise levels whilst increasing participation in sport.
Yeovil Town, hotel and leisure centre
Yeovil Town are seeking to become a lead EFL Club in delivering a visionary community project, working alongside key local partners such as Yeovil College, Yarlington Housing Group, Somerset FA, Yeovil Chamber of Trade and the local Council, but are currently struggling to access funds to make their ambitions a reality.
YTFC has a very active Community Trust programme, which for instance has interfaced with well over a thousand local children in the last few weeks alone, but again the Trust is limited by finance and resource –  so much so that the Trust currently can only find suitable accommodation at the College several miles away.
The YTFC vision therefore comprises of three segments:
To convert their current open terrace away end into an all seated Community Stand that would house local community groups, offices for the Yeovil Town Community Sports Trust, a club heritage museum, educational facilities for the College (with whom they already operate a joint educational/sporting project) and better facilities for their fans.
Yeovil Town Ladies FC are currently in the top tier of women's football – FAWSL 1. Unfortunately, due to pitch conditions this season several YTLFC games have had to be relocated away from Huish Park, forcing them to play home games up to 50 miles away – severely denting the good work they have done in building engagement with women's football in the area. Similarly, they have had to turn down two community games this season due to the need to protect the pitch to ensure EFL fixtures could be played. Their ambition is to be able use the pitch to help build female and community football in the area, but to do that they need a fibre pitch
Lastly, although they own their 3G pitch at Huish Park, it is in such demand that they often cannot accommodate 3G pitch requests from local teams, Yeovil Town Ladies FC and even sometimes our the Community Sports Trust. Yeovil College have a similar situation and could accommodate a 3G pitch at their site. The Club has therefore had outline talks with them regarding a joint project to fund a 3G pitch at the College.
The likely investment required for these schemes would be a total of around £5m but the impact on the local community would be significantly beyond the value of that spend and would be measurable.
In summary therefore, a relative small (in national terms) community investment in their vision would bring immediate benefits to the local community they serve and leave a lasting a sustainable legacy that was an exemplar of community investment/improvement.
The Forest Sports Zone
https://www.youtube.com/watch?v=xRvS08K1pKQ
The Forest Sports Zone is a £1.8 million capital project that opened in 2015
Over 2,500 users every week enjoy The Forest Sports Zone's state of the art facilities including a FA approved 3G pitch, sand based pitches and a fully equipped pavilion for commercial use
There are 17 affiliated clubs and 128 teams who operate from the Zone
1,000hrs + of free community access
The facility is being showcased by the football funders as a flagship scheme and the Trust have been approached by the FA, Premier League and Football Foundation to apply for additional funds (£900,000) to add a second 3G pitch to the site
EFL Chief Executive, Shaun Harvey, said:
"The decision to sell Wembley sits well and truly with the FA Board, however the game has a reasonable expectation that there will be sufficient time created in the process for stakeholder consultation. The FA has an absolute obligation to secure the best deal available that generates the maximum value for Football in England, as we all know value can be assessed in many different ways.  The EFL Board haven't met since the prospect of the sale was raised but I feel certain that our concern will major on both how the capital proceeds will be utilised and also what the benefit to FA's Annual profit & loss account will be.
"Under the current distribution mechanism, the professional game is entitled to 50% of the any proceeds after central costs have been met and any move away from this principle will only be achieved if we can be satisfied that the money will be properly utilised for the benefit of the game as a whole in England, including at our Clubs.
"The 72 clubs of the EFL along with those in the Premier League already do a tremendous amount of work through their Community Schemes at a grassroots level and the creation of a fund to develop facilities for the expansion of this work along with training of young players within each Club's Academy would be an ideal use of any funds, as would seeing the money used to improve stadium facilities for fans who watch our games.
"The EFL can deliver a positive outcome across all our clubs which would see some of the money used to promote participation at both a recreational and excellence level for all ages for both male and females, as well as improving facilities for fans watching our games."
EFL POSITION: FOR GUIDANCE
Whilst it's a surprise, as the FA has been a proud owner and talked of the commercial success of Wembley Stadium over the past few seasons, ultimately it's an offer that is understandably worth consideration.
If the deal has merit and is financially valuable to the FA then there is no reason for it not to progress.
The EFL has received absolute confirmation that the EFL's current agreement to stage our five finals will not be negatively affected by any sale.
There has to be a clear ambition for how the investment will be channelled.
As well as increasing participation in the game, the FA's plans must also address the professional game and look at ways to ensure we continue the recent growth in attendances with more and more people making their way through the turnstiles to watch matches live.
On behalf of our Clubs, the EFL would certainly be interested in clearly establishing how funds will be directed to community scheme projects to benefit grass roots projects.  EFL Clubs work at grassroots level.
There are community and grassroots projects taking place at each and every one of our 72 Clubs. These projects would benefit from increased investment and could undoubtedly deliver increased participation, and increase the prospects for young, home grown players.
Ultimately it is an FA Board decision, but if we can be satisfied that good use is being made of the money then there would be no reason to oppose it.
Selling the national stadium will only happen once and has to deliver clear benefits
---