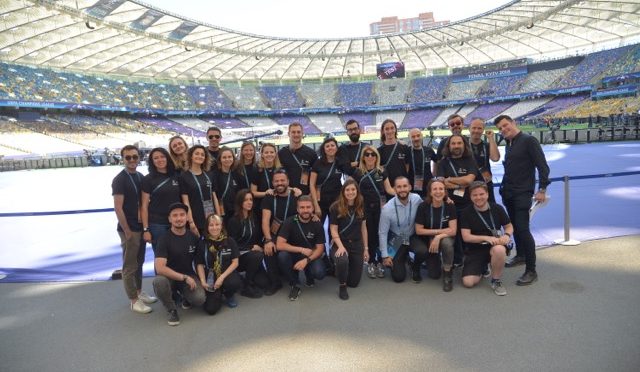 PUNK FOR BUSINESS PRODUCED THE OPENING CEREMONY OF UEFA'S CHAMPIONS LEAGUE FINAL IN KIEV
Sunday 27th May 2018
On the 26th of May 2018 Kyiv was the world capital of football; Dua Lipa's opening ceremony performance glimmered in the eyes of the Olimpiysky stadium, the city of Kyiv and the millions of fans around the globe. Through a burning storm of positivity and joy, the stage became the active epicentre of an energising force that spread throughout performers and theworldwide audience.
Punk for Business (the disruptive brand entertainment agency part of WS Corp the live entertainment holding company founded by Marco Balich, Gianmaria Serra and Simone Merico)conceived and produced a ceremony featuring an exciting cast made up of more than one hundred women led by the amazing global pop phenomenon Dua Lipa..
The key UCL values of empowerment, respect and joy were realised before the audience eyes through layers of vivid colour swirl revealing the giant sunflower as symbol of Ukraine, together with local drummers lending their unique rhythms to Dua's music and fireworks filling the night sky.
Opening her act with the summer 2018 hit song One Kiss, Dua Lipa and a massive cast led the audience through a pulsating music mix, featuring her hits IDGAF, New Rules and Be the One and including No Lie, an exclusive duet with the international superstar Sean Paul.
As Production Company, Punk for Business managed more than 500 people: 200 volunteers, 50 dancers, 250 stagehands, 80 people staff created with UEFA and produced the iconic giant carpet representing the stunning image of Kyiv by night.
«We have been working for 8 months with an incredible team of international talents to build the most remarkable Champions League Final show ever», said Simona Muti, Punk for Business Founder and Executive Director of the Ceremony. «Creating a unique show with UEFA, Dua Lipa's Team and PEPSI team has been an enormous opportunity and a tremendous challenge. The Champions League Final is one of the most followed event worldwide, especially in the digital and social media era. We all worked constantly together in order to exploit each other excellence assets and achieve a joyful and unforgettable show».
More than 10 million people watched the video of the Ceremony.
Credits:
EXECUTIVE PRODUCER : SIMONA MUTI
PROJECT DIRECTOR : SIMONE MASSERINI
PRODUCTION DIRECTOR : LUCA SICARDI
CREATIVE DIRECTOR : ALESSIO OLIVIERI
ARTISTIC PRODUCER : PAOLA ROSSETTO
CAST CHOREOGRAPHER : LAURA GUGLIELMETTO
OPERATION PRODUCER : NICOLA ROSSONI
SHOW DIRECTOR : STEFAN MILJEVIC
STAGE MANAGER: RAOUL CHACAR
ART DIRECTOR : SURYAKUMAR BALAKRISHNAN
ADMIN PRODUCER : GIANLUCA FADDA
CREATIVE PRODUCER : LUDOVICO SPINOLA
TEAM MANAGER: SUSANNA PORCHI
PRODUCTION COORDINATOR : ALESSIA PONTURO
---