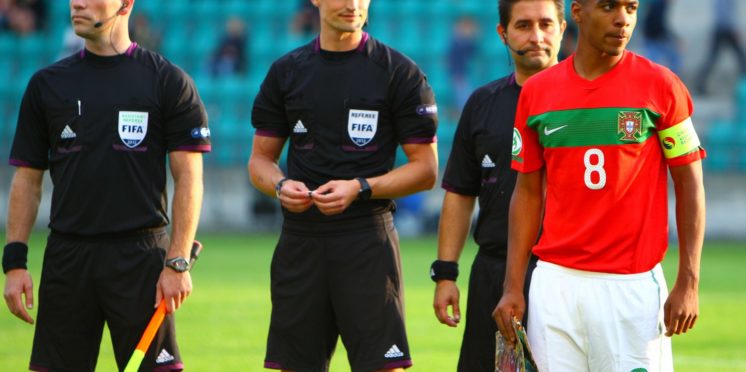 Coral launches 'Ref Book' revealing which World Cup Official is most likely to Break English Hearts
Wednesday 13th June 2018
London Bookmaker Coral has launched its first World Cup 'Ref Book' providing all of the need-to-know facts about every single referee officiating in Russia 2018, putting the match officials in the spotlight for the very first time and letting both fans and players know what to expect from each ref.
The full details of the 35 match officials are available to view here as part of the first online sticker-style referee card resource.
While the focus is normally on the players, referees have often been as influential in terms of deciding the outcome of major World Cup matches as anyone else. England have suffered more than most at the hands of the match officials in World Cups, from the famous "Hand of God" by Maradona in Mexico 1986, to the David Beckham sending-off in 1998 against Argentina and the Frank Lampard disallowed goal against Germany in 2010.
The Three Lions will hope that Colombia's Wilmar Roldan, who, incredibly, issues a red card once every three games, isn't in charge of their games in order to avoid the same fate that befell David Beckham. Had they instead had a referee like Gambia's Bakary Gassama – who has given just one red card in 76 matches – officiating that infamous night they might have beaten Argentina.
Our Coral "Ref Book" statistics found:
A huge gulf in experience:
●   Felix Brych, Germany = Most Experienced – Refereed the most games (468)
●   John Pitti, Panama = Most inexperienced (part-time teacher) – Officiated at the least number of games (35)
Number of cards issued:
●   Wilmar Roldan, Colombia = Most card happy – Most Yellow Cards per game (5.4)  and the most likely to give a red card (once every 3 games)
●   Bakary Gassama, Gambia = Least likely to give a red card (one red card in 76 games)
England's Penalty 'Curse':
●   Mehdi Abid Charef, Algeria – Most likely to give a penalty (one every 2 games)
●   Ricardo Montero, Costa Rica – Least likely to give a penalty (one every 10 games)
Simon Clare, Coral Spokesperson, said:
"Football fans already know everything there is to know about Neymar, Messi and Ronaldo, but do they know much about the international referees? Coral's 'Ref Book' is a one-stop-shop for all you need to know about the World Cup match officials, giving  fans, all the key statistics on the refs ahead of time, and monitoring their decisions in real time throughout the tournament."
"From Lampard's ghost goal against Germany in 2010 to Maradona's 'hand of god', we know that referees have just as much of an impact on the outcome of a match as the players themselves, so we thought it was about time they got their moment in the sun – and a little bit more scrutiny from fans."
The full list of referee stats is available to view at http://news.coral.co.uk/world-cup/the-ref-book.  
---