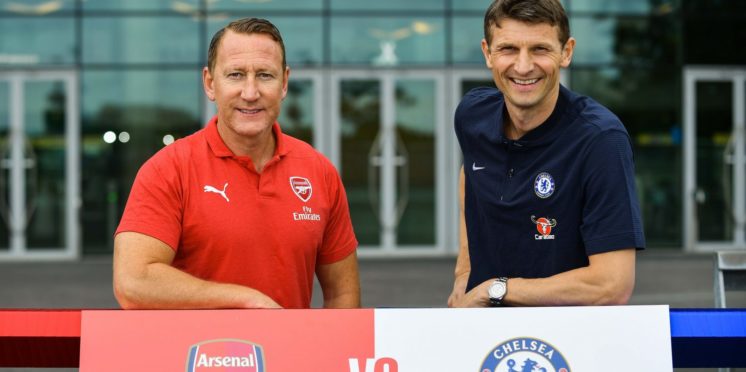 ARSENAL AND CHELSEA TO MEET AT THE AVIVA STADIUM AS PART OF THE INTERNATIONAL CHAMPIONS CUP PRESENTED BY HEINEKEN
Thursday 14th June 2018
RELEVENT, a multi-national media, sports and entertainment group, today announced Arsenal and Chelsea F.C. will meet at Dublin's Aviva Stadium on August 1, 2018 at 8:05 p.m. as part of the 2018 International Champions Cup presented by Heineken.
Ticket will go on sale to the general public on Friday, June 15th at 11:00 a.m. and can be purchased at https://www.ticketmaster.ie/event/180054B6E67CEE45
The matches will mark the third-time that the International Champions Cup comes to Ireland and the second-time to the Aviva Stadium.  In 2016 FC Barcelona beat Celtic 3-1 at the Aviva while F.C. Internazionale beat Celtic 2-0 at Thomond Park in Limerick.
RELEVENT will also collaborate with As I Am, Ireland's leading autism charity and the official charity partner for the match.  As I Am works to build an inclusive Ireland for autistic people through a range of programs from early years through adult life as well as working to build increased awareness across Ireland.  Further details on the involvement of As I Am in the match will be announced in the near future.
This year's chase for the Cup features 18 of the best clubs in the world playing 27 matches across the United States, Europe and Singapore, delivering on the premier sports property's mission to transform European soccer's presence around the world.
In its sixth installment, the tournament is known for kicking off the international soccer season by bringing world-class soccer to the masses and slating marquee match-ups that attract record-breaking crowds – including the largest recorded attendance for a soccer match in the United States.
With matches scheduled between July 20 and August 12, the 2018 International Champions Cup will take on a new format. Whereas past tournaments recognized a winner within each participating continent, this year's competitive structure will take on a more cohesive format, reigning one overall global champion.
For the complete tournament schedule and other details, please visit http://www.internationalchampionscup.com
The 2018 International Champions Cup is presented by Heineken USA and sponsored by, MasterCard International, Ally Financial, Konami Digital Entertainment, XYIENCE Energy Drink, VIVID SEATS, and Hertz.
---