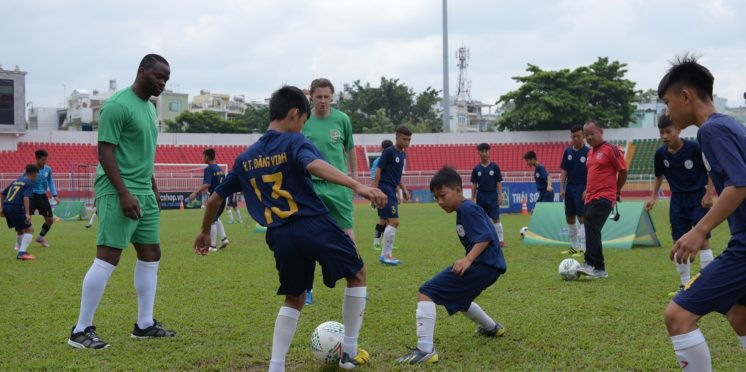 CARABAO CUP: MCMANAMAN, WISE AND SAHA IN VIETNAM
Thursday 14th June 2018
Steve McManaman, Dennis Wise and Louis Saha have been out on the road in Vietnam's largest city Ho Chi Minh, visiting iconic sites with the Carabao Cup trophy and meeting fans from the city ahead of tomorrow's 2018/19 Carabao Cup Round One draw.
The trio, who have all won the EFL Cup with three separate teams, Liverpool, Chelsea and Manchester United, took the Cup to some of the most iconic landmarks in the city including Independence Palace, HCM Post Office and Nguyen Hue Street.
On the opening day of the World Cup, local youngsters were also given a footballing masterclass as the former players rolled back the years and joined in with children at a local football session at Thon Nhat Stadium.  McManaman, Wise and Saha took part in passing drills before teaching the children some tricks and skills to copy before giving out some top tips to the promising youngsters.
Wise, who captained Chelsea to EFL Cup victory in 1998, says: "We visited some great sites today including the Independence Palace and explored the Ben Thanh Market.  This afternoon we visited the Thon Knat Stadium the home of Sai Gon FC and Thanh Pho Ho Chi Minh to meet some local children who were training; we joined in and showed them a few skills and drills.
"I'm looking forward to the draw tomorrow, it's always exciting to see what unfolds and see what big ties are drawn.  There's also a great opportunity for some of the smaller League One and League Two Clubs to get a tie against a bigger Club which can always be entertaining."
McManaman, who won the competition with Liverpool, said: "It's been fantastic to be welcomed by everyone here in Vietnam, the people are so friendly and it shows how football is a truly international sport.  I've got such fond and vivid memories of winning the EFL Cup in 1995 and it's great that the competition continues to grow at home and abroad."
The Carabao Cup Round One draw takes place from Ho Chi Minh on Friday 15th June from 10:45am UK time.  Follow the draw on the official Carabao Cup Twitter account @Carabao_Cup or EFL.com via the Live Blog.
---