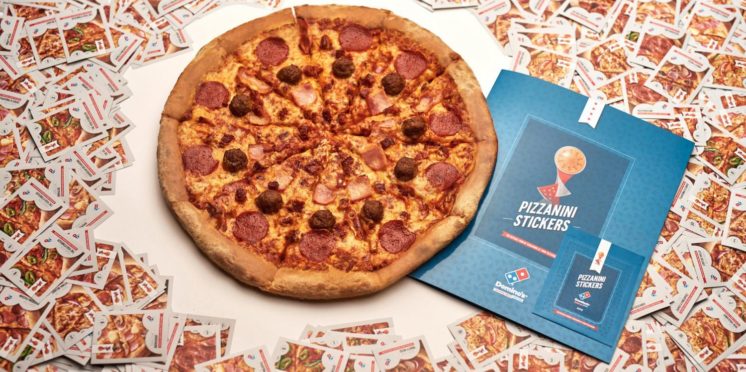 DOMINO'S ADDS NEW 'MEATFIELDER' PIZZA TO ITS WORLD CUP LINE UP
Thursday 14th June 2018
Domino's, the nation's favourite pizza, has added a special edition 'Meatfielder' pizza to its menu ahead of the World Cup. The dough-licious new addition is set to be a firm fan favourite and comes packed with pepperoni, ham, chorizo, pork meatballs, smoked bacon and Domino's secret sauce.
The 'Meatfielder' is available in over 1,000 stores nationwide throughout the tournament and has even been made into a collector's item as a sticker in Domino's new 'Pizza-nini' sticker book – an 'apeeling' twist on the much-loved Panini book that gives superfans a chance to collect 11 of their favourite pizzas. Other collectables include football-inspired twists of Domino's classics like Vegi Volkaneo, Pepereina Passion, Mighty Messi and Romaldo. Those who collect their first 11 will win a free, freshly handmade 'Meatfielder' for the World Cup Final.
The special edition stickers are officially available on TheOfficialFoodOfEverything.co.uk website from 2pm on Wednesday 13 June, with books available to claim on a first come first served basis. A second batch will be released at 2pm the next day for super sticker fans to be in with a chance of filling their albums.
Domino's is also looking for over 3,000 team members, who will help handcraft and deliver almost seven million pizzas during the World Cup alone. Domino's is predicting six pizzas will be ordered every second, with hungry fans munching over a whopping 60 million slices throughout the competition.
Simon Wallis, Chief Operating Officer at Domino's said: "With a bumper summer of sport, we're looking for over 3,000 team members and expect to serve up almost seven million pizzas during the World Cup alone. We wanted to get in the football spirit with some Pizza-nini stickers and are delighted to call up our new 'Meatfielder' to the Domino's menu, which will be around for the whole of the tournament, regardless of how far England make it through!"
World Cup 2018 in numbers:
346 pizzas ordered every minute of every day
Pizzas sold during the tournament are expected to stretch the equivalent of more than 122 football pitches
Over 60 million slices of pizza are expected to be eaten
Full Domino's line-up:
Pepereina Passion
Atuna Delight
Mascherlano
Meatfielder
American Hotamendi
Vegi Stonesler
Romaldo
James & Pineapple
Higwaiian
Vegi Volkaneo
Mighty Messi
Domino's recruits on the basis of ability and, as many team members go on to management positions in under two years, this represents a fantastic opportunity for jobseekers.
Domino's believes in opportunities for all. The company is an Age Positive Employer Champion, which means it has been recognised for its commitment to welcoming applicants of all ages.
Domino's is committed to helping people develop the lifelong skills needed to lead a team, with 80 per cent of managers starting life as delivery drivers or pizza makers. It's leadership programme, TeamSkills is designed to help people with the training they need to become a great leader. The Domino's annual awards recognise the hard work of both the franchisees and in-store teams from the company's 1,054 stores in the UK.
If you would like to apply for a position, please visit:  http://corporate.dominos.co.uk/working-for-us
---