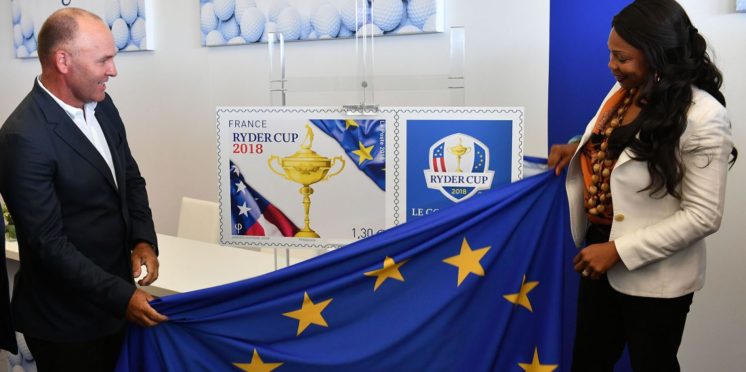 2018 Ryder Cup Stamp Realeased in France
Sunday 1st July 2018
On July 2nd, the French postal services La Poste will issue a stamp and a mini-sheet to commemorate the 2018 Ryder Cup, the most important golf competition in the world organised by Ryder Cup Europe and under the initiative of the French Golf Federation. This competition will take place for the first time in France from 25 to 30 September.
This stamp was unveiled for the first time on Friday June 29 during the HNA Open de France in the presence of Mrs Laura Flessel, French Minister of Sport, Mr. Jean-Michel Fourgous, President of Saint-Quentin-en-Yvelines, Mr. Richards Hills, Director of Ryder Cup Europe, Mr. Gilles Livchitz, Director of [email protected], Mr. Pascal Grizot, President of the 2018 Ryder Cup France Committee and Mr. Jean-Lou Charon, President of the French Golf Federation.
The first French player to win the Ryder Cup in 2004, Thomas Levet with the European team as well as 2018 European Junior Ryder Captain Maïtena Alsuguren, were also on hand for this event.
---