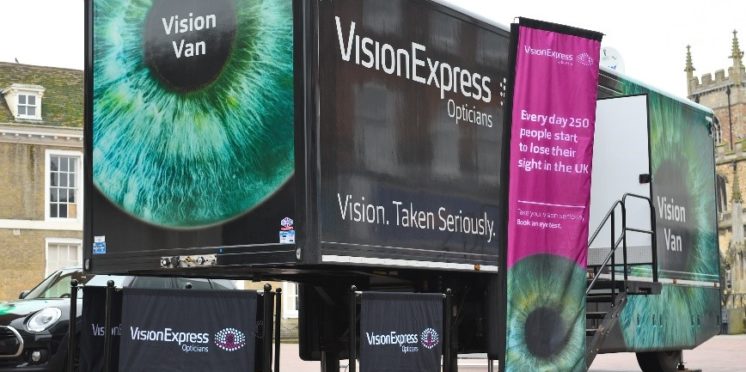 Eye health initiative to go for gold in Glasgow during the European Championships 2018
Monday 6th August 2018
Athletes competing in Glasgow this month have their eyes on the finishing line, and Vision Express will be visiting the area to raise awareness of the importance of eye health, with figures revealing that an estimated 4,500 residents are suffering from Age-Related Macular Degeneration (AMD).
To help combat the problem, the national optician will be taking its award-winning Vision Van to Scotland for a mini-tour starting in Glasgow on Tuesday 7 August 2018, during the European Championships, to raise awareness of eye health and the many risks involved with not maintaining regular check-ups.
Vision Express hopes it is an important wake-up call for local people who despite getting free eye tests on the NHS, still aren't prioritising their sight. City-wide statistics expose a red flag for eye health in the local area:
Nearly 5,000 residents are living with suspected glaucoma, the silent thief of sight, with almost half of the city's residents (44%) aged over 40 at risk of developing the condition.
An estimated 4,500 people in Glasgow are suffering from age-related Macular Degeneration (AMD),
Blindness and partial sight costs Scotland just over £2 billion each year.
The Van will be parking up at Glasgow Fort, just off Junction 10 of the M8, before continuing its Scottish travels, stopping off at intu Braehead on Wednesday 8 August. It will finish its journey at the Fort Kinnaird Shopping Park on Thursday 9 August.
The state-of-the-art Vision Van is touring the length and breadth of the UK, offering passers-by free, comprehensive eye tests, and educating them about what they can do to keep their eye health on track.
Jonathan Lawson, CEO of Vision Express, said: "The Van visited Glasgow City Centre in previous years and received a fantastic response from locals, which is why we felt it was important to return and again, raise the importance of good eye health. Our last visit revealed that three quarters of Glasgow residents were risking their sight by not having regular vision checks and we hope to encourage more visitors on-board again at our two Glasgow tours.
"With the European Championships underway, we understand how important good vision is in sport, so we do hope that local residents take the lead of some of the fantastic sportspeople who are competing in and around the city, by putting eye health high on their priority list.
---