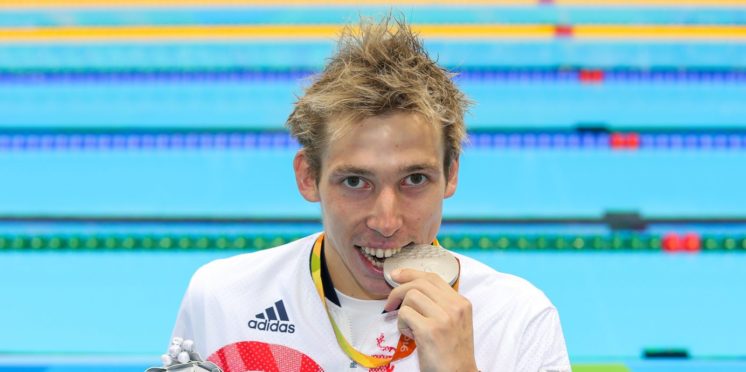 Fox announces retirement from Para-Swimming
Tuesday 25th September 2018  
Paralympic Gold medallist Jonathan Fox MBE has called time on a successful career that has spanned almost 18 years and saw him win medals at three Paralympic Games.
The first of his Paralympic medals was claimed at Beijing 2008, silver in the 100m Backstroke, gold then followed at London 2012 with two World titles in Eindhoven and Montreal also in the 100m back. These achievements led to Fox receiving an MBE in 2013 for services to swimming from Her Majesty Queen Elizabeth at Buckingham Palace.
A highlight for Jonathan was his return from injury in 2016, when he won gold at the European Championships in Funchal. He later broke his own World record in Sheffield and qualified for the Rio Paralympic Games, where he went on to win 400m free and 100m back silver.
Earlier in 2018 Fox was reclassified from an S7 to an S8, substantially changing his world ranking and therefore making it harder to be competitive in his chosen events.
Fox explained, "My reclassification prevented me from being able to attend the Commonwealth Games 2018 and I also missed out on qualification for the World Para Swimming European Championships in Dublin 2018, both were hard to deal with.
"In August, I was admitted to hospital and diagnosed with Type 1 diabetes, that's something that I'm still coming to terms with and getting used to.
"2018 has been a bit of whirlwind for me and now feels like a suitable time to step away from the sport and focus on my health."
He then added, "It has been such a great honour to represent Great Britain and I would like to thank British Para- Swimming, UK Sport and everyone that has been part of my sporting journey, especially my family in Cornwall, and also everyone who supported me whilst overcoming injury. You have all helped me to achieve my dream."
Fox will remain in aquatics and has recently completed his Swim Teaching Level 1 and hopes to give back to a sport that has given him so much.
British Para-Swimming National Performance Director Chris Furber said: "Jonathan has made a substantial contribution to British Para-Swimming during his career and personally achieved so much including 2 World titles and Paralympic Gold in London 2012.
"He has been an incredible member of our programme and has developed into a real leader within in team over the last few years. It has been a pleasure to work with him.
"I have no doubts that Jonathan will be successful at whatever he chooses to do next and we know that he will continue be an excellent ambassador for swimming and para-sport."
"Classification is an integral part of all para-sport, and whilst we will continue to work with World Para-Swimming to ensure a consistent process for all swimmers, to lose a second exceptional talent from our team in a matter of months is clearly concerning."
---